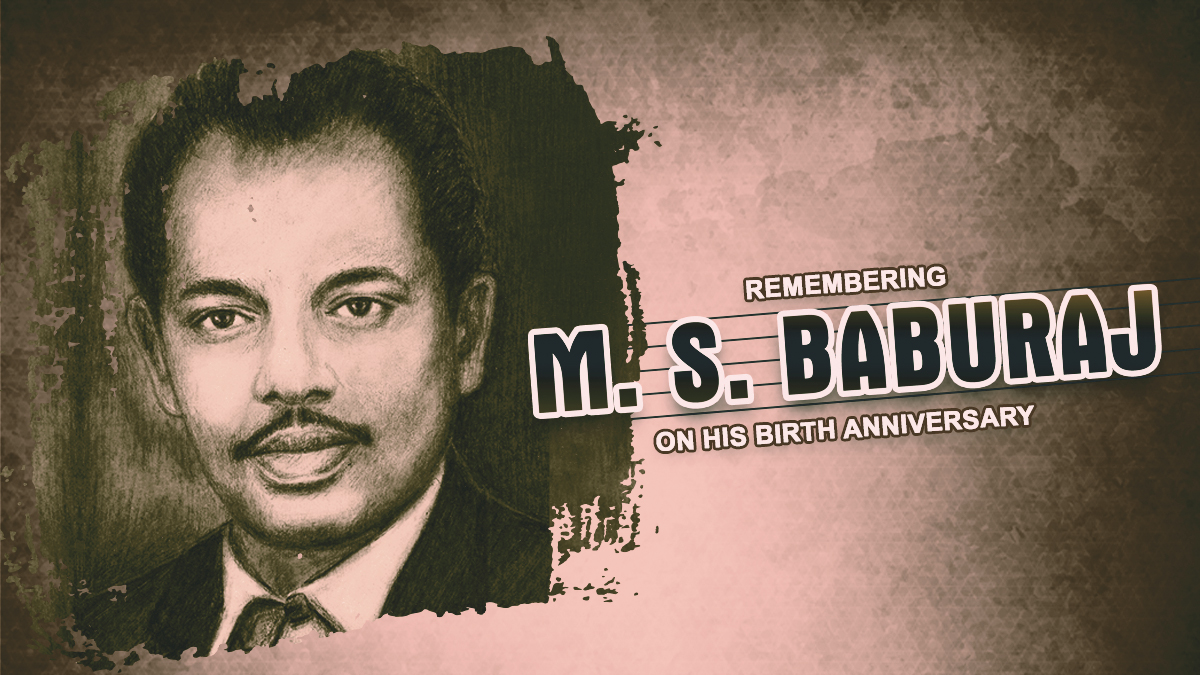 Muhammad Sabeer Baburaj, fondly known as MS Baburaj or Babukka, was a genius who conveyed the sweetness of ghazals and Hindustani music to the Malayalees through his music. Most Malayali music lovers smile with wistful nostalgia when they hear his name. There is no question many people who listen to it will have something to say, if not about the music, about those times when melody reigned supreme and quickly drifted into a nostalgic and melancholic mood.
The son of Bengali Hindustani singer Jan Muhammad Sahib, M.S Baburaj was born on March 9. His mother was a Malayalee. His father taught Baburaj the basics of Hindustani music from a very young age, but he could not continue learning it due to his father's death. Baburaj visited West Bengal, Mumbai, and Sri Lanka in search of pure music. He learned to play the Harmonium during this period.
During M.S Baburaj's childhood, he faced many hardships. A music-loving policeman found and adopted Baburaj, who used to sing in the streets and on trains during the day. This was the turning point in his life. All of us believe in the genius of his music. There was no equal to M.S. Baburaj in his field. One of the endearing characteristics of this extraordinary musician, who left us with so many treasures to cherish that even the following generations found their way to his songs.
To celebrate his birth anniversary, Saregama brings you a playlist of hand-picked MS Baburaj songs. You can also get all these MS Baburaj songs for free download with Saregama. M.S. Baburaj has initially been a member of the Nilambur Balan Music Band. It is he who brought North Indian music to Malayalam. Some of the MS Baburaj songs that you can find in our playlist are- Aadhiyil Vachanamundaye from Chettathi, Aadhya Rathri from Thommente Makkal, Aakaasathile Nandini from Agniputhri, Allaavin Kaarunyamillenkil from Yateem, Ambaadi Pennungalodu from Virunnukari, Alangara from Ejje Nalla Manusanavan Nokku, and many more of MS Baburaj songs that you can download and listen to exclusively on Saregama.
During and before M.S Baburaj's time, movies were either built on a solid Carnatic classical foundation or based on Kerala folk music; however, they also borrowed heavily from Hindi and Tamil films. The dominance of G Devarajan, V Dakshinamoorthy, and K Raghavan in the Malayali music industry needed a change of scenery. Baburaj, then 26 years old, was entrusted with bringing about a renaissance. But his journey up to that point was filled with struggle and sadness. In abject poverty, he went through many difficult days. M.S Baburaj entered the theater industry in 1951, composing music for the play 'Sons of Inquilab' and later composing and singing for several plays.
With the film Minnaminungu, M.S Baburaj became an independent film music director in the year 1957. Most of what he composed was for P Bhaskaran's lyrics. Listen to MS Baburaj songs from all his movies and relish the genius of M.S Baburaj, and also you can get all the MS Baburaj songs for free download on Saregama.
One of the greatest musical geniuses of Malayalam, MS Baburaj was known for his melodic sense and rhythmic commitment. Thanks to these MS Baburaj songs, Keralites enjoyed ghazals and Hindustani music in Malayalam film songs. The 1960s were a peak period for the music of M.S Baburaj.
Bhargaveenilayam, a film in 1964, introduced Baburaj's songs to the world. New generations are familiar with Bhargavi Nilayam, Anjusundarikal, Bheekara Nimishangal, and Ejje Nalla Manusanavan Nokku. P Bhaskaran primarily wrote MS Baburaj songs. However, he also had the opportunity to work with talents like Vayalar, ONV, Poovachal Khader, Bichu Thirumala, Yousafali Kecheri, and Sreekumaran Thampi. More songs were sung for him by Yesudas and S Janaki. Baburaj and Janaki will be at the forefront among the best Malayalam music director-singer duos. Baburaj's versatility makes him a favorite with music lovers because he can blend the expressions of north Indian music into the lyrics without losing any of the Malayali touches. Listen to all of MS Baburaj's songs that are nothing short of true gems.
The Malayalam film industry has become the heartbeat of Kerala thanks to this music magician. Dweep, Subaida, Umma, Kattumallika, Bhargavi Nilayam, Lailamajnu, Karthika, Khadeeja, Kattuthulasi, Mitumidukki, Pulliman, Thacholi Othenan, Mudupadam, Tharavattamma, Doctor, Palottu Koman, Sangeethadheem are some of his best directions.
Make sure to listen to all these MS Baburaj songs on Saregama, and have these MS Baburaj songs for free download on Saregama.