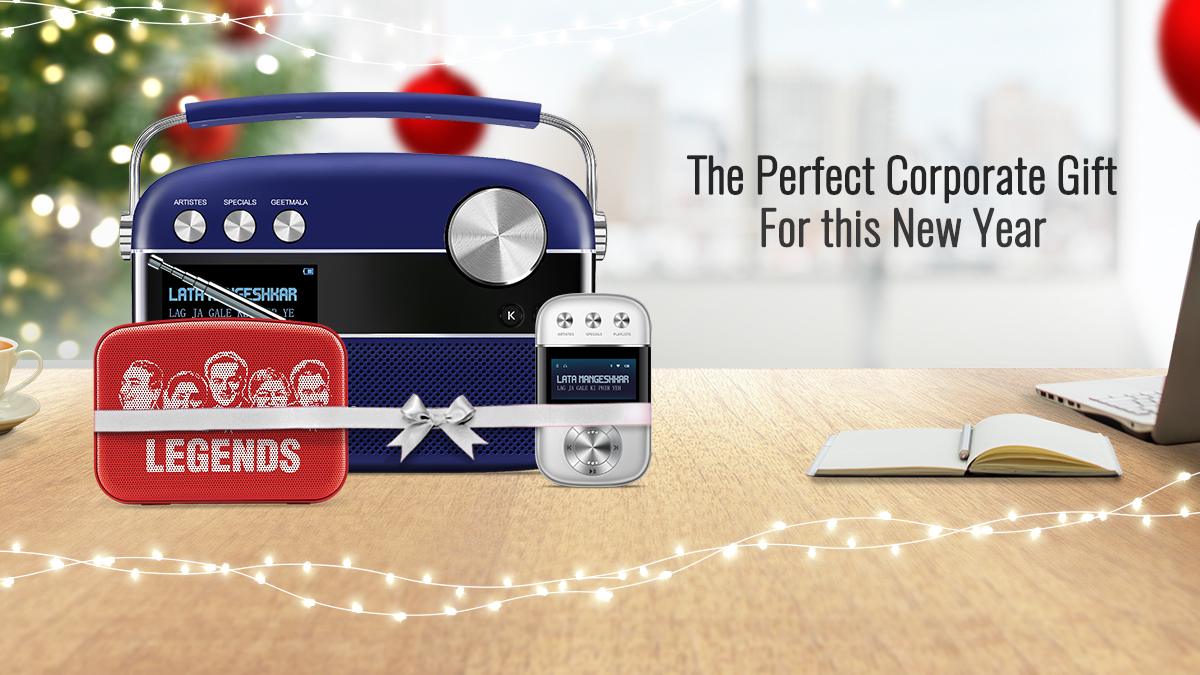 New Year is around the corner and with it comes everything new. Individually, everyone is eagerly waiting for the night full of celebrations, followed by strong and determined New Year resolutions, and perhaps a sumptuous dinner party with loved ones. On the flip side, Corporates must be looking for thoughtful, original and useful new year gift ideas for their clients, business partners, dealers, and of course employees. Gifting is an essential part of any business, and therefore a soothing, relaxing or musically charged gift should be your choice.
This New Year, choose something new, more musical and trending – choose Saregama Carvaan. The digital audio player with pre-loaded collection of vintage songs is the perfect gift you can present to anyone and anywhere.
Usually, Corporates gift things like sweets & chocolate boxes covered in attractive packets, home and electrical appliances, jewellery, etc. Its high time corporate understand their employees, and gift something unique that can surprise them as well as their families. So, what makes Carvaan's range of products unique and stand out from the rest? And why it is a gift you should choose this corporate gifting season?
Saregama Carvaan with its exquisitely designed portable audio player has a huge collection of Hindi songs which are loved by a large number of people. The artist includes Kishore Kumar, Mohammed Rafi, Lata Mangeshkar, Asha Bhosle, Mukesh and many more. These are legends loved and admired by millions of people. Listening to their splendid songs and voices would be a dream come true for your employees and clients.
Therefore, Carvaan as a gift has higher chances of being liked by one and all.
In this day and age, your New Year corporate gift must be thoughtful and at the same time gender-neutral.
Sometimes, a company gift thing which are useful only to one gender. For example, if you are gifting kitchen appliances or beauty products to a male bachelor, it won't be exciting or helpful. On the other hand, a Bluetooth speaker like Carvaan Mini or digital audio player Carvaan Go will be loved by everyone alike.
Carvaan 2.0 Gold makes for a good gift option too. It contains 5000 songs and 150+ Wi-Fi based audio stations. The genres include Religious Books, Kids Rhymes, Food, Health, Poems, and more. This let's all the members of the family enjoy their type of music.
The eye-catching metallic body and attractive champagne gold or rose gold color makes it a great decorative item. You can proudly put it on display at your homes.
Moreover, personalization always enhances the beauty of any gift. Saregama offers personalized USB music cards for gifting purpose. You can add the logo of your company or even add a picture of an employee/customer. It also enables you to add customized songs to the list.
Therefore, this New Year, when you plan to delight your clients with gifts and present a token of appreciation, let Saregama Carvaan be your pick.