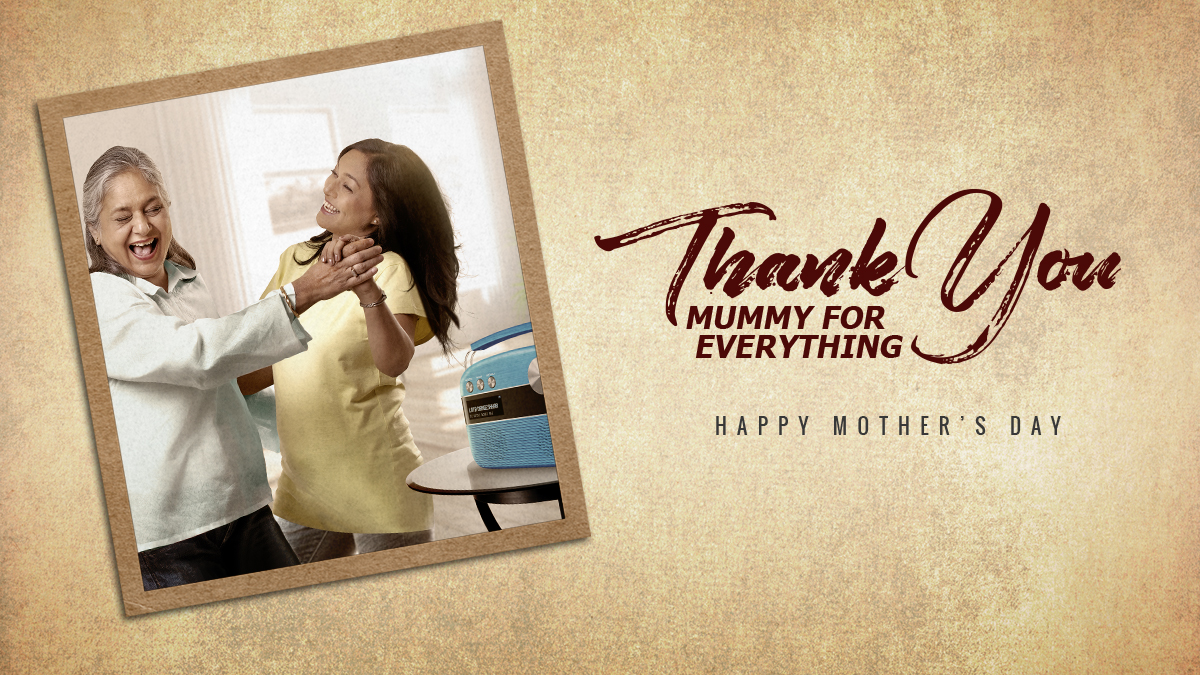 They are an alarm clock that never fails. They are chefs that cook the most delicious finger licking food every time you're hungry. They're your teachers, nurses and personal cheerleaders. Your confidante, they are where you go to seek solace. Your first friend, philosopher and guide. Your best matchmakers in town, they are superb advertisers and build a brand image for you. Not to forget that they are great at accounts and finance as well. They're all this and much more – Mothers!
Mothers are those life givers who are usually on the giving end rather than the receiving end of the rope. And they do so willingly, proudly and happily not just for their children but the entire family. It is their love, care and wisdom that keeps the bonds tight between family members. All of us get a break from our daily routine on weekends but motherhood is a job wherein a mother never gets a day off right from the time the child is born to the time she closed her eyes for the long sleep.
Earlier the role of mothers was limited to child bearing and looking after the entire household. But with the changing times and the empowerment of women, an increasing number of mothers are taking up the role of bread winners along with their trademark roles. Not for nothing are they called 'Superwoman' by every child. They're stepping out of their homes and taking charge of their lives and of the world. Today there is no field left where a mother has not left her mark. To the world, Aishwarya Rai Bachchan is an Actor, Model, a Miss India Pageant winner, a Padma Shri awardee, a Goodwill Ambassador for the Joint United Nations Programme on AIDS and more often than not dubbed as 'the most beautiful woman in the world' by media. But the role that she enjoys playing the most is being a doting mother to her daughter Aaradhya.
So what is it that drives these women to take up this job – of being a mother and taking up the responsibilities that come along with it – so willingly and without any quantifiable incentive? What joy do they derive from this idea of motherhood? Will it not do them the world of good to put in all those efforts in making a career for themselves or in maintaining their own health and fitness? They don't even receive a 'thank you' for the efforts that they put in smallest detail of their chores. It is only their absence which makes us realize their true worth.
Somewhere in our hearts we all want and must show our gratitude to our mothers in every possible way. But blame it on this fast-paced lifestyle and the current social conditioning; we fail to do so. Hence, life gives us this opportunity – Mother's Day!
It would seem unbelievable, but the tradition of celebrating Mother's Day has been traced all the way back to the Greeks and the Romans. The annual spring festival of the Greeks was dedicated to Rhea, whom they worshipped and whom they believed to be the mother of all Olympian Gods and Goddesses. Her counterpart in the Roman history is Cybele who is worshipped similarly during the festival of Hilaria. However, the modern concept of Mother's Day was initiated by Anna Jarvis in 1905 in the United States. She campaigned to get Mother's Day to become a recognized holiday in memory of her mother Ann Jarvis who died in the same year. The first Mother's Day was celebrated in 1908 by Anna Jarvis who held a memorial for her mother at St. Andrew's Methodist Church, West Virginia. Now the church holds the International Mother's Day Shrine. Across the globe, Mother's Day is observed on different dates and for different reasons. The second Sunday of May and the International Women's Day are the two most popular days.
Coming back to showing gratitude to these selfless individuals, we call 'mothers', while no words and no amount of Mother's Day gift ideas would do justice to the task at hand, Saregama has launched a product befitting this criteria. Carvaan and its various models are retro looking audio player that come in different languages. It's simple and user friendly design adds to its overall beauty. It is the only music player which comes preloaded with 5000 handpicked high quality songs of the yesteryears. It comes in five colors so that you can choose the one that matches your favorite color or décor of your home. In today's tech-savvy world, Saregama Carvaan is that simple portable music player which requires no amount of learning to play it. It has a long battery life and can be charged with an android phone charger as well. In its simplicity, the makers haven't forgotten to keep Carvaan updated. It has a Bluetooth and a FM facility with a USB port as well. The Carvaan Premium and the Carvaan Gold come with a compatible app that allows you to make your own playlists.
So, grab this opportunity and Say, Happy Mother's Day! with Saregama Carvaan