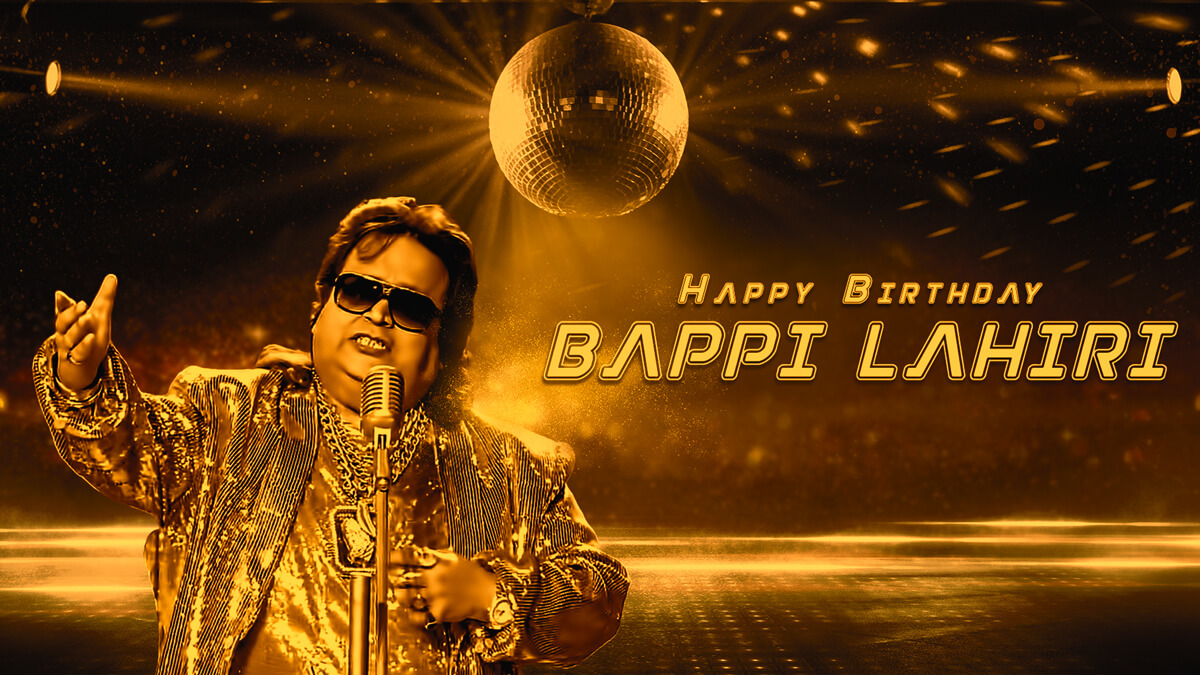 Known throughout the globe as the "Golden Man", Bappi Lahiri is one of the all-time great singers, composers and disco musicians representing the Hindi music industry. Bappida was born as Alokesh Lahiri into a Hindi Brahmin family in Jalpaiguri. Both his parents were renowned singers and musicians in classical music and Shyama Sangeet.
Bappi Lahiri songs are famous for being catchy dance numbers with uptempo beats. Even today, people cannot control tapping their feet to Bappida's songs. He is and will always be known for his disco-type songs. Bappi Lahiri was related to the greatest talent of Bollywood, Kishore Kumar and famous Indian film producer S.Mukherjee. Since the age of 3, Bappi's parents have started his training in music, and by 19 he has already been a music director for a Bengali film called Daadu. The very next year, he composed songs for his first Hindi movie Nanha Shikari.
Bappi Lahiri's compositions and playback singing for Tahir Husain's film Zakhmee made him an established musician in the industry. After this, he worked on music for many popular films like Chalte Chalte and Surakksha. Bappi Lahiri soon rose to be a star and became the youngest music director to do so.
During the 1980s, Bappi Lahiri with his exclusive talent bought a revolution in Indian music with the introduction of disco beats and synthesizer sounds. This made Indian music cross boundaries and made a special place in the hearts of music fans all over the world. Some of the most famous compositions in this genre by Bappida are "Hari Om Hari" and "Ramba Ho Samba Ho."Apart from this, he implemented his skills and made music for films like Pyara Dushman, Wardat, Sahhas, Disco Dancer and many more. In 1986, Bappi Lahiri was the only artist to enter the Guinness Book of World Records for the act of recording over 180 songs for 33 films in the same year.
Bappi Lahiri till today has composed more than 5000 songs in over 500 movies in various languages like Bengali, Hindi, Tamil, Punjabi, Oriya, Kannada, Malayalam and Assamese. Not only this, he composed songs for Bangladeshi films and Hollywood too.
You can now listen to all your favorite Bappi Lahiri songs on Saregama Carvaan, a digital audio player with 5000 in-built retro Bollywood songs. The portable speaker also has features like Bluetooth and USB connectivity with FM/AM radio stations making it an all-in-one music player. You can also listen to the songs sung by Bappi Lahiri in different languages through regional variants of the carvaan like Carvaan Bengali, Carvaan Tamil, Carvaan Punjabi and Carvaan Malayalam.
Saregama wishes our beloved Bappida a Happy and Healthy Birthday. May the disco vibe live forever.