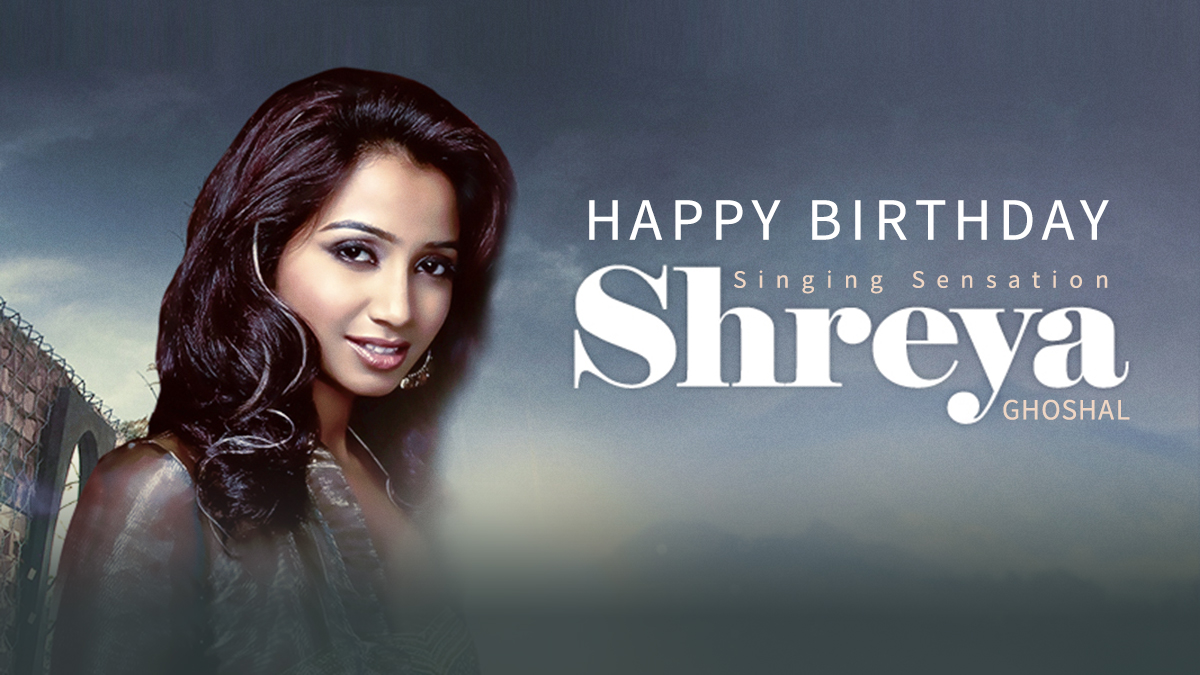 The sensational singing queen and the versatile genius have been pulling the heartstrings of music lovers with her evocative renditions for a long time now. Saregama wishes the leading playback singer of Bollywood Shreya Ghoshal a very happy birthday.
Music becomes a sheer pleasure when one listens to the mellifluous voice of the melody queen. Her vocals and scale are precious and even the sternest of music connoisseurs would bow down in appreciation for the same.
She is in a league of her own with quintessential skills and abilities in the music world. Language is no barrier as she has proved it over and over again. The super hit songs in Hindi, Bengali, Kannada, Malayalam, Marathi, Tamil, Telugu, Punjabi and other languages have made her a household name today all over India.
The genius female voice was born on 12th March 1984 in Berhampore, West Bengal to Bishwajit Ghoshal and Sarmistha Ghoshal. Her mother being a singer and father inclined to art and culture, Shreya was a music prodigy.
At the age of four under the training of her mother, she began taking the music lessons which became her foundation. As the place was full of cultural activities and opportunities, she began to perform at the age of six in the club's annual functions and programs.
Later, she took Hindustani Classical Music formally. In 1997, she along with her family moved to Mumbai. She continued her higher education and in the meanwhile won many singing competitions.
Judged by some of the most prominent musicians of India like Ustad Zakir Hussain, Anil Biswasji and more, Shreya Ghoshal came out with flying colors and won the competitions. She was on the verge of becoming the next singing superstar of India.
By the year 1998, she started recording for regional music in Bengali and Marathi.
Her singing career took a promising turn when Sanjay Leela Bhansali, the successful director heard her voice and was mesmerized. The rest is history. She became the voice of actress Aishwarya Rai in the famous movie Devdas. In 2002, as the music of the movie was launched, Shreya Ghoshal became the voice of India.
Collaborations with popular music directors like A. R. Rahman and duet songs with male singing stars became a regular feature of her career. You can listen to superhit Shreya Ghoshal songs in Carvaan.
Since then, she has recorded numerous Hindi songs in Bollywood which went on to become superhits. One of the highlights of her career has been singing a wide range of songs in almost all major languages of India. Versatility is an innate gift which she has explored and made it her strength.
As she is the product of Talent hunt shows in television, she has become the face of such shows today which give a platform to new and upcoming talents. Today, she is an inspiration for many singers who want to make it big in the world of music.
The appreciation and awards include winning 6 Filmfare Awards for Best Female Playback Singer and 4 National Film Awards as well. Besides these, she has won countless awards in regional languages also.
Shreya Ghoshal is a once-in-a-generation singer. A female musical wonder who has captured the hearts of Indian music lovers like no other. Listen to her popular songs in Saregama Carvaan.
Happy Birthday, Shreya Ghoshal! May you continue to mesmerize one and all with your magical voice.
//www.saregama.com/blog/a-special-gift-for-a-special-women-in-your-life-on-this-womens-day/
//www.saregama.com/blog/a-tribute-to-the-indian-music-legend-khayyam-who-composed-immortal-hindi-songs/