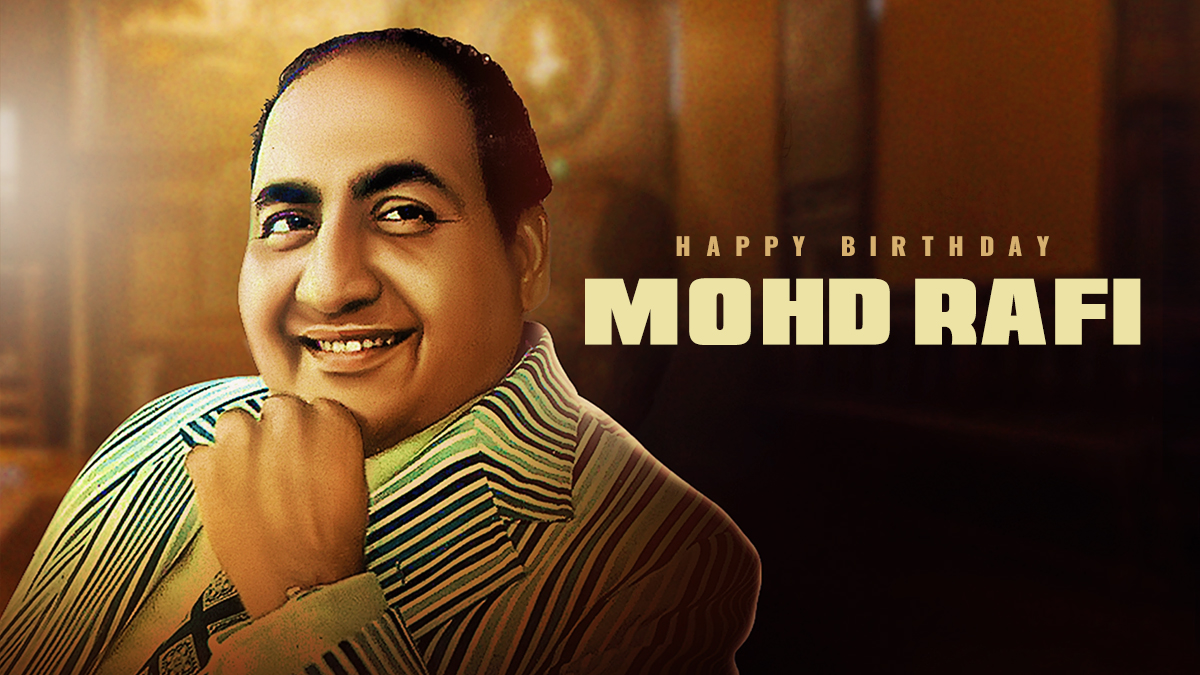 On Rafi Da's 95 th Birthday Anniversary, here is our take on the legendary singer and list of 5 things
you probably didn't know about him.
Mohammed Rafi – The name evokes a lot many emotions for those who have heard his magical
voice in the year 1950s – 1980s and even today. He was one of the few India singers who was loved
by people all across the country, irrespective of the region or language. He was a charming
personality with a clear set of principles and ethics which he religiously followed till the end.
According to his contemporaries, the ever-smiling singing legend had a big heart. The humble
background from where he made it big must have formed the man he was as a singer as well as the
human being. The Mohammad Rafi songs were the invisible face and beautiful voice of the
innocent and brave India of the yesteryear.
People who knew Raafi Saab say that he was a very private person. He had an aversion to fame and
glamour associated with being a star. The story goes that if he had to attend marriages, he would
bless the couple and drive away in the car as fast as possible.
His family was also kept away from all the media attention and the Bollywood industry in general.
After all, his work spoke on behalf of him. The fans of Md. Raafi, the singer, can never forget the
hits like Kya Hua Tera Waada – 1977, Likhe Jo Khat Tujhe – 1968, Babul Ki Duayen Leti Ja – 1968,
Mere Mehboob Tujhe Meri Mohabbat Ki Kasam – 1963, Chal Ud Ja Re Panchi – 1957, Bahaaron
Phool Barsao – 1966. You can listen to these majestic songs and many more with digital audio player
Saregama Carvaan.
Even though the musical maestro left the world almost 40 years ago, his legacy lives on. Also, there
are many interesting facts about him other than popular old Mohammad Rafi mp3 songs. If you
are a true Rafi fan, we have presented a glimpse into many less known moments of his life journey
which you would love to know:-
1) Many would be surprised to know that Md. Raafi married twice. The partition of India led to the
divorce as his first wife refused to remain in India. Later, he married Bilquis Bano. Interestingly, his
wife was not interested in music at all.
2) Children are inspired in many ways. One of India's finest singers, Md. Rafi, in his childhood, was
attracted to music when he heard a fakir singing and begging for alms. He also earned the
nickname 'Pheeko' as he used to imitate him. Later, it took a lot to convince his parents to accept
his decision to choose singing as a career.
3) Mohammed Rafi is perhaps one of the few male Indian singers who sang in national and
international languages. In his career spanning more than 3 decades, he sang in 14 Indian languages
and 4 foreign languages. He also sang the most number of duet songs with Asha Bhosle, and the
singing duo were a hit.
-Did you know? Rafi's song of Jaan Pahchaan Ho in the movie Gumnam1965 was used in the
Hollywood movie Ghost World – 2001.
-Once the classic song, Chaahunga Main Tujhe from the movie Dosti made the first Prime Minister
of India, Jawahar Lal Nehru to cry at one of the singing events.
4) Did the ever-smiling Md. Rafi fought with anyone? Yes, he did. There was a famous dispute that
happened between him and Lata Mangeshkar over the royalty for singers. The disagreement
stretched for six years. They didn't talk or even worked with each other. Fortunately, it was
resolved later.
5) It is a well-known fact that Kishore Kumar ended the reign of Rafi in the 1970s. Since then,
Kishore Kumar and Mohammad Rafi were hyped as enemies in the industry by the media. But in
reality, they were good friends as per the family members. In fact, Rafi sang for Kishore Kumar's
character in movies like Shararat and Ragini.
Born in an obscure village, it was his brother and mentors who made him realize his real talent and
motivated him to move to Mumbai. Perhaps this was the reason he always encouraged upcoming
singers. He did the same with Kishore Kumar.
When he died in the year 1980, even the heavens opened up, and it rained. Some of the young fans
shaved their head as part of the mourning over their favorite singers' demise. People showed
immense love for their beloved sensational singer and thronged to attend his funeral. Kishore
Kumar was one among them, sobbing his heart out for his dead friend.
Today, we love the Mohammad Rafi songs and the legacy he has left behind. Along with his singing
prowess, now you know about other interesting facets of his life to cherish and remember. Listen to
your favorite Old Mohammad Rafi mp3 songs on Saregama Carvaan.
You might also like-
//www.saregama.com/blog/ameen-sayani-a-celestial-voice-who-knows-the-soul-of-bollywood-songs/
//www.saregama.com/blog/a-tribute-to-the-undisputed-thalaiva-of-tamil-cinema-rajnikanth/