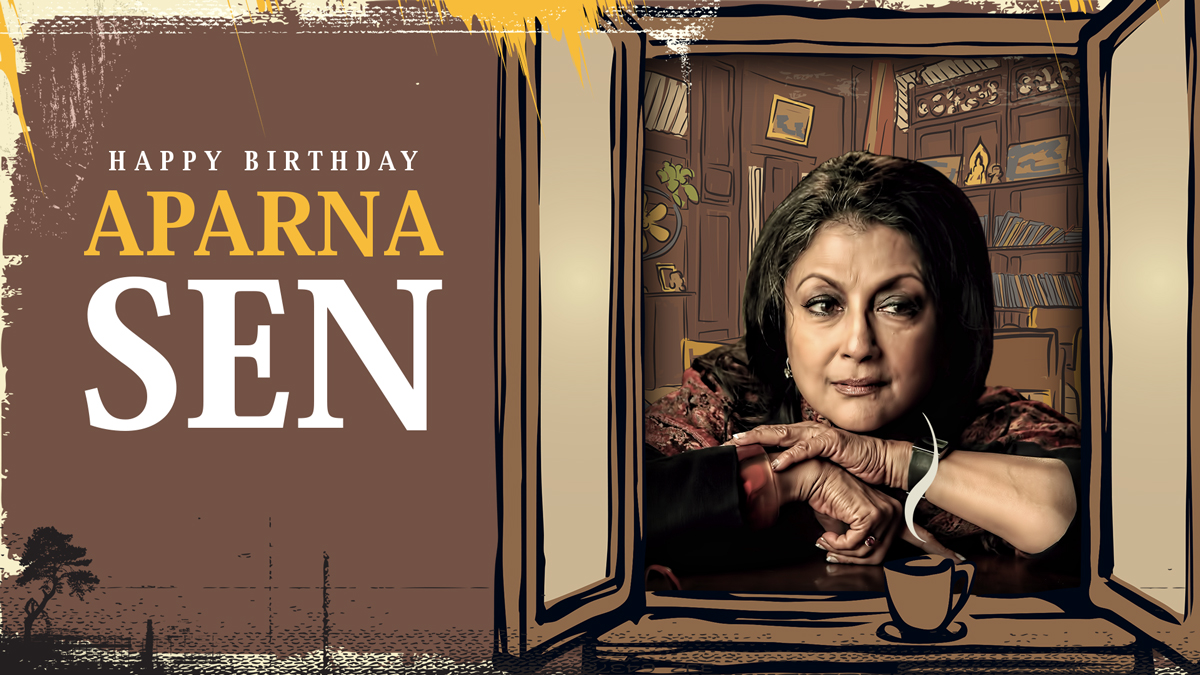 The conversation starter film director Aparna Sen is an Indian actress, screenwriter, and film director much known for her popular directorial 36 Chowringhee Lane. Her selective set of work has always managed to spark conversations and spark on the issues related to women in our society. Most of her works have been in Bengali and Hindi, and also English.  
Born on the 25th of October 1945, in a Bengali family from Cox's Bazaar in Chittagong district, her father was a filmmaker and critique. Aparna Sen's mother also worked in the same industry as a costume designer and was well respected and the recipient of the National Film Award for Best Costume Design in 1955. Sen spent most of her childhood in Hazari Bagh and Kolkata and did her schooling at Modern School for Girls in Kolkata. After finishing high school, Sen went on to pursue BA from Presidency College but did not finish her degree.  
Sen's first film debut came at the young age of 15 when she was still at school. She played the part of Mrinmoyee in the ending portion of 1961 Satyajit ray's film Ten Kanya. Satyajit ray being a long-time friend of her father gave her first role. After her debut though, Sen went on to pursue her degree in college that she left incomplete.  
As an actor, Sen's works are quite limited to her appearance in Brian Brake's famous "Monsoon" photograph series that appeared on the cover of life and in 2009 Aparna Sen appeared along with Sharmilla Tagore and Rahul Bose in the Bengali film Antaheen that went on to win four National Film Awards. 
As a director, Sen has been known to be quite selective while choosing her works and her films have been a spark to highlight issues related to women in our society. In 2009, Sen announced her next Bengali film Iti Mrinalini starring Konkona Sen Sharma, sen herself, Kaushik Sen, Rajat Kapoor amongst others as its cast. The screenplay of Iti Mrinalini was an assignment of the Mumbai film school Whistling Woods International. It was the first time any film institute's screenplay was being produced and the first time Sen was associated with a curriculum. 
Her 2013 starrer Gyonar Baksho, a film featuring three women from three-generation and their attachment to a box of jewelry was a super hit and won many positive critics. Sen then went on to release her 2015 adaption of Romeo Juliet; Arshinagar. 
In recent times, Sen's 2021 directorial and her third English film "The Rapist" starring Konkona Sen Sharma and Arjun Rampal was a hard-hitting film that won the Kim Jiseok Award at the 26th Busan International Film Festival held in October 2021. The film depicts how much society is responsible for producing rapists. The film was once again a conversation starter. 
Some other Aparna Sen films include Mr. and Mrs. Iyer, The Japanese Wife, Paromitaar Din, Parama, Ghawre Bairey Aaj, Unishe April, 15 Park Avenue, Arshinagar, Basana Bilap, An Unfinished Letter, Titli, Mem Saheb, Sati, A Death In The Gunj, Bohomaan, Vishwas, Yugant, Baksa Badal amongst others. 
The list of Sen's awards and accolades runs long. She has won nine National Film Awards, five Filmfare Awards East, 12 BFJA awards, three Kalakar awards for Bes Actress and Best Director, and in 1987 Sen was honored with Padma Shri; the fourth highest civilian honor given by the Government of India.  
On her 76th birthday, Saregama wishes her a hearty birthday. Now you can listen to the best of Aparna Sen mp3 songs on Saregama.com