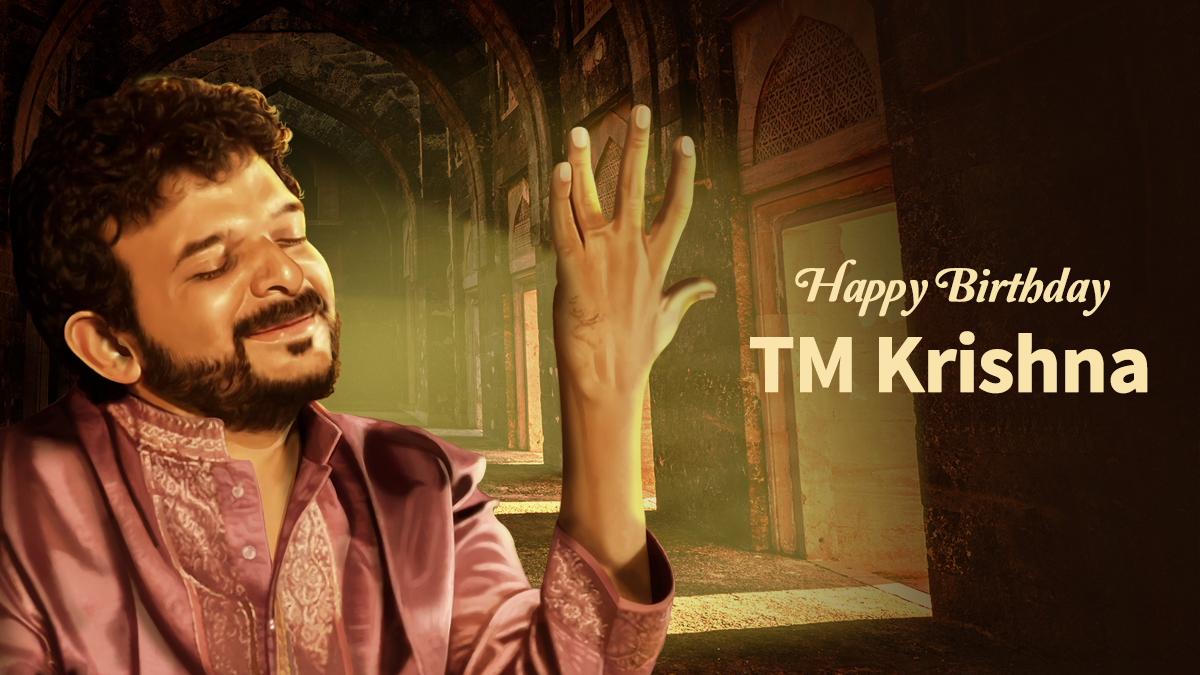 Thodur Madabusi Krishna is a Carnatic music vocalist. He is better known as TM Krishna or TMK. Additionally, he speaks and writes on social and cultural issues.
Krishna's vocal talent eludes standard evaluations as a vocalist in the Karnatik tradition. T.M. Krishna is at once strong and subtle, evidently traditional and creatively innovative, unique in his interpretation of music and unique in the way he presents it.
T.M Krishna's performing career began at 12 with his debut concert at the Spirit of Youth series organized by the Music Academy, Chennai (India). He has since performed widely at various festivals and venues across the world, including the Madras Music Academy, National Centre for the Performing Arts (India), John F. Kennedy Center for the Performing Arts, Lincoln Center for the Performing Arts, Esplanade – Theatres on the Bay, to name a few.
T.M. Krishna's parents were intensely interested in the arts, especially Carnatic music. Krishna's mother had been introduced to the classical arts by her parents when she was a child and even earned a degree in Carnatic Music. His parents encouraged his exposure to the classical arts from an early age. The parents arranged for him to begin receiving lessons in music at a young age. The music training of T.M Krishna began under Bhagavathula Seetharama Sharma. Then he received special Ragam Thanam Pallavi grooming from Chingleput Ranganathan.
T.M Krishna is nothing short of a genius who successfully carries forward Carnatic music's rich and diverse heritage. And the Saregama collection of T.M Krishna songs is a perfect display of his talent.
On his birthday, Saregama brings you the playlist of T.M Krishna songs especially created for the lovers of Indian Classical music or Carnatic music specifically.
An album titled T.M Krishna's Experience was released in the year 1998. The album consists of T.M Krishna songs, and they are sure to make you spellbound with his magical voice with the Carnatic music. Some of the T.M Krishna songs from the album are- Mayamma, Lalitha Sree, Koluvai Unnade, Kalaye Mama Hridaye, and others. So make sure to download the T.M Krishna songs in high quality on Saregama.
Music critics often describe his music as soulful and filled with 'raga bhava.' Among T.M Krishna songs and renditions, 'Jambupathe' is very popular among his listeners in Yamunakalyani, and 'Manavinala' is very popular in Nalinakanthi. Throughout the last decade, his music was renowned for his deep and powerful voice and his ability to sing rapid swaras in many rare ragas. According to him, his current focus is on Neraval, an improvisational form that has been distorting over the centuries. Purists object to him presenting varnams (traditionally introductory pieces) mid-concert. He also has his own extraordinary 'innovations' in presenting his concerts. Furthermore, he is working on a project in which the Dikshithar compositions from the Sangeetha Sampradaya Pradarshini will be rendered precisely as they are notated in the book.
One of the stellar albums of T.M Krishna songs was released in the year 2001. It was titled T M Krishna Mysore Vasudevachar Krithi, and it exclusively featured some of the finest T.M Krishna songs. Saregama has the songs from this album on our T.M Krishna song playlist. Some of the songs that are worth mentioning are- Kalaye, Ninne Nammithi, Palukava Demira, Mahathmule, Bhajare, Lambodhara, and Devi Ram. Add these great tracks to your list of T.M Krishna songs and witness his genius. Another album comprising T.M Krishna songs released in the same year that needs a mention is T.M Krishna Krithis of Gopalkrishna Bharathi. There are a total of 8 songs in T.M. Krishna Krithis of Gopalkrishna Bharathi. The songs were composed by T.M. Krishna. The songs are melodic and sure to mesmerize you. Some T.M Krishna songs from the album are- Paarka Paarka Thikattumo, Enneramum Undan, Idhuthano, Thillai Chidambaram, Varuvaro, Sharanagatha, Pitham Theliya, and Utharam Tharum Ayya. Make sure to add these lovely tracks to your list of T.M Krishna songs.
Pahi Krishna – Carnatic Collections of T. M. Krishna is a Telugu album released on 19 Jan 2021. Some songs that you must add to your T.M Krishna songs list are- Maa Ramanan, Sankari Sanguru, Pahi Krishna, and Swaminatha. These are some of the songs that have the magic of authentic Carnatic music, and they should definitely be a part of your playlist of classical music.
T. M. Krishna – Vol 1 is a Carnatic vocal album released in 2001. It has songs written by famous Tamil poets and writers like Rangaswami Nattuvanar, Thyagaraja, Muthuswamy Dikshitar, Muthuthandavar, Syama Sastri, Swathi Thirunal and, Subramanya Bharathi. T.M Krishna voices all the songs in the album, and these are true gems. Songs like Nenaruchi Nanu, Bhuvinidasudane Part 3, Kalyani, Sri Ranjani Aalapana Part 01 and Sri Ranjani Aalapana Part 02 must be part of your T.M Krishna songs list.
T.M Krishna has co-authored Voices Within: Carnatic Music – Passing on an Inheritance, a book dedicated to the greats of Karnatik music. His path-breaking book A Southern Music – The Karnatik Story, published by HarperCollins in 2013, was a first-of-its-kind philosophical, aesthetic, and socio-political exploration of Carnatic Music. For this, he was awarded the 2014 Tata Literature Award for Best First Book in the non-fiction category.
His collaborations with environmentalists and jogappas (transgender musicians) have been inspiring, as have his conceptions and performances of Karnatik Kattaikuttu, a cultural dialogue between communities at opposite ends of the societal spectrum.
In 2016, T.M Krishna received the prestigious Ramon Magsaysay Award in recognition of 'his fierce commitment as an artist and advocated to art's power to heal India's deep social divisions. In 2017 he received the Indira Gandhi Award for National Integration Award for his services in promoting and preserving national integration in the country. In 2017, he also received the Professor V Aravindakshan Memorial Award for connecting Carnatic music with the everyday person.
We hope that you will love this collection of T.M Krishna songs. Download and listen to T.M Krishna songs on Saregama.