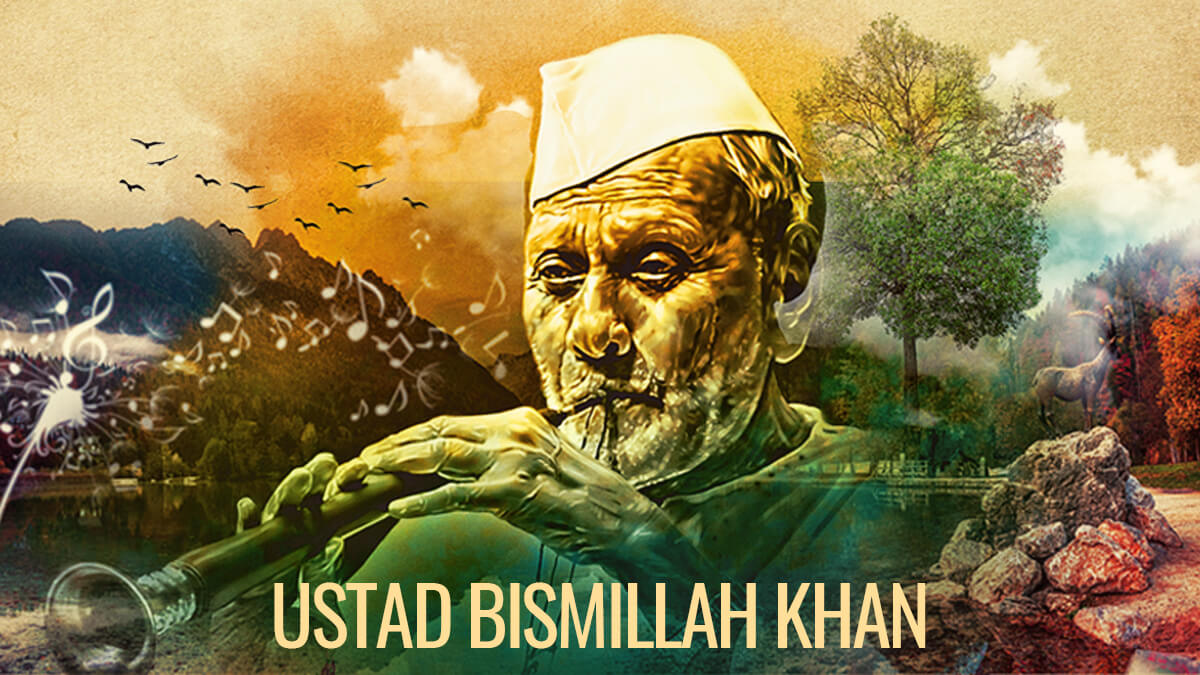 The Revered Legend brought Indian Classical Instrument Shehnai out of the temple and on stage, making it internationally famous. A journey that started over a century ago and a man who is still remembered even after his demise. On the 105th anniversary of Ustad Bismillah Khan, here is a short tribute about the world-famous, nationwide loved Shehnai Player.
Qamaruddin Khan, or popularly known as Ustad Bismillah Khan was born on 21st March 1916 to a family of traditional Muslim Musicians in Dumraon, in Eastern Bihar. Both his Grandfathers and his father were court musicians employed in the court of Maharaja Kesav Prasad Singh of Dumroan State, Eastern Bihar. Being born in a traditional musician family, Ustad Bismillah Khan grew up surrounded by music. And at the age of six, he relocated to Varanasi, Uttar Pradesh to be apprenticed to his uncle who at the time was a Shehnai player for the Kashi Vishwanath Temple.
From there he started sharpening and polishing his instrumental skills while he also completed his higher studies at Varanasi University. From an early age, he versed himself with different forms of music, mainly from around U.P, like Chaithi, Thumri, Sawani. He even mastered numerous different Ragas. Ustad Bismillah Khan's Shehnai skills soon couldn't be contained to just the walls of the temple and at the young age of 14, he accompanied his uncle to Allahabad for a music conference. That was the first time his skills were put on display and by the end of his recital, Ustad Faiyaz Khan complimented his skills personally, telling him to work hard and he'll succeed.
One of the first in the long list of contributions and achievements of Ustad Bismillah Khan was in 1937 when he brought Shehnai on center stage in Calcutta at the All India Music Conference. Following the year, he got to play the opening act in the All India Music Conference 1938, which was the first big break for Ustad Bismillah Khan. From there, his fame had no boundaries.
Then came the bone-chilling moment when India gained its freedom. On 15th August 1947 amongst thousands upon thousands stood Ustad Bismillah Khan with his Shehnai. He welcomed India's independence with an auspicious Shehnai musical, embarking on the bright future that stood ahead of the country. His audience that day included personalities like Mahatma Gandhi and the first Prime Minister Of India, Dr. Jawaharlal Nehru. He gave his famous "Tryst With Destiny" speech right after Bismillah Khan's performance.
But that was only the beginning, in 1950, he played his Shehnai at the Red Fort on the eve of India's first Republic Day Ceremony. His popularity kept on breaking boundaries and soon he started on his international journey, the first of that being Afghanistan. The King was so taken by the talent and skill of Ustad Bismillah Khan that he exulted his appreciation by gifting Ustad Bismillah Khan priceless Persian carpets amongst other souvenirs.
In his career, he played in countries like Europe, Iran, Iraq, Canada, Africa, the USA, the USSR, Japan, Hong Kong, and almost every capital city of the world. Not only this, but he was also the very first Indian to be invited to play at the prestigious Lincoln Centre Hall in the USA.
Coming to an extremely long list of awards, Ustad Bismillah Khan received three medals in the All India Music Conference (1937). He received his first Sangeet Natak Akademi Award in (1956), he was honored with a Padma Shri in 1961, Padma Bhusan in 1968, Padma Vibhushan in 1980, he received a Tahar Mausique from the Republic of Iraq in 1992, and in 2001 he received Bharat Ratna.
He was hospitalized in August 2006 due to his deteriorating health and he perished four days later due to a cardiac arrest. Sadly, he couldn't fulfill his last wish of performing at the India Gate in honor of the Martyrs. He was buried along with his Shehnai at Fatemaan Burial ground in old Varanasi under a neem tree with a 21-gun salute from the Indian Army in his honor. The government of India also declared national mourning on his death.
Even after decades Ustad Bismillah Khan still lives in all our hearts; in that sense he is immortal.
You can listen to all your favorite Ustad Bismillah Khan's instrumentals on the Saregama Carvaan. Saregama Carvaan is a digital audio player with 5000 retro Hindi songs. The portable speaker also has some exclusive features like Bluetooth and AUX connectivity. You listen to Ustad Bismillah Khan songs on Saregama Carvaan Hindi.
On his 105th birthday, Saregama celebrates his life.