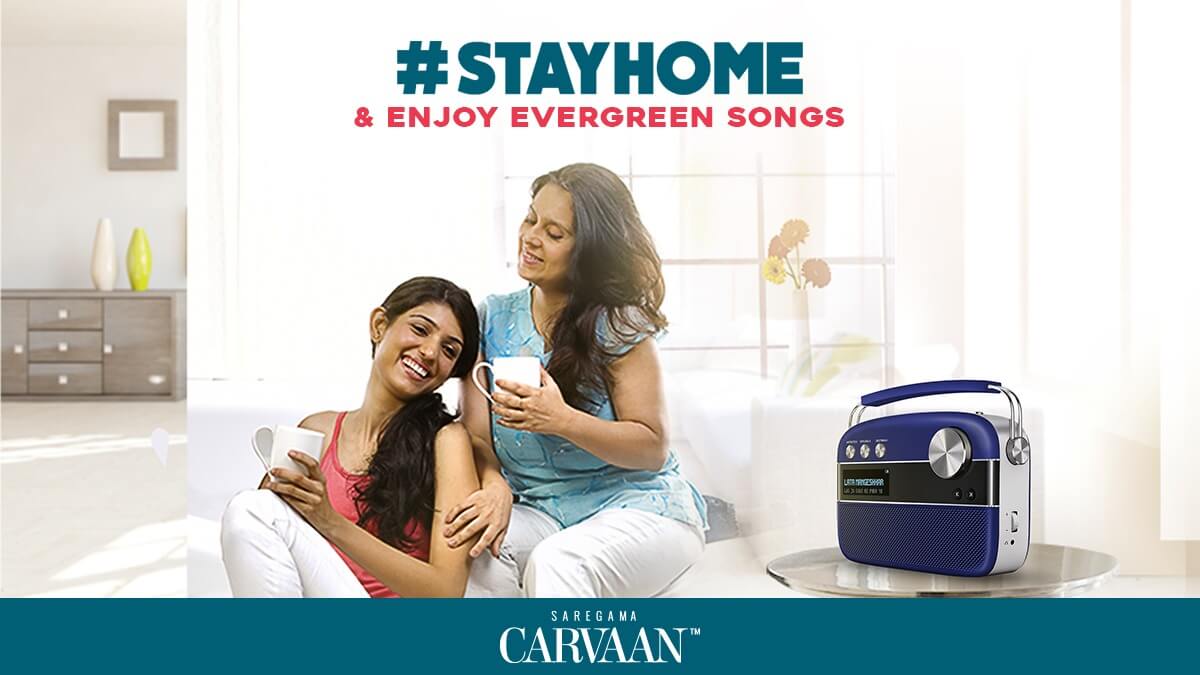 Staying home due to Coronavirus? If the noise of your full house or the silence of your apartment is driving you insane, tune in to our playlist. Saregama Carvaan with 5000+ Retro Bollywood songs is your rescue.
"No way out" rule in no way can limit your happiness. It is, of course, not easy staying home. But you can easily mould your mood into happiness with some of the great melodies sung by legends like Kishore Kumar, Lata Mangeshkar, Asha Bhosle, Mohammed Rafi, Mukesh and many more.
Old Hindi songs in Carvaan are the perfect audio device to create positive emotions and feelings in case you are feeling bored at home. Let the sweet voices, and harmonious notes fill the silence of seclusion.
It is often in times like these that songs like Waqt Ne Kiya Kya Hassen Sitam – Kagez Ke Phool – 1959, Kahin Door Jab Din Dhal – Anand -1971 or Kishore Da's Aanewala Pal – Gol Maal – 1979 makes more sense. The songs suddenly become more meaningful and teach us life-lessons. You can find these magnificent songs and many more in Carvaan.
 Missing the entertainment outside and bogged down by anxiety within the four walls? Again, the grandeur of music in old Bollywood songs has an overriding and a therapeutic effect.
The golden era of Bollywood was a surreal era. The super hit songs composed by R.D. Burman, Khayyam, Laxmikant-Pyarelal and the likes never seem to fade away. Those songs never become old but remain emblazoned in our souls.
Just play the evergreen favourites like Mere Sapno Ki Raani, Dekha Na Haye Re, Bachna Ae Haseeno and the time just flies. If you are looking for a relaxing time, listen to soothing tracks like In Anhkon Ki Masti, Chandni Raat Mei, Chahoonga Main Tujhe.
In the times of social distancing, one can only imagine and hum songs like Zindagi Kaisi Ek Paheli Hai, Zindagi Ki Yahi Reet Hai and take heart in the fact that Jeena Isika Naam Hai.

But life is full of hope and you can share happiness with others by singing Mere Saamne Wali Khidki Mei, Musafir Hoon Yaaron, or Pyaar Kiya To Darna Kya. In the end all we can perhaps sing is Inteha Ho Gyi Intezar Ki.
Let these and many more songs inspire and motivate you and keep you in good stead always.
These songs will rightly feed the demand for calm and peace. The feeling of dread is replaced by pure happiness. Music is a miracle that comforts and it has to be experienced.
 The current threat is a concern to humanity and society. But we human beings have always taken challenges head on. Music, from time immemorial, has given great company in times of crisis.
Saregama Carvaan has a wide range of variants which include Carvaan Punjabi, Carvaan Bengali, Carvaan Tamil and Carvaan Marathi.
You too can transcend the experience of staying home and make it a pleasant memory with 5000+ evergreen Hindi songs in Saregama Carvaan.