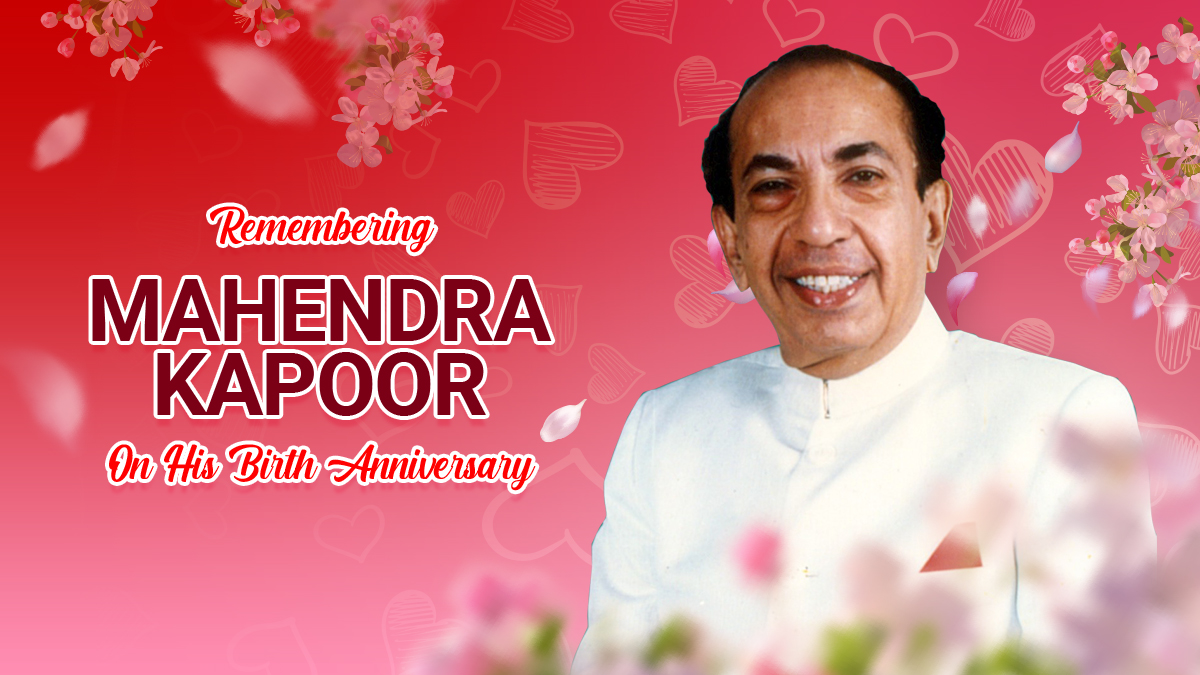 Padma Shri recipient Mahendra Kapoor was one of the most versatile singers. Years later, he is still popularly remembered for lending his voice to legendary actors like Manoj Kumar and Dada Kondke.
The history of Indian cinema is incomplete without Mahendra Kapoor songs. The playback singer was not only versatile in his genre of singing but has sung in various languages and across multiple platforms. He had over five decades-long careers in the music industry. With numerous awards and accolades to his name, Mahendra Kapoor celebrated his birthday anniversary this year.
Mahendra Kapoor was born in Amritsar in a family with no base in the film industry. At a very early age, he moved to Mumbai. Soon his interest in music turned into his passion. He started learning classical music under the guidance of music maestros like Pt. Hussanlal, Pt. Jagannath Bua, Pt. Tulsidas Sharma, Ustad Niaz Ahmed Khan, and Ustad Abdul Rehman Khan. He had considered the legendary singer Mohammad Rafi as his ideal throughout his learning years. He so inspired him that he adopted many of Rafi's singing cues in his style. Mahendra Kapoor song singing ability won him the Metro Murphy All-India singing competition in 1957; it gave him his big break in the film industry. He debuted as a playback singer singing for V. Shantaram'sShantaram's film Navrang. "Aadha Hai Chandrama Raat Aadhi", composed by the music director C. Ramchandra, happens to be the first-ever Mahendra Kapoor song to be officially recorded. With this, Kapoor had personified the saying, "Where there's a will, there's a way."
In his five-decade spanning career, the count of Mahendra Kapoor songs had reached over 25,000. He was a versatile singer. His singing was never monotonous. He offered variety to his listeners, singing Bhajans, Patriotic songs, Qawwalis, and Naats. He has even voiced the title track of the famous TV serial Mahabharat. Offering such variety, Kapoor had even sung in regional languages such as Marathi, Punjabi, and Gujarati. The Marathi listeners liked his voice so much that he bagged a significant milestone being the musical voice of legendary actor Dada Kondke. Though he was born in Punjab, Kapoor had a flair in Marathi and Gujarati languages as he lived in Mumbai for most of his life. To date, the listeners vividly hear Mahendra Kapoor songs in the regional languages.
Mahendra Kapoor songs that reached chartbuster status were "Chalo Ek Baar Phir Se" from Gumrah and "Neele Gagan Ke Taale" from Humraaz. Many Mahendra Kapoor songs that are played on loop even today by his fans are "Chalo Bulawa Aaya Hai", "Saare Jahan Se Acha Hindustan Humara", "Mera Rang De Basanti Chola", "Om Jai Jagdish Hare", and "Beete Hue Lamhon Ki Kasak", to name a few. He was the solo singer of his time to offer such variety. You can listen to these Mahendra Kapoor songs on Saregama Carvaan.
The famous patriotic anthem "Mere Desh Ki Dharti" from Upkaar is still considered the best Mahendra Kapoor song ever. It was filmed on Manoj Kumar; Kumar has voiced in Mahendra Kapoor songs in most of his films. The song 'Kaisi Haseen Aaj Baharon Ki Raat' from the 1967 film Aadmi was initially recorded with Mohammad Rafi and Talat Mehmood. But Manoj Kumar refused to use Talat's voice in the movie; he insisted and got Mahendra Kapoor to sing his part in the song, alongside Mohammad Rafi. With this association, Mahendra Kapoor came to be known as the on-screen musical voice of actor Manoj Kumar. This persistence by Manoj Kumar allowed Mahendra Kapoor to sing with his guru Mohammad Rafi.
Mahendra Kapoor had always been vocal about his admiration for Mohammad Rafi. He sang Rafi Saab's non-filmy song 'Ilaihi Koi Tamanna Nahin' for the music competition that gave him his big break. His entry into Bollywood introduced him to his role model. Apart from a song in the film Aadmi, they never officially collaborated to sing. But Mahendra Kapoor left no chance to work with Raafi Saab. As per the sources, he was part of his musical show in Kolkata, where he was singing in the chorus. In several public appearances, Kapoor has accepted being influenced by Mohammad Rafi and even cited that he was the greatest singer to be ever born. Even Rafi Saab acknowledged him and have agreed to like Mahendra Kapoor songs. They never thought of each other as competitors but valued each other's art.
The golden era of Bollywood witnessed great music, and Mahendra Kapoor songs were part of it. He had his own distinct style of singing. His extensive vocal range earned him the title of 'The Vibrant Voice of India'. His charm was spilled in the Hindi film industry and even over the international audience. Kapoor was the first Indian playback singer to record music in English. He had collaborated with Boney M to sing their Hindi verses alongside Musarat from Pakistan. This union resulted in the pop album M-3. Some of his best tracks on this album are "Chori Chori Chalo!!" and "O Meri Champa Ki Daali".
The government of India awarded Mahendra Kapoor with the prestigious Padma Shri in the year 1972 for his outstanding contribution to the music industry. The famous Mahendra Kapoor song "Mere Desh Ki Dharti" won him the National award in 1968. He is also the recipient of the Lata Mangeshkar Award declared by the Madhya Pradesh state government. Apart from these, he has won numerous Filmfare awards and other significant honors for his pleasant voice.
Mahendra Kapoor took his last breath in 2008; he died because of cardiac arrest at his home in Mumbai. Several celebrities remembered him on his demise. However, even years later, he continued to stay among us with his evergreen identity and the ever melodious Mahendra Kapoor songs.
On Mahendra Kapoor's Birth Anniversary, Saregama pays him a tribute celebrating the best Mahendra Kapoor song treasured in the Saregama Carvaan music library. You can listen to all your favorite evergreen Mahendra Kapoor songs on Saregama Carvaan any time, anywhere!