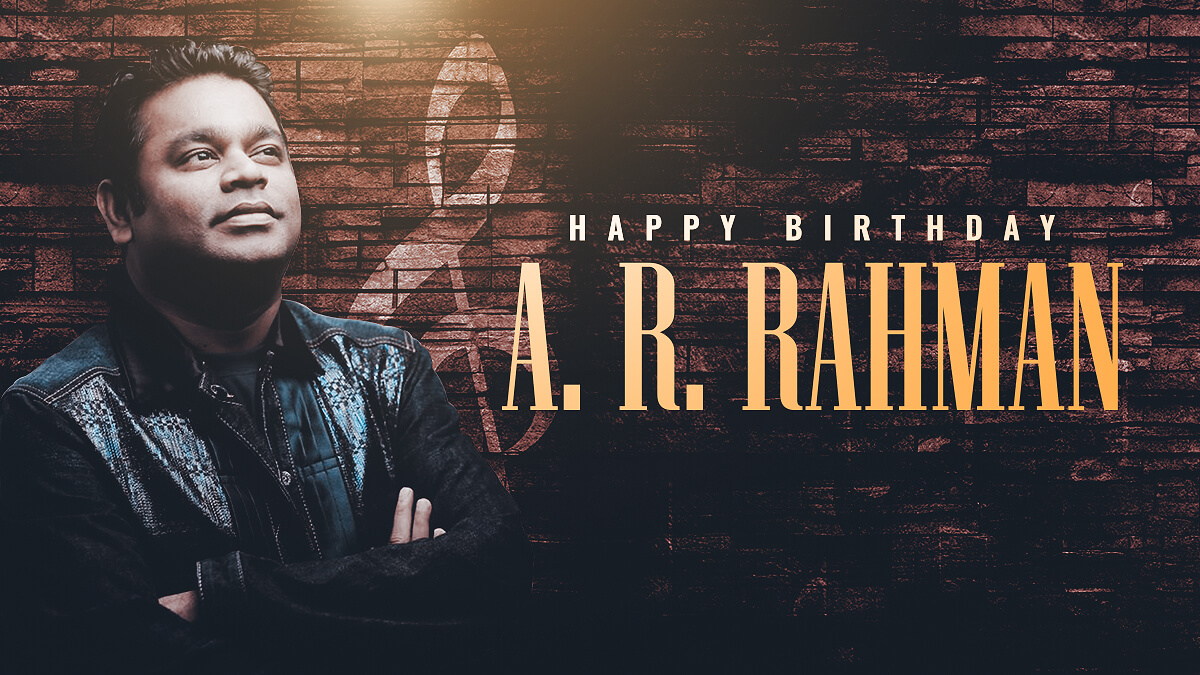 A. R. Rahman is an ace music composer, producer, singer and musician who made his presence felt across the globe. Rahman mostly works for Hindi and Tamil movies. Rahman was born in Madras on 6th January 1967. His father was a film-score composer for Tamil and Malayalam movies.
The musical journey of A.R.Rahman began at a very young age. He trained under master Dhanraj at the age of 11. He then worked with many composers like M.K.Arjunan, M.S.Vishwanath, Vijaya Bhaskar, Illaiyaraaja, Vijay Anand and many more.
During his early years into music, Rahman composed scores for many documentaries and made jingles for advertisements. At first, Rahman was known as Dileep. He created the most popular jingle for Titan watches. It was the year 1992 when A.R.Rahman was approached by the ace film director Mani Ratnam to compose the score and soundtrack for the Tamil film, "Roja". This was when Rahman's film career began. He made one of the most advanced music studios in India in his backyard and named it Panchathan Record-Inn. Santosh Sivan, a famous cinematographer, signed A.R.Rahman for his second film Yoddha, a Malayalam film starring Mohanlal released in September 1992.
Throughout his career and till today A.R. Rahman is best known for combining western music with classical music. After Roja, A.R. Rahman went on to become a big star in the Tamil film industry. His song " Chikku Bukku Rayile" from the film Gentleman, went on to be a popular dance song. A.R. Rahman made his Bollywood debut with Ram Gopal Varma's Rangeela. Later, he created hit music for films like Dil Se and Taal. Chaiyya Chaiyya is a song by Rahman that feels still fresh and alive till today. In 2005, A.R. Rahman established AM Studios and launched his music label, by the name of KM Music. He also created scores for a Mandarin film Warriors of Heaven and Earth in 2003.
Rahman won the BMI London Award for Best Score for his first even Hollywood film, Couples Retreat.
One of the biggest highlights of A.R. Rahman's career was when his music for the film Slumdog Millionaire in 2008 won a Golden Globe and two Academy Awards. He also composed music for the sci-fi romantic film Vinnaithaandi Varuvaayaa. His music for Jaane Tu Yaa Jaane Na and Jodhaa Akbar was also critically acclaimed. In 2014, A.R. Rahman worked for 12 films in different languages.
You can now listen to all your favourite A.R. Rahman songs on the Saregama Carvaan, a digital music player with 5000 old classic Hindi songs. It is a retro-looking music player with exclusive features like Bluetooth and USB connectivity. You can select the songs you want to listen based on different moods and artistes. You can also listen to your favourite FM/AM stations on the Saregama Carvaan. The Saregama Carvaan also has a version called the Saregama Carvaan Tamil through which you can listen to Tamil songs created by A.R. Rahman.
On his Birthday, we wish that the six-time national award and two-times Oscar winner, the legend A.R. Rahman continues to create magic with his music.