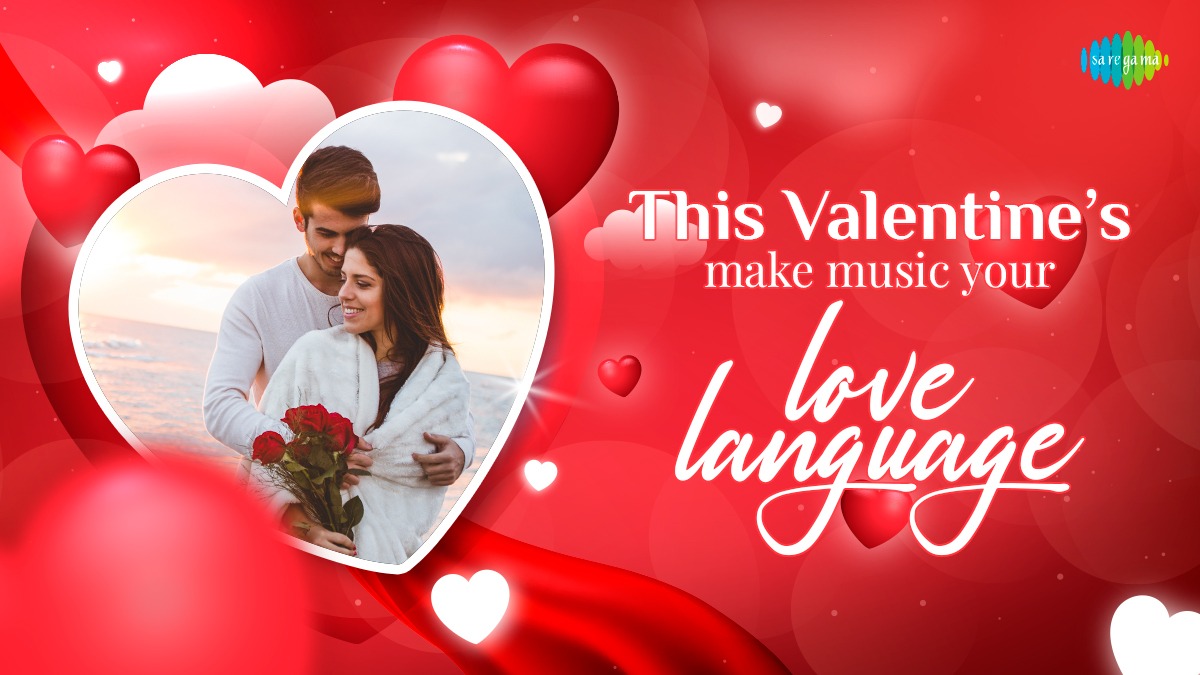 Imagine you are sitting at your dining table and have put in extra effort to convert your house into a romantic set up, you have lit the candles and the lights are dimmed, there are roses and then the love of your life enters looking drop dead gorgeous, you look at them and utter 'I love you'. To which they reply 'That's it? And????…' And we completely agree with your partner. I love you and all is great but it's honestly a little cliche and understated. It's not as beautiful and magical as saying 'Kabhi kabhi mere dil mein khayaal aata hai, ki jaise tujhko banaya gaya hai mere liye'
What we are hinting at is that expressing love although seems easy needs to be done in the right way in order to make sure that your significant other feels appreciated and visible. So why not introduce music as your love language this Valentine's day? 
Bollywood music and movies have been an integral part of how we perceive and express love. Let it be Kajol running toward Shah Rukh Khan or Rishi Kapoor showering roses over Sridevi from a helicopter, let it be Amitabh and Rekha walking through a garden filled with tulips in Amsterdam or Raj Kapoor and Nargis shyly romancing under an umbrella. Bollywood has taught us what love is and how to love. And the best part is that Bollywood has blessed us with the gift of exceptional love songs. Songs with lyrics that exactly know how you are feeling for your partner or any other loved one. Think about it, how many times have you closed your eyes and just let Kumar Sanu, Kishore Kumar, and Arijit Singh's voices sink into your soul as you think about your partner or hold hands with them? That's the beauty of Bollywood songs, they resonate with us, our being so much so that we feel attached to the song entirely as if it was made for us. 
Imagine lying down on the grass with your partner holding you in a close embrace. There's beautiful silence all you can hear are the chirps of the birds around and you feel your partner's hand covering your eyes lightly to protect you from the sun. And suddenly they sing….
'Kabhi kabhi mere dil mein khayal aata hai
Ke jaise tujhko banaya gaya hai mere liye
Ke jaise tujhko banaya gaya hai mere liye
Tu ab se pehle sitaron mein bas rahi thi kahin
Tu ab se pehle sitaron mein bas rahi thi kahin
Tujhe zameen pe bulaya gaya hai mere liye'
Looking for a grand gesture to express and confess your love? You should take lessons from Rishi Kapoor. Chandni aka Sridevi is standing on the hilltop as a helicopter appears in the sky with Rishi Kapoor showering rose petals on Sridevi. Magical right? Well, we understand if you can not afford a helicopter but roses are doable, right? So decorate your room and shower rose petals on your partner while singing….
'Rang bhare badal se
Tere naino ke kajal se
Maine is dil pe likh diya tera naam
Chandni, o meri chandni'
Are you a couple who loves stillness and can just sit with each other while listening to old songs? It's a beautiful feeling in that case. This Valentine's light candles and sit on your balcony holding hands with your partner as the Carvaan plays….
'Tu Mile Dil Khile Aur Jeene Ko Kya Chahiye
Na Ho Tu Udas Tere Pas Pas Main Rahunga Zindagi Bhar
Na Ho Tu Udas Tere Pas Pas Main Rahunga Zindagi Bhar
Sare Sansar Ka Pyar Maine Tujhi Mein Paya
Tu Mile Dil Khile Aur Jeene Ko Kya Chahiye'
You saw her at a supermarket/library/college/school/office etc and at that very moment, you knew, you just knew that she is the one. Your entire being depends on her and she would be the one around whom your entire universe would revolve. If you walk in the room and can only see her and everybody else is a blur then go ahead and let her know exactly how special she is to you and maybe even sing to her…
'Ek ladki ko dekha to aisa laga
Jaise khilta gulaab, jaise shayar ka khwaab
Jaise ujali kiran, jaise ban mein hiran
Jaise chandni raat, jaise narmi baat
Jaise mandir mein ho ek jalta diya
Ho, ek ladki ko dekha to aisa laga'
If your love is of the kind where no words are required in order to tell, your significant other exactly how much they mean to you. If you are the kind of couple who can sit in silence for hours and just enjoy each other's company then we suggest you can have a low-key Valentine's day and just spend it in your comfort while your Saregama Carvaan hums…..
'Kuch na kaho kuch bhi na kaho
Kya kehna hai, kya sunna hai
Mujhko pata hai, tumko pata hai
Samay ka yeh pal tham sa gaya hai
Aur is pal mein koi nahi hai
Bas ek main hoon, bas ek tum ho'
And that is why we said, that this Valentine's day you should definitely consider making music your love language. Express all your emotions and passion with the help of Saregama Carvaan Premium, an elegant device that would cater to all your moods and help you celebrate your love in serenity.