Ah, Valentine's Day! A day of love, romance, and of course a lot of gifts. The day when Cupid's arrows fly and pierce every couple's hearts. A day that brings a smile to our faces, a twinkle in our eyes, and warmth in our hearts. The day that we celebrate love and affection, not just for our significant others, but for our friends, family, and even for ourselves.
Valentine's Day is a day to embrace the feeling of love and cherish the special people in our lives. It's a day to show appreciation for the people who make our lives a little brighter and to let them know how much they mean to us. Whether it's through a bouquet of flowers, a box of chocolates, a handwritten love letter, or simply a hug, the sentiment is the same: I love you.
For many of us, Valentine's Day is a time to reflect on the love in our lives. Whether we are single or in a relationship, it's a day to celebrate the love that surrounds us. For those in a relationship, it's a time to show appreciation for the person who makes their life complete. For those who are single, it's a day to celebrate the love they have for themselves and to look forward to the day when they find their soulmate.
Valentine's Day is also a time to let go of the past and start fresh. It's a day to forget the heartaches and the broken hearts and to focus on the love that is yet to come. It's a day to be optimistic about the future and to believe that love will find us.
But what is it about Valentine's Day that makes it so special? Perhaps it's the fact that it's a day dedicated solely to love and affection. Or maybe it's the joy of exchanging gifts and surprises with the people we care about. Whatever the reason may be, Valentine's Day is a day to embrace the feeling of love and celebrate it in all its forms.
So, how do we celebrate Valentine's Day? There's no right or wrong answer to this question, as everyone celebrates the day in their own unique way. Some couples may choose to go out for a romantic dinner, while others may opt for a candlelit picnic in the park. Some people may choose to send sweet messages to their loved ones, while others may prefer to write love letters. The possibilities are endless, and the most important thing is to do what makes you and your loved ones happy. 
With V Day around the corner, you're probably wondering how to make your partner feel loved and appreciated. Well, the answer is simple – give them gifts! Because that's the one thing that you can not dare to forget. And when we say gifts, we don't mean just any gift – we mean the right gift. The gift speaks the language of love and tells them how much you care.
So, what are the gifts that would make your partner's heart skip a beat? Well, flowers, chocolates, and other sweet treats are fine but think about getting them something that has a quirky yet cute touch to it. And we have just the thing for you.
Saregama's Chutzpah collection comprises a collection of t-shirts that have Bollywood song and movie references.

Twin with your partner with these romantic t-shirts this V-Day: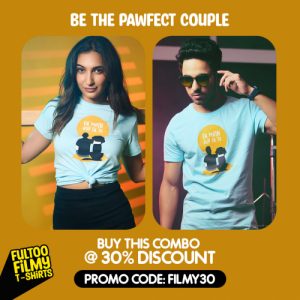 Ek Main Aur Ek Tu – Couple T-shirts for Valentines Day
This V day take a walk with your awesome partner and your pawsome pet in this cool sky-blue tee! The Fultoo Filmy look is inspired by the 1951 classic: Khel Khel Main. It is available for both Men and Women. If you are planning to twin with your partner and showcase your love for your fur buddy then this is the perfect fit for you.
Ek Main Aur Ek Tu is a song that features the legendary Rishi Kapoor and the ever-versatile Neetu Singh. This song is one of the most popular songs of Bollywood portraying young budding love. What makes it even better is the fact that later on Rishi Kapoor and Neetu Singh ended up marrying each other.
If your partner is a fan of either artist she will appreciate this slim-fit sky-blue T-shirt with the movie's hit song "Ek main Aur Ek Tu" in an urban art print. It has a casual but sporty look and it's made of pure cotton, so you can expect a comfortable fit.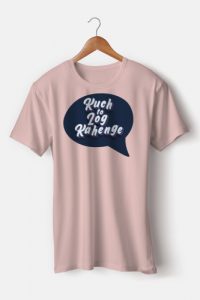 Kuch Toh Log Kahenge Couple Tshirts for Valentines Day
Kuch Toh log kahenge is a hit Bollywood song by Kishore Kumar from the iconic Vinod
Mehra movie, Amar Prem. It basically portrays that you should not give two hoots about what people have to say. So if your love story has faced a lot of judgement or criticism but you have still managed to withstand all of it without paying heed to it, then you should wear this tee proudly! This Fultoo Filmy look is inspired by the 1972 film: Amar Prem Bollywood lovers often tend to fall into one of two categories, modern lovers or classical lovers. 
If your partner and you are retro lovers, then you should surely get these matching couple t-shirts. It has a warm but mellow peach tint and the design is cool and refreshing. The fit of the t-shirt is something that you would love.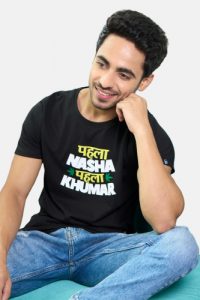 Pehela Nasha Pehela Khumar Couple Tshirts for Valentines Day
Are you celebrating this Valentine's day with your pehla pyaar? This is your go-to tee in that case! "Pehla Nasha Pehla Khumar" is a well-known Bollywood hit even to kids born after the '90s.
The whole sequence where Aamir and Aayesha Jhulka are dancing in slow-mo is so iconic.  
So go get this couple t-shirts now dance with your lover in slow-mo and celebrate your Pehla and hopefully aakhiri pyaar.
Whether you're in a relationship or not, Valentine's Day is a day to embrace the feeling of love. It's a day to celebrate the special people in our lives and to show appreciation for the love that surrounds us. So, we just hope we can help you put on a smile, embrace the feeling of love, and make this Valentine's Day a memorable one!