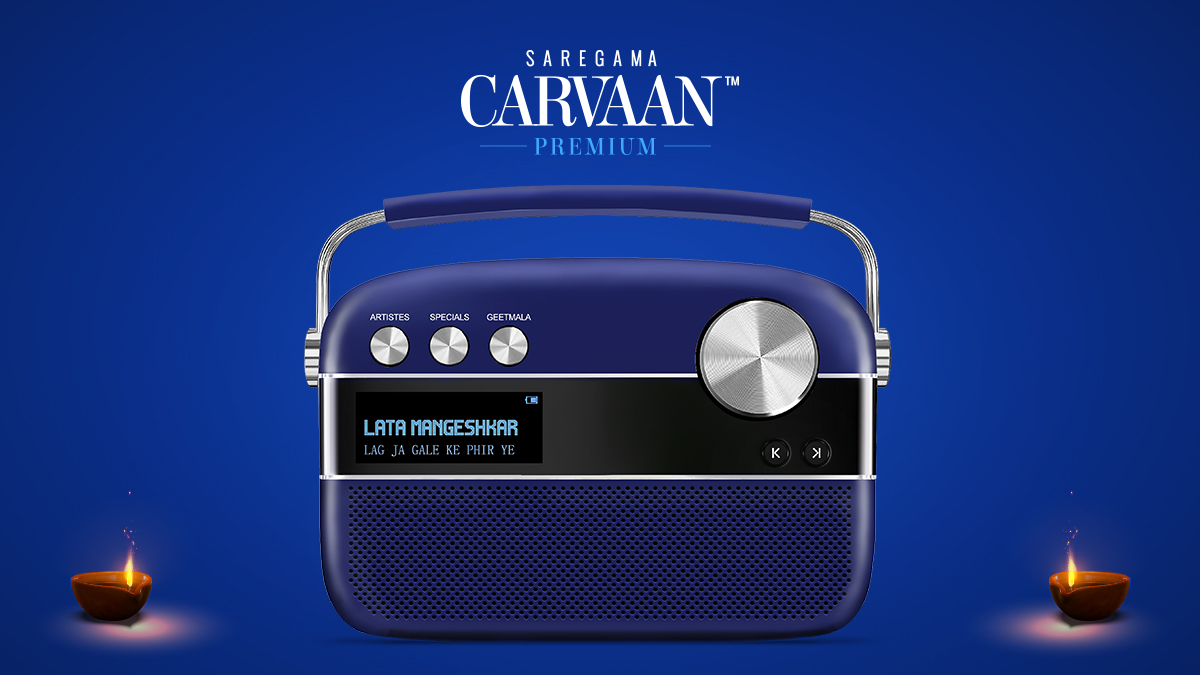 Diwali is the festival of lights, togetherness & happiness. The festival marks a ceremony of joy, abundance, goodness and peace. It is interesting in a way that we all have our own style of celebrating Diwali. Some prefer to use their holidays for family trips while others like to visit friends and family. While some like to go out and burst crackers, others like to host get-togethers and spend some quality time with their friends and family.
While hosting a get-together, time and again music has proved to be a fantastic way to bond with others. Between the noises of crackers and traffic commotion, soulful music brings peace and relief while elevating the festive charm. When it comes to entertainment, Saregama Carvaan Premium is the perfect companion for your Diwali celebrations.
The Carvaan Premium is preloaded with 5000 evergreen Hindi songs which are categorised into 130+ dedicated stations based on lyricists, actors, singers, music composers and specials. It comes with a companion app where you can view and search all the songs, artiste and album and also can make your own playlist. Alternatively, each music station can be selected by turning a jog-dial. So, with the turn of a knob, you can switch from Kishore Kumar classics to R.D Burman's pulsating hits, to songs picturised on Amitabh Bachchan, Rekha and other legends of Hindi Cinema. Carvaan also offers an array of specially curated stations like Romance, Sad, Gurbani, Mangeshkars, Kapoors, Ghazal, Bhakti and many more. The Carvaan houses the entire Ameen Sayani's Geetmala countdown collection spanning 50 years.
Some of the most attractive features of Carvaan Premium is its portability, crystal clear sound, connecting your phone or tablet using Bluetooth or an AUX IN cable. This lightweight digital audio player is perfect for home gatherings, family time or a little "self" time.
The Saregama Carvaan Premium works on rechargeable batteries which last up to a solid five hours after a full charge, giving you undisturbed fun in festivals. Your new Carvaan Premium will be backed by an all India service network and provides a 1-year doorstep warranty support.
In the noisy urban cities, music brings peace. In a stressful career life, music provides relief. In the time of sadness, music helps you soothe and recover. In the time of happiness, music makes you dance on your toes. In every aspect of life, music can be your best companion. This Diwali, bring home or gift your family and friends a companion that will always be by your side – get a Saregama Carvaan Premium.