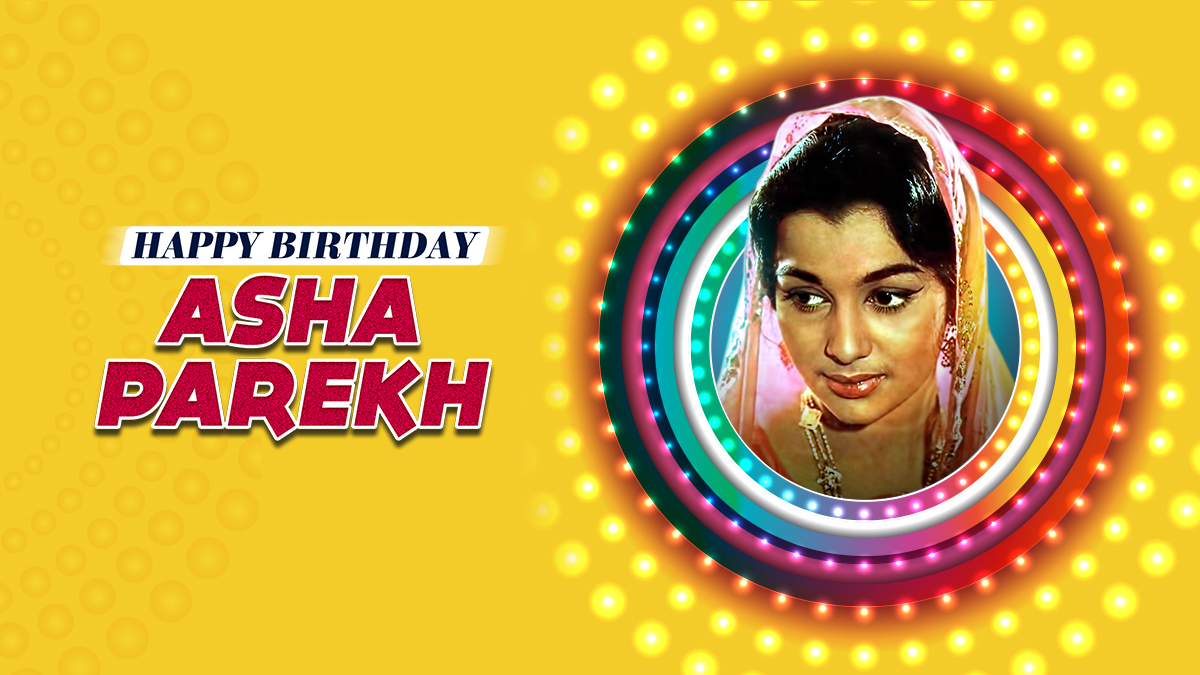 Asha Parekh is one of the legendary Indian actresses, producers, and film directors of her time. She has starred in some of the most iconic Hindi films throughout her career, along with being the highest-paid actress of her time. Being one of the most successful actresses of the 1960s and the 1970s, Asha Parekh is also considered the most influential actress of all time in Hindi cinema.  
Born on the 2nd of October 1942 into a middle-class Gujarati-Jain family, Asha Parekh's mother enrolled Parekh into Indian Classical dance classes from an early age. Hence, Parekh grew up learning the skills through various mentors like Pandit Bansilal Bharti. 
Asha Parekh's first encounter with the industry also happened at an early age. She entered the industry named Baby Asha Parekh after the film director Bimal Roy saw her dancing at a stage show at the age of ten and decided to cast her in the 1952 film Maa. Two years after came Baby Asha Parekh's next child role in the 1954 film Baap Beti, though the film wasn't a success which disappointed Asha. Although she did go on to do few other child roles, eventually Asha quit acting and went back to resume her schooling.  
At the age of sixteen, Asha decided to come back to acting, but she faced great criticism from the Goonj Utthi Shehnai filmmaker who called her a "not star material". Precisely eight days later, Asha was cast opposite Shammi Kapoor in the 1959 film Dil Deke Dekho by writer-director Nasir Hussain and filmmaker Subodh Mukherjee. The film made Asha a huge star in the industry ad she entered Bollywood with a bang. 
Her first movie with Hussain also was a start to her long-term relationship with the writer-director who went on to cast Asha in another six of his movies and also got her involved with the distributions of 21 other films, starting with Baharon Ke Sapne in 1967. 
Most of the roles Parekh played revolved around either glamourous girl/excellent dancers, and tomboy characters. This went on to create an image for Parekh as she did similar kinds of roles until the film director Raj Koshla cast her in a serious role in three of her favorite movies, Do Badan (1966), Chiraj (1969), Main Tulsi Tere Aangan Ki (1978). And while Raj Koshla gave Parekh her serious roles, film director Shakti Samanta gave parekh her dramatic roles in other favorite films of hers like Pagla Kahin ka (1970), and Kati Patang (1970). The latter of the two movies also earned Parekh her first Filmfare award for Best Actress. You can now download High Quality mp3 song from Saregama website.
Apart from Hindi cinema, Parekh also acted in the films of her mother tongue Gujarati which became a big hit at the peak of her career. First of them being Akhand Saubhagyavati in 1963, and Punjabi movies such as Kankan De Ohle (1971), and Lamhardarni in 1976. 
After Parekh stopped acting in leading roles, she switched to directing and producing TV shows starting with the Gujarati show Jyoti. She established her production company called Akruti and produced shows like Palash Ke Phool, Baaje Payal, and Kora Kagaz. Apart from her association with producing and acting, Asha Parekh was also the first female chairperson of the Central Board Of Film Certification (Censor Board) of India. She stopped acting completely in 1995 and took up directing and producing films later on.  
Parekh stayed unmarried although she did accept the long-running rumors of her affair with the filmmaker Nasir Hussain. The pair never married due to respect for their respective families. Now she solely focuses on running her dance academy and her hospital situated in Santa Cruz. 
Some of Asha Parekh's popular films include Dil Deke Dekho, Jab Pyaar Kisise Hota Hain, Teesri manzil, Love In Tokyo, Aaye Din Bahar Ke, Upkar, Pyar Ka Mausam amongst others. She was also honored with the Padma Shri in 1992 given by the Government of India and has received multiple Lifetime Achievement awards along with a long list of awards and accolades.  
On the 79th birthday of Asha Parekh, Saregama wishes her a Happy Birthday! 
Now you can stream Asha Parekh's top movie songs on Saregama Carvaan. Saregama Carvaan is a digital audio speaker that comes with 5000 preloaded Hindi songs that you can enjoy anytime anywhere without ad breaks or internet connection. It also consists of other features like AUX, USB, and Bluetooth connectivity.