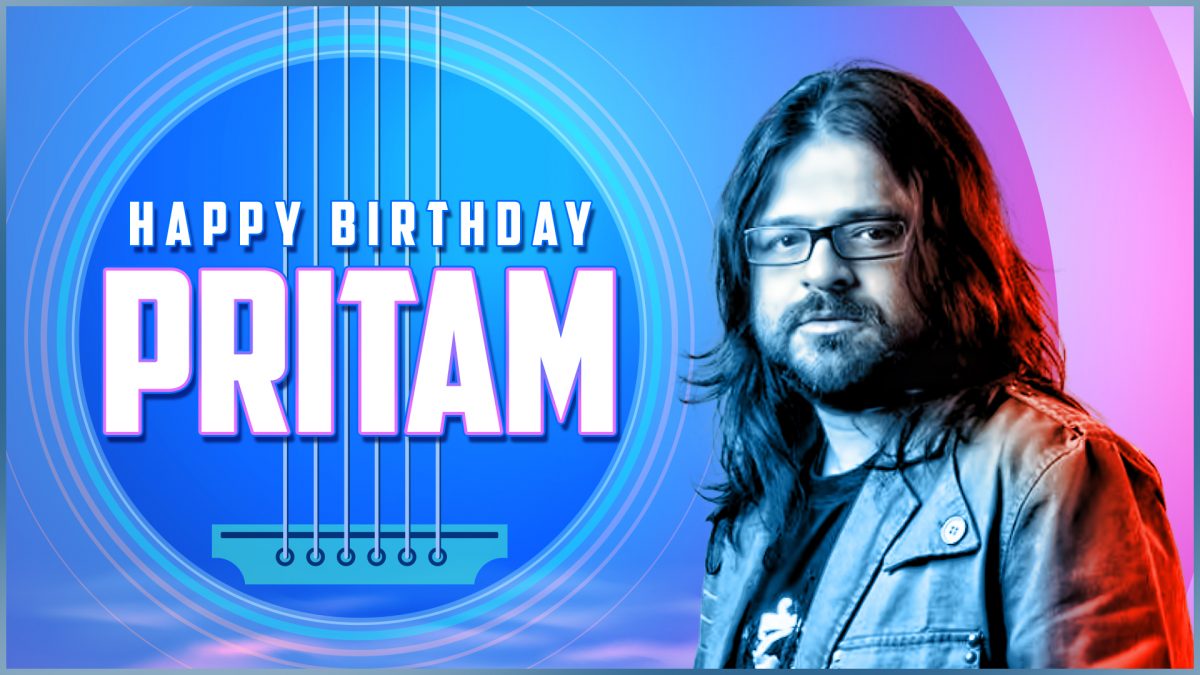 Bollywood, in many ways, is synonymous with songs. Every generation in India since the 1930s has seen some of the best music directors, singers, and lyricists coming together and creating wonderful songs for our listening pleasure. Pritam Chakraborty, also known by his stage name Pritam, is a modern great of the bollywood music industry. One of the few music composers who is blessed with intrinsic musical creativity as well as technical skills. And without doubt, he has composed some of the most loved Bollywood songs in the past one and a half-decade. 
We wish a very happy birthday to Pritam Chakraborty and aim to take you through his life journey. 
Although you might know Pritam as one of the leading music composers, there are other skills like singing which he is good at and has displayed his potential. Additionally, he is known for being an electronic guitar player, which you must have noticed when he plays at award functions and events. Also, he is an instrumentalist. With all these skills, he has contributed to the Bollywood music industry and enriched our lives with some of the mesmerizing superhit songs. 
Hailing from Kolkata, it wasn't an easy ride for Pritam. Born to Mr. Prabodh Chakraborty and Anuradha Chakraborty, Pritam learned music from his father at an early age. After schooling, he studied Sound Recording and Engineering from FTII, Pune. It was during this time he got the opportunity to collaborate with a Hungarian Filmmaker for background music. This initial spark was enough for the musician inside to come forward and aim for more. 
He was part of several music bands such as Chandrabindoo and Jotugriher Pakhi and remained away from mainstream Bollywood. But sooner or later, destiny had to call him, and he answered by reaching Mumbai. There he composed ad jingles and got the chance to meet creative people like Sanjay Gadhvi, Rajkumar Hirani, Anup Jalota and Shantanu Moitra. All these people were trying to make it big in the movie industry. 
As luck will have it, Sanjay Gadhvi became the director for the movie Tere Liye in 2001, and Pritam composed the songs partnering with Jeet Ganguly. But it was in 2004 where Pritam got his first major break in Bollywood. It was none other than the superhit movie Dhoom, directed by Sanjay Gadhvi. All the songs were superhits, and Pritam became a popular name in the industry. 
Some of the blockbuster movies for Pritam composed and won many awards and accolades include Chocolate, Once Upon A Time in Mumbai, Gangster, Dhoom 2, Life in a Metro, Singh Is King, Jab We Met, Dilwale, Love Aaj Kal. It is worth mentioning that some of the movies became popular only because of the scintillating compositions and amazing songs from Pritam. Barfi is considered one of his all-time best. The most popular songs composed by Pritam include Sharara, Dhoom Machale, In Dino, Mauja Hi Mauja, Tu Jaane Na, Phir Le Aaya Dil, Pee Loon, and many more. You can find a wide collection of high-quality mp3 Pritam songs on the Saregama website and download them easily.
Pritam has won six Filmfare Awards, four for Best Music Director and two for Best Background Score. Plus, he has won multiple Filmfare nominations in the past decade along with Asian awards and IIFA awards. 
On his 50th birthday, Saregama wishes a happy birthday to Pritam and hope to see many more amazing compositions from the loved music composer. You can download his songs from Saregama website and enjoy them.