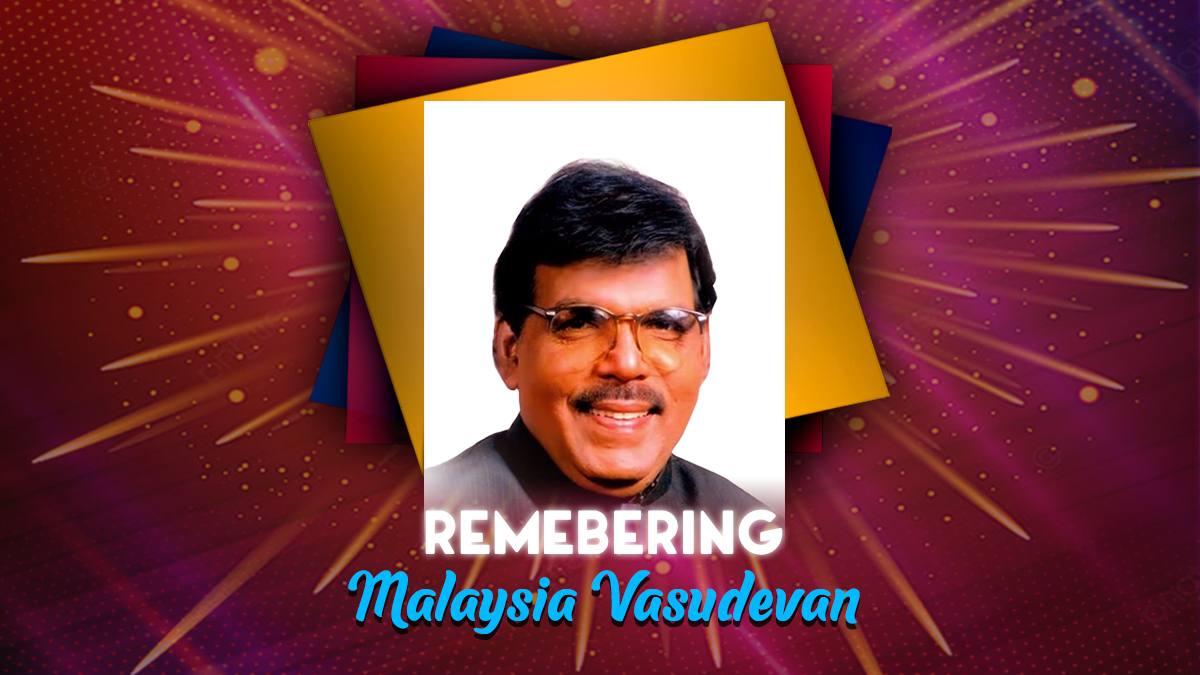 The playback singer known for his unique voice and style, Malaysia Vasudevan was one of the most popular Malaysian-Indian playback singers and actors in the Tamil Film Industry. Popularly known as Vasudevan in the industry, throughout his long and cherished three-decades-long career he sang over 8,000 Tamil Songs and lent his voice to over 4,000 songs in other South Indian languages. He has also worked in over 85 films. He has also been a music director, a music producer, and an author. 
Born on June 15th, 1944 as the youngest child in Malaya, where Tamil dominated the culture, Vasudevan also developed his love for the language and took Tamil as his language in school and at home. Growing up Vasudevan took an interest in music like the rest of his seven siblings. His father has an invested interest in the art and would entertain the farmers on his land by singing. Vasudevan started singing on stage by the age of eight and also has an invested interest in acting. Growing up he attached himself to drama troupes. His father in an interview said that all his children were gifted in singing and music. Later he relocated to Madras to pursue his career in singing. 
After struggling for a bit, Vasudevan got his first break in the movie "Delhi To Madras" and was later taken in by the Pavalar Brothers troupe formed by Illayaraaja even before he turned into a music director. Even though Vasudevan had been working in the industry but his first break came as Kunnakudi Vaidyanathan gave him a chance to sing "Kaalam Seyyum Vilaiyattu" in Kumasthavin Magal. After his single became popular and well-loved Vasudevan was rechristened Malaysia Vasudevan by A. P. Nagarajan in this film. 
Malaysia Vasudevan had worked with all the leading names in the industry, composing and singing songs mostly for Illayaraaja made him sing in all genres and with different kinds of music. Vasudevan has lent his voice to some of the leading South Indian actors like Rajnikanth, Kamal Hasan amongst others, forming lifelong friendships with them. But Vasudevan's soft romantic melodies are some of the favorites of his Tamil music lovers.
Some of his famous songs include Indha Minminikku, Vaan Megangalay, Malargalilay Aaraadhanai, Malargale Nadha Swarangal, Kodai Kaala Kaatray, Poove Ilaya Poove, Thangachangili Minnum Painkili. Vasudevan was termed as the King of singing folk songs and sang a good number of hits with S. Janki and for Rajnikanth's movies. He prominently lent his voice to the legendary Sivaji Ganesan.  
Malaysia Vasudevan won many awards and accolades some of them being the two Tamil Nadu State Film Awards for Best Male Playback and he was honored and awarded with Kalaimamani by the Tamil Nadu Government.  
Vasudevan was a chronic patient with diabetes and hypertension. He suffered a stroke in 2003 which slowed his mobility. In 2011, he was hospitalized for high fever and he had gangrene in his big toe to which he succumbed on February 20th, 2011.  
On the occasion of Malaysia Vasudevan's birth anniversary, Saregama celebrates his life and contributions to South Indian Film Entertainment Industry. 
You can now stream and download all your favorite Malaysia Vasudevan hits on Saregama Carvaan Tamil. Saregama Carvaan Tamil is a portal audio speaker with 5000 evergreen Tamil and Hindi melodies. It also offers other features like Bluetooth, USB, and AUX connectivity.