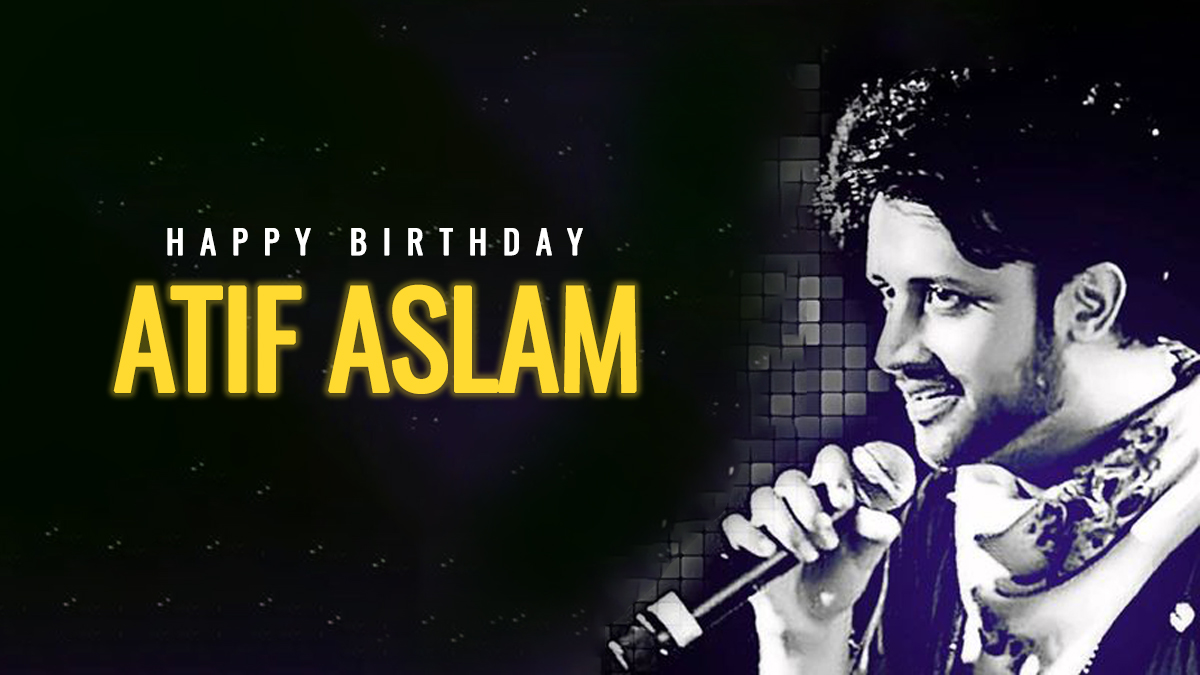 The heartthrob of the young generation, Atif Aslam, was born on 12 March 1983. His best-known hits include Aadat, Woh Lamhe, and Meri Kahani. His silky voice and charming personality have made many fans in India, Pakistan, and worldwide.
Atif Aslam sings mainly in Urdu and the occasional Hindi, but he has also performed in Bengali, Punjabi, and Pashto. He is often considered one of the best playback singers in the Indian and Pakistani music industries for the number of successful songs he has produced.
The Pakistani government awarded Aslam the Tamgha-e-Imtiaz in 2008, which is the fourth-highest civilian honor. Aslam has also won several Lux Style Awards. Aslam debuted in 2011 with the Urdu social drama film Bol. His nomination for the best singer in Pakistan earned him a star on the Dubai Walk of Fame in 2019.
In December 2020, Forbes Asia featured him as one of the 100 digital stars in the region. He refers to his fans as "Aadeez."
On Atif Aslam's Birthday, Saregama brings you a list of curated Atif Aslam songs for you to listen to and download.
The Atif Aslam songs that you can download from our special Atif Aslam birthday playlist are- Aadat from the movie Kalyug Woh Lamhe Woh Baatein from Zeher. We also have beautiful renditions of Atif Aslam songs like Woh Lamhe (Lo-Fi Mix), Lamhe (DJ Mix), Aadat (Remix), and so much more.
Make sure to listen to our exclusive Atif Aslam birthday playlist on Saregama.
Originally from Wazirabad, Pakistan, Atif Aslam was born into a Punjabi Muslim family. Kimberley Hall School in Lahore served as his academic home until 1991 when he moved to Rawalpindi and continued to study at St. Paul's Cambridge School in Satellite Town. Aslam returned to Lahore in 1995 to continue his studies at the Divisional Public School and College (D.P.S.C.). Then, he attended Fazaia Inter College for his high school graduation from 1999 to 2001 and went to PICS for a bachelor's degree in computer science. In an interview, Aslam stated that his ambition was to become a professional cricketer.
Atif Aslam has mentioned quite a few times that he has no formal music training and is not considering a music career instead wanting to be a cricketer. During his college days, he actively participated in various music competitions and was eventually encouraged by his friends to enter the industry. Nusrat Fateh Ali Khan's works were one of his first sources of musical inspiration.
Following Aslam's separation from Jal, he released his first album on 17 July 2004 titled Jal Pari, produced by Sarmad Abdul Ghafoor, which was an instant success. These Atif Aslam songs are sure to make you fall in love. Download Atif Aslam songs from our exclusive Atif Aslam birthday playlist.
His third solo album, Meri Kahani, with 12 tracks, was released in 2008. The album was produced by Sarmad Abdul Ghafoor. In 2008, the album was nominated for "Best Album" at the 7th Lux Style Awards. The song "Hanami Halaat" was nominated for a 2009 MTV Brrr Music Award in the category "Best Rock Song." Download Atif Aslam songs and celebrate Atif Aslam birthday, drowned in his melodies and sweet voice.
In 2008, Atif Aslam recorded three versions of Pehli Nazar Mein and Bakhuda Tumhi Ho, both composed by Pritam with lyrics by Sameer and Sayeed Quadri. After starring in Pehli Nazar Mein, he became a mainstream success and won the I.I.F.A. Award.
Atif Aslam sang Tu Jaane Na and Tera Hone Laga Hoon in the 2009 romantic film Ajab Prem Ki Ghazab Kahani, composed by Pritam and written by Irshad Kamil and Ashish Pandit. The songs earned him several nominations, including one for Best Original Song. As part of Coke Studio Season 2, he released five songs, including "Kinara" (co-written by him), "Jal Pari," and "Karena" by Riaz Ali Khan), "Wasta Pyar Da," "Mai Ni Main" and "Humain Kya Hua."Atif Aslam sang a song titled "Le Ja Tu Mujhe" from the film F.A.L.T.U., composed by Sachin-Jigar with Sameer Anjaan. During the same year, he sang two songs for the Pakistani film Bol with Hadiqa Kiani entitled "Hona Tha Pyar" and "Kaho Aaj Bol Do.".
In India and Pakistan, Atif Aslam songs have been featured in many Hollywood movies. Aslam's first two albums, "Jal Pari" and "Doorie," are used in two films. Ramin Bahrani's 2005 film Man Push Cart, which won international awards and was praised by critics, featured three songs from the first album: "Yakeen," "Ehsaas," and "Aadat." Another two songs from the second album, "Doorie" and "Maula," were included in the Hindi soundtrack for Spanish Beauty, the Hindi version of the 2005 Mexican film La Mujer de mi brother' directed by Ricardo de Montreuil. In Mira Nair's 2012 film The Reluctant Fundamentalist, Bol Ke Lab Azaad Hain and Mori Araj Suno were his two songs.