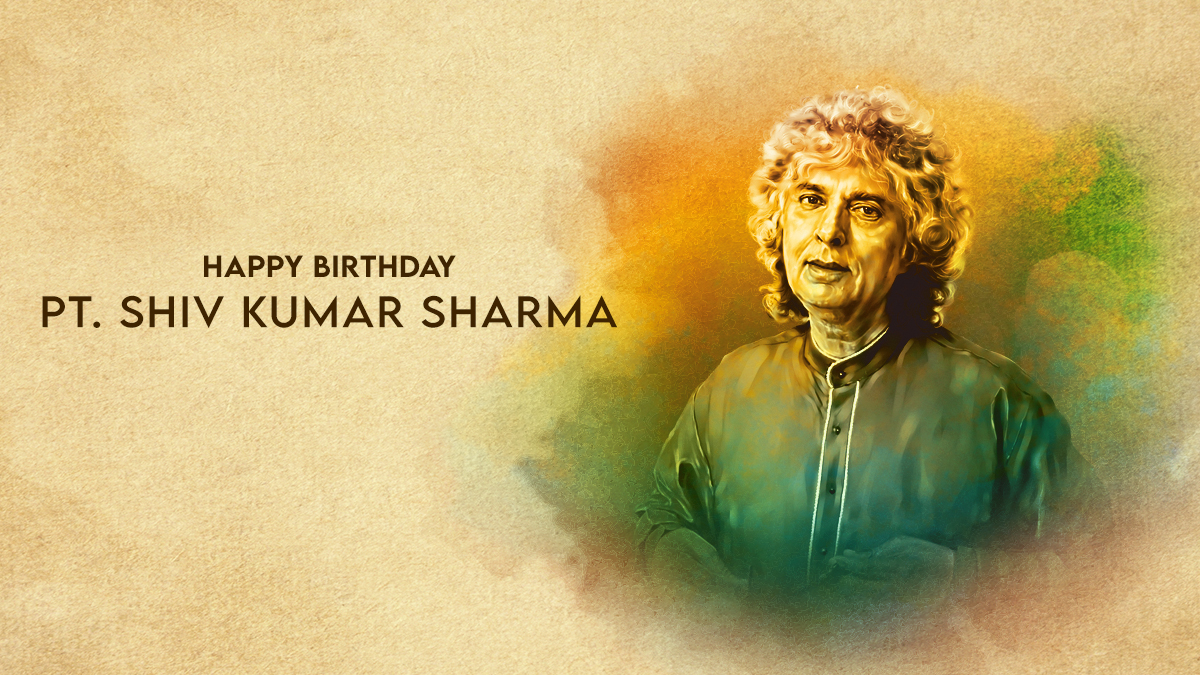 Shivkumar Sharma is a well-known name in the world of Indian Classical Music – an accomplished santoor player and composer. His distinctive playing style made the santoor a classical instrument in the Indian classical music tradition, despite it being originally a folk instrument.
Since he was five years old, music has been a part of Pandit Shivkumar Sharma's life. Among his teachers was his own father, Uma Dutt Sharma, an accomplished Hindustani vocalist, tabla player, and pakhawaj player, all in the tradition of the Benaras Gharana. By the time he was 12 years old, Pandit Shivkumar Sharma was performing for the local radio station in Jammu as a singer and tabla player. The santoor, a 100-string dulcimer commonly used in the Sufi music of Kashmir but not part of the Hindustani tradition, was introduced to him by his father when he was a teenager.
Encouraged by his father, Pandit Shivkumar Sharma shifted his instrumental focus to sanṭoor, intending to use the instrument to perform Hindustani music.
On the santoor, Pandit Shivkumar Sharma gave his first significant public performance of Hindustani music in 1955. Many traditionalists criticized his playing, believing that the santoor, with its percussive fixed pitch, was not suited to Hindustani music's pitch-bending and other melodic nuances. After receiving negative feedback, Pandit Shivkumar Sharma increased the instrument's melodic range, rearranged and tuned the strings, and reworked his playing technique to produce a sound that resembled that of a human voice. During the late 20th century, the santoor gradually gained acceptance in Hindustani music as a result of his tireless efforts and technical excellence. Such is the dedication of Pandit Shivkumar Sharma, which you can witness when you add his melodies to your playlist of Pandit Shivkumar Sharma songs available on Saregama.
Not only Pandit Shivkumar Sharma is credited with making the santoor a popular classical instrument, but he has also composed music for many memorable Hindi movies. He began his career in Bollywood by composing the background music for one of the scenes in Shantaram's film Jhanak Jhanak Payal Baje in the year 1956.
Shivkumar Sharma songs are nothing short of a nostalgic ride down the memory lane. He paired with Pandit Hari Prasad Chaurasia and composed music for Bollywood movies under the name Shiv-Hari. Some of the films they composed music for were musical hits, such as Silsila (1981), Faasle (1985), Chandni (1989), Lamhe (1991), and Darr (1993).
The song Tu Mere Saamne from the movie Darr is still a favorite of many. Shivkumar Sharma songs from this iconic thriller make one realize the range Pandit Shivkumar Sharma offers. Some Shivkumar Sharma songs can be considered pure gems, such as Jaadu Teri Nazar, Darwaza Band Karlo from the Darr. The entire soundtrack from the movie Lamhe, which is nothing short of genius, Songs like Lagi Aaj Saawan Ki Phir, Chandni O Meri Chandni, and many others from yet another iconic movie Chandni are given to us by him only. The film's soundtrack was a major success in India and sold more than 10 million copies, becoming the best-selling soundtrack album of the year as well as the decade. Some of the other Pandit Shivkumar Sharma songs from Bollywood that should be in your playlist are- Dekha Ek Khwab, Neela Aasmaan Part 1, and Part 2. Both from the iconic movie Silsila released in 1981.
As we celebrate Pandit Shivkumar Sharma's birthday, we look back at some of his legendary albums that created a stir. He collaborated with Javed Akhtar on an album titled Eight Stages of Love. The album has several Shivkumar songs with some of the finest compositions. The song Dil Ki Ye Daastaan, voiced by Kavita Krishnamurthy and Babul Supriyo, is a soulful rendition of a beautiful love story. Another one of Shivkumar Sharma songs that make a mark is Phuloon Se Bhari Vaadi from the same album is a true gem. Voiced by Mg Srinivas, this song is ecstatic. Another album that features amazing Shivkumar Sharma songs is The Complete Works – My Music – The Saregama Years – Pt. Shivkumar Sharma. The album comprises the best of Pandit Shivkumar Sharma songs. Some of the songs that definitely should be a part of the playlist are- Lalit – Gat – Roopak Taal, Teentaal, Gurjari Todi – Alaap, Drut Gat, Pahadi – Dhun Keharwa, Indradhanush – Rajiv Gandhi Foundation Live Concert. All these tracks are lovely, and you will not stop listening to them.
The albums of Pandit Shivkumar Sharma songs are so enticing that they will be with you long after you stop hearing them. Such is the power of his magnificent talent.
There are some best Shivkumar Sharma songs in the album called 'Call of The Valley', for which he even received a Platinum Disc. It features Pandit Shivkumar Sharma's best works and some genius musicians like Pandit Hari Prasad Chaurasia and Pandit Brijbhushan Kabra. The album was released in 1967. A Kashmiri shepherd shares his workday with the listener in this instrumental album. The album became one of the most popular with an international audience and one of the most successful in India. As the best-selling Indian music record in the global market, it was very influential in introducing Indian music to the Western world. Some songs from the Call of The Valley album that should be on your playlist are Mishra Kirwani Dhun and Ghara – Dadra. These feature the finest Santoor played in any Pandit Shivkumar Sharma songs. These should definitely be a part of your Pandit Shivkumar Sharma songs list.
Pandit Shivkumar Sharma's son Rahul Sharma is also a Santoor player, and they have come together as a hit pair in many albums such as Music for Contemplation and Wanderlust. This father-son duo is like a cup of coffee on a bad day. So don't forget to listen to them on Saregama.
Pandit Shivkumar Sharma songs are a window to the rich cultural heritage of Indian classical music. Pandit Shivkumar Sharma is the recipient of national and international awards, including honorary citizenship of Baltimore, USA, in 1985, the Sangeet Natak Akademi Award in 1986, the Padma Shri in 1991, and the Padma Vibhushan in 2001.
To listen to Pandit Shivkumar Sharma songs, please visit Pt. Shivkumar Sharma Songs on Saregama.