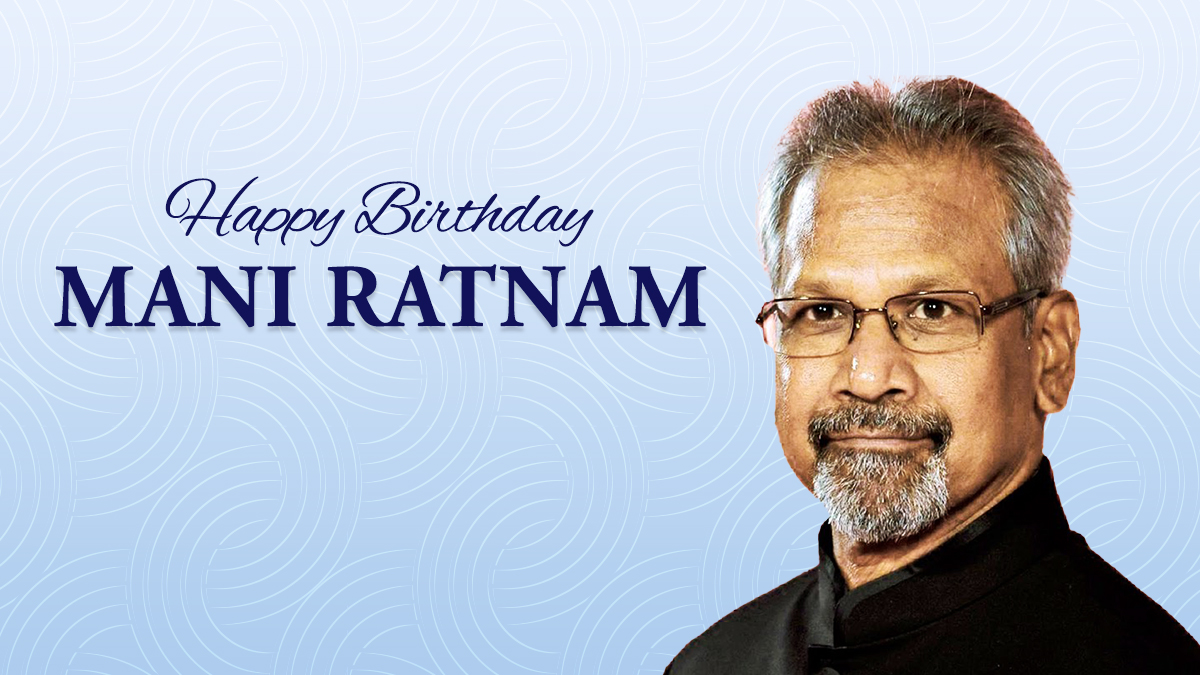 In most movies, action is where the plot is, but in Mani Ratnam's movies, the score is where the action is. Famous for his illogical, grand, and dreamlike song situations and Mani Ratnam or famously known as "Mani Sir" in the industry has been redefining love for the last three decades with his movies. An Indian film director, producer, and screenwriter who predominantly works in the Tamil Cinema is celebrating his 65th birthday this year.  
Gopala Ratnam Subramaniam was born on June 2nd, 1956 as the second child of a family closely associated with film production in Madras. His father was a film distributor who worked for Venus Pictures along with his uncle. Despite being born into a film family, Mani Sir did not grow any interest in the industry as the children in his family were not allowed to watch movies as the elders considered it a taboo. Though during his high school, he started to more actively watch movies, becoming fans of actors such as K. Balachander, Sivaji Ganesan, and Nagesh. Though he went on to complete his degree and a graduate in commerce and pursue MBA before being employed at a firm in Madras as a management consultant.  
Being dissatisfied with his job, Mani Sir took a sabbatical from it and worked on a movie which unfortunately was shelved. Though his interest in movie production peaked and he believed it was something he wanted to do rather than his job as a management consultant which he felt was just an extension of his studies. He quit his job and developed a script for his first movie. He directed a couple of films but never felt quite satisfied with his works. Until 1986 he directed a Tamil romantic drama Mouna Ragam which was critically acclaimed and got him his first Filmfare Award for directing the film. With his direction and Ilaiyaraaja's score, the movie became a popular release and elevated Mani Sir's status as a director. 
Mani Sir has a talent for portraying love stories on screen in a manner that touches the viewer's heart. Some of his famous films include Pallavi Anu Pallavi (1983), Mouna Ragam (1986), Nayakan (1987), Geetanjali (1989), Thalapathy (1991), Roja (1992), Thiruda Thiruda (1993), Bombay (1995), Dil Se (1998), Alaipayuthe (2000), Guru (2007), Raavanan (2010) being some of them.  
Mani Sir has won six National Film Awards, four Filmfare Awards, and six Filmfare Awards South, and he is well recognized outside India for his direction skills and movies. He has also won numerous awards at film festivals like the Toronto International Film festival, Busan International Film Festival, Tokyo Flimex, and he has been screened in numerous film festivals like Venice Film Festival, Palm Springs International Film Festivals amongst many others. He was also awarded Padma Shri in 2002, and in 2015 he was honored with the Sun Mark Lifetime Achievement Award at the Bagri Foundation. 
Saregama wishes a Happy Birthday to Mani Ratnam and celebrates his contributions to the Indian Film Industry. 
You can now stream and download all your favorite Mani Ratman movie songs on Saregama Carvaan Tamil. Saregama Carvaan Tamil is a portable music player that comes with evergreen Tamil and Hindi songs inbuilt that you can enjoy anytime anywhere without internet and ad breaks. It also has exclusive features like Bluetooth, FM/AM radio, USB, and AUX connectivity.
Also Read: