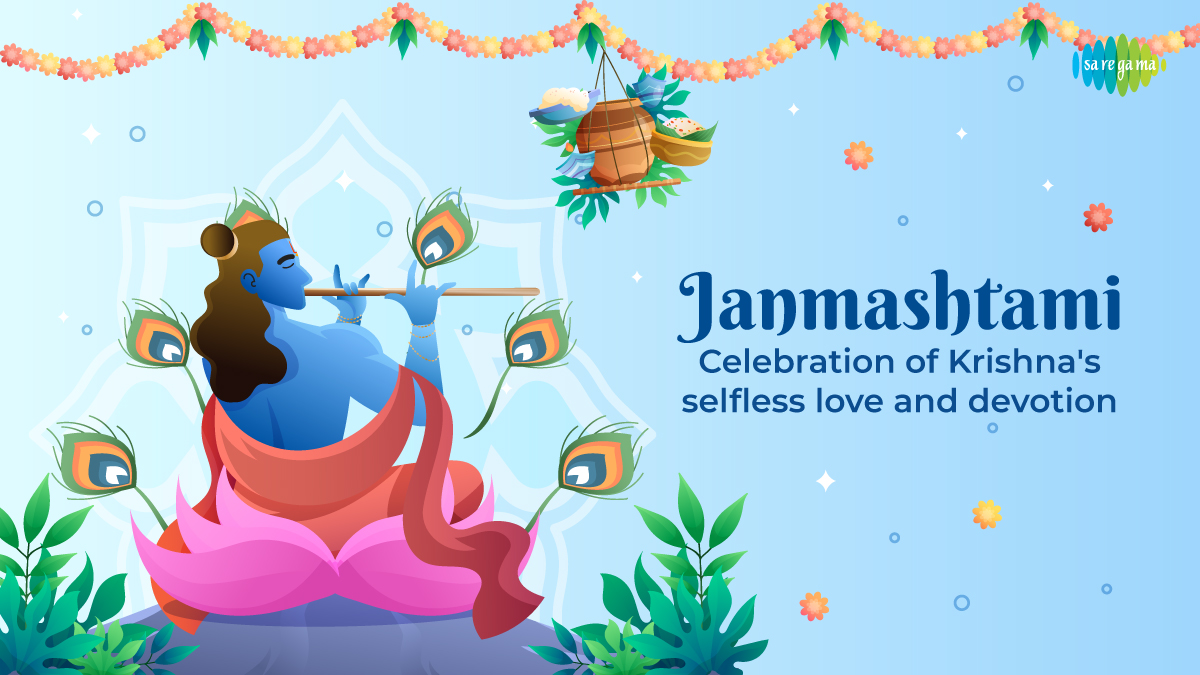 Janmashtami is the festival that celebrates the birth or "janma" of Lord Krishna. It falls on the eighth day or "ashtami" of the fortnight of Bhadrapada – the month of the Hindu calendar that falls between August and September. It is a day that is enjoyed alongside a lot of festivities, sweets, and devotional songs.
The Story Behind Janmashtami
The Hindu God Lord Krishna is considered to be the eighth avatar of Lord Vishnu, who is the preserver of the universe. Krishna is described in Hindu scriptures as the god of selfless love, devotion, tenderness, and compassion. He is at once remembered fondly for being a naughty prankster but also using his divine powers to help the innocent and annihilate evil. In the Mahabharata, he spoke the teachings of the Bhagavad Gita to Arjuna during the battle of Kurukshetra. 
His birthday is celebrated as Krishna Janmashtami or Gokul Ashtami. Lord Krishna was born in Mathura (Uttar Pradesh) to Queen Devaki and King Vasudeva in a prison at midnight. Devaki's brother, Kansa, was a tyrant and an evil king who was terrorising the world along with other demons. He overtook the throne of Mathura. Concerned about this, Mother Earth transformed into a cow and sought the help of Lord Brahma, the creator of the universe. Lord Brahma summoned Lord Vishnu, who would then agree to take birth on earth as Lord Krishna to end Kansa's cruelty.
Kansa allowed Devaki to marry Yadava's King Vasudeva in the hope to rule over the Yadava clan. However, Kansa was warned by fortune tellers that Devaki's offspring would end his rule. Paranoid and enraged, Kansa decided to kill Devaki. Vasudeva begged to save Devaki. But in return, he promised to give Kansa each child immediately after birth. Kansa imprisoned Devaki and Vasudeva and ensured that Devaki's children were killed. 
One fateful night, Krishna was born to Devaki and Vasudeva. The dungeon was filled with bright light and Vasudeva heard a divine voice. It guided him to take Krishna across the river Yamuna and leave him with his friend Nandaraja. Nandaraja and his wife Yashoda had given birth to a baby girl that night. Vasudeva secretly carried baby Krishna across the Yamuna. Lord Vishnu's blessings allowed Vasudeva to carry Krishna safely across the raging river. Vasudeva exchanged the baby with Nandaraja and went back to the prison. The guards of the prison heard the baby cry and informed Kansa that Devaki's eighth child had been born.
Devaki begged Kansa to let the baby go. Kansa tried to kill the baby, but it transformed into Goddess Durga. She warned him that his death was inevitable because of his evil deeds. Kansa was perturbed by this as the Goddess disappeared. Kansa freed Vasudeva and Devaki and allowed them to live in another palace. Vasudeva informed Devaki that her son was safe with Nandaraja and Yashoda.
Nandaraja and Yashoda's son's birth attracted many people. Their child had a twinkle in his eyes and was always happy. His presence spread happiness. Unaware of the prophecy and his destiny, Lord Krishna was now growing up far away from Mathura and Kansa in Gokul under the care of his foster parents. 
The Importance Of Janmashtami In India
Janmashtami has great significance as the festival that celebrates the birth of Lord Krishna. The history of the festival dates back to about 3200 to 3100 BC. Lord Krishna's birth signified the inevitable end of Kansa's tyrannical rule over Mathura. Despite Kansa's efforts to stop Devaki and Vasudeva's child being born and prevent the prophecy from getting fulfilled, Devaki's eighth son was born on the eighth day of Bhadrapada month to end Kansa's terror. Today, the festival is celebrated to commemorate the victory of good over evil. 
Krishna Janmashtami is celebrated on the ashtami or 8th day of the moon's setting phase or "Krishna Paksha," also referred to as the dark fortnight of the Bhadrapada month. It usually falls between August and September. This year, Janmashtami will be celebrated on August 18th. 
How Janmashtami Is Celebrated In India
Janmashtami celebrations and rituals begin early in the morning. Devotees decorate Krishna idols with flowers and peacock feathers. Lord Krishna is offered white butter or "maakhan," curd, and milk after midnight. They are his favourite foods according to the scriptures – he would often steal these foods from others and enjoy them. 
Janmashtami is the victory of good over evil and joy over sorrow. Here are some ways Janmashtami is celebrated in India. 
Fasting and rituals: In Mathura and Vrindavan, the occasion of Janmashtami celebrated with great zest because they were the places where Krishna spent his childhood and youth. Since Krishna was born at midnight, devotees worship him at night and observe a fast on Janmashtami and break it after performing prayers and offerings or "puja" the next morning. The fast is broken in the morning and is called "Paran" in Hindi.
Lord Krishna's idol is bathed in water and milk, dressed in new clothes, and worshipped. Temples and shrines at home are decorated with flowers. Sweets and delicacies like Malpua, Peda, Panjiri, and white butter are offered to the god and then distributed among devotees. Krishna devotees perform scenes from his childhood, which is known as Raas Leela. 
Recitation of Bhagavad Gita: Bhagavad Gita is a holy Hindu scripture that was spoken to Arjuna by Lord Krishna. It talks about the path of spirituality and the true nature of divinity. Devotees sit, chant, and learn all the life lessons offered by Lord Krishna in the Bhagavad Gita.
Dahi Handi: This is the most exciting part of Janmashtami that mostly everyone looks forward to. It is celebrated with great enthusiasm to praise the mischief created by Lord Krishna while he stole butter from other's homes. A Handi or earthen pot is hung high above the ground with ropes. The pot is then filled with curd, white butter, milk, ghee, and dry fruits. Young men form teams and gather around to form a human pyramid. One team member climbs to the top of the pyramid and breaks the Handi. Each year, this event is organized as a competition across the country.
Dancing and singing: On Janmashtami, devotees sing "bhajans" to worship and praise Lord Krishna. They also sing and dance to devotional songs dedicated to Lord Krishna. People organize cultural programs including the Raas Leela and Dahi Handi and sing and dance to popular songs related to the festival.

Popular Janmashtami Songs 
On the occasion of Krishna Janmashtami today, we list songs to add the Bollywood twist to the celebrations. Enjoy the festival with this playlist.
Enrich Your Janmashtami Celebration With Saregama Carvaan 
Janmashtami is a high-octane festival that calls for loud music and fun in praise of the birth and life of Lord Krishna. To enjoy the festival to the fullest, people play their powerful playlists singing praise of the Lord, cheering on the Dahi Handi, and dancing. Saregama Carvaan is here to add more charm to your festivities with your very own portable audio players.
Saregama Carvaan is a unique portable music player plus speaker that is pre-loaded with Bollywood songs and devotional songs such as Mantras, Bhajans, Kathas, and Aartis in various languages. It has a powerful speaker with features such as a Bluetooth, USB, and FM/AM, so you can play your music anywhere and anytime.
These handy, all-in-one music players are easy to carry around so you can listen to songs on the go, whether it is in your house or on the street. The device comes with a powerful speaker and has a USB and a Bluetooth option to enjoy your song collection. The FM/AM options allow you to tune into the frequencies of FM/AM stations in your locality. With Saregama Carvaan, you'll never run out of songs for non-stop festivities.
It has a long-lasting, rechargeable battery, an audio jack, and an aux port so you can plug in your phone or other devices. It also comes with a charging cord compatible with all Android devices.
Here's a list of Saregama Carvaan Speakers you can choose from to enhance your Janmashtami celebrations:
Saregama Carvaan Premium is a music player and speaker with a unique, modern look. It has all the features of a Saregama Carvaan plus more. It has 5000 pre-loaded songs and more than 130 dedicated stations plus 52 additional stations to choose your songs from. It also allows options to create your own playlist on Carvaan and fill the room with your favourite music. It also has varieties based on different regional languages, which you can select from. They include Hindi, Malayalam, Telugu, Tamil, Bengali, Marathi, and Punjabi songs.
Saregama Carvaan Musicbar is a state-of-the art soundbar that comes with a subwoofer for surround-sound effect. It is unique because it is the first soundbar that comes with 1000 pre-loaded evergreen songs and has built-in FM. It has several modes to choose from and is easy to use and connect to your devices. It is great to pump up your Janmashtami festivities at home while listening to the songs and enjoying the video on your TV screen at the same time.
Saregama Carvaan Mini – Shrimad Bhagavad Gita
Saregama Carvaan Mini is an easy-to-carry, portable speaker. It offers a version with 18 chapters or "Gita Adhyay" and 700 verses of the Shrimad Bhagavad Gita recited by Shailendra Bharati. It also has 101 pre-loaded Krishna Bhajans sung in the soothing voices of renowned singers like Lata Mangeshkar, Hari Om Sharan, Anup Jalota, Jagjit Singh, and more. Apart from devotional verses and songs, you can play your own playlist to invoke Lord Krishna in your way.
Get Your Very Own Saregama Carvaan Today
As Janmashtami approaches, make an energetic playlist dedicated to Lord Krishna and play them on your very own Saregama Carvaan. With pre-loaded prayers and songs on the music player, you can now be rest assured that this Janmashtami will be full of joy and positive energy. So, get yourself a Saregama Carvaan today and enjoy the festival that celebrates Lord Krishna's selfless love and compassion.