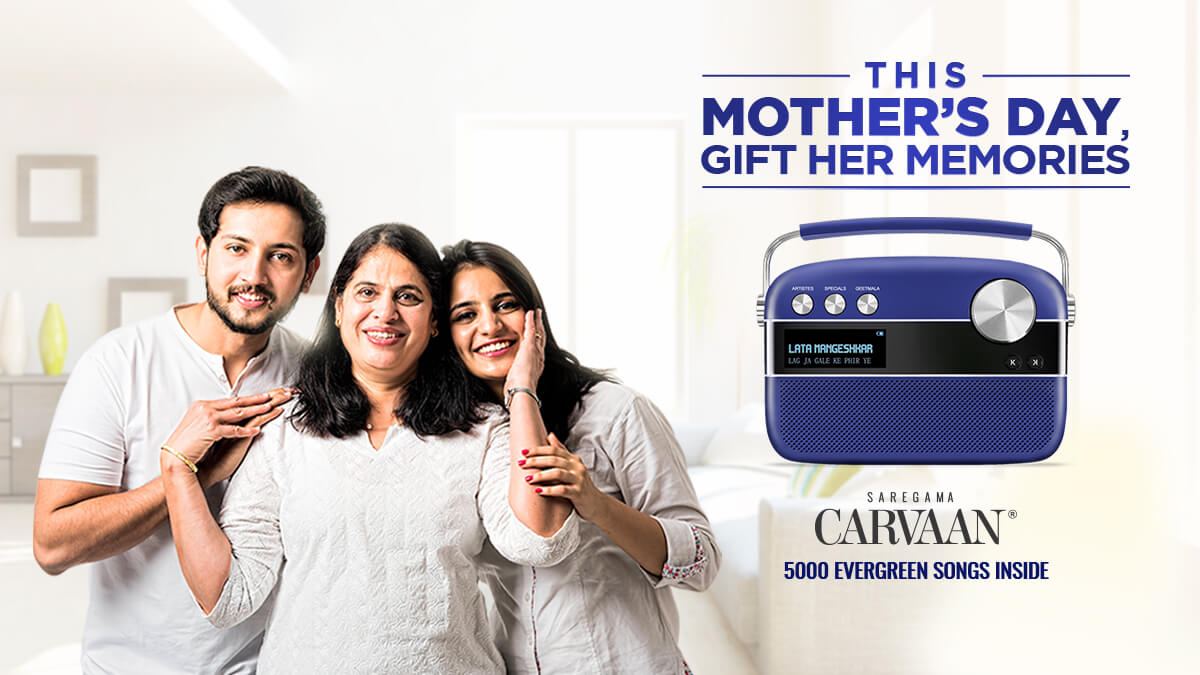 There are many special days celebrated throughout the year, but Mother's Day holds an exceptional value in our hearts which is filled with gratitude towards their unconditional love and care.
She knows exactly what you need and how you feel and always extends her love and warmth to everyone in the family. She would silently let her wishes subside and make others' needs take priority. The song 'Tu Kitni Achhi Hai' perfectly describes a mother's love. This Mother's Day 2022, remind her how special she is to you and that all the little deeds of love have not gone unnoticed. 
You can search for different gifting ideas for someone's birthday or anniversary, but a perfect mother's day gift comes out of the search, from the gap between her wishes and happiness. 
Take your scrutinised list of unique mother's day gift ideas and analyse them over certain parameters. Ask yourself, is this only a 'good' wrapped gift or something that will matter to her? Consider the lifespan of that gift and the number of times it can add a twinkle to her eyes or relieve her from the day's stress. Some gifts like flowers, cakes, and chocolates are short-lived, cherished but easily gone. 
Some Awesome Mother's Day Gift Ideas :
This product is featured as one of the best mother's day gifts you can buy for your mother. The reason is that it is thoroughly cherished by parents and there have been outstanding reviews coming from them. Also, there are multiple options to choose from, you may go with the classical Carvaan Hindi which is loaded with 5000 evergreen retro songs, or a Carvaan Mini Hindi with 351 superhit songs from Legends. 
Transporting her mind back to her golden days with a Carvaan Gold 2.0 that comes in a classy rose gold colour, where along with the music you have podcast stations and playlists from different genres and many more features. Saregama Carvaan is also available in various regional languages, like Punjabi, Marathi, Bengali, Kannada, Malayalam, Assamese, Telugu, and Tamil.
Mothers devote their early morning time to prayers and connecting with the divine. Gift her a devotional time with Saregama Carvaan Mini Bhakti, Marathi Bhakti, Hanuman, Art of Living, Shrimad Bhagavad Gita, or Gurbani. Make the purchase directly from their official website for assured quality if you have a few days at hand. For quick purchases, you may visit any nearby Chroma or Reliance Digital showroom or get them online on Amazon, Flipkart, etc platforms.
Gift Her A Self-Care Regime
Every mom has a wishlist in her mind that is long-awaited to be added to the cart. If you are aware of some personal care products and brands your mother trusts, buy her the next set along with some accessories of your choice. 
You may also take advice from experts and buy her any premium personal care products addressing a concern she is currently facing that needs attention, for instance, hair fall, wrinkles, or grey hair. 
Kitchen or Cleaning Appliances
Every mother spends most of her time in the kitchen cooking savoury and finger-licking meals for the family day in and day out. Any kitchen or cleaning appliances that make her work efficient, quick, and hassle-free will be appreciated. Make sure to check the reviews and buy authentic products with a warranty for the quality. 
Add Some Bling with Jewellery or Accessory
You can buy sterling silver jewellery like an earring set or bracelet for your mother. Consider her choice while purchasing it, whether she likes pearls or coloured stones or whether she will like a delicate or intrinsic design. Make sure you have spoken to the salesperson for any exchanges if required for size or choice preferences. 
Alternatively, you can buy a handbag set that covers it all, which comes with a wallet, clutch, small pouch, sling bag, handbag, etc to cater to all her needs. 
Fitness Program or Salon Spa Package
Help your mother make herself a priority now and subscribe to a fitness programme for her to visit weekly for yoga or Bollywood dance, where she can unwind herself and meet new people. This will also give her a chance to make new friends and interactions which will bring her happiness and fitness. 
It is your turn to pamper her now by creating a custom spa or salon services package which she can use at her convenience. This will rejuvenate her and make her feel special. 
We all love technology for the way it makes our lives easier and happier. Let us introduce this happiness in her life by gifting her a Bluetooth speaker paired with songs like a Saregama Carvaan or you may get a pair of earbuds so that she can listen to her favourite movies or talk over the phone while continuing to work. Alternatively, you may get a digital watch for her so that she is well aware of calls and messages while focusing on the work at hand. 
Honestly, giving a gift card to your loved ones is not preferred as it does not make the moment special or memorable. The only advantage is that it gives her complete freedom to buy anything of her choice at any time of the year. This option should be more or less considered as the last resort. 
There is no such Mother's Day gift idea in the world that can ever repay what they have done for us every single day. Mother's Day 2022 is only a medium for us to express our love and gratitude towards these angels that are always there for us. 
When you bring the Mother's Day gift to her, don't forget to record her reaction, because you can cherish that moment forever after. Especially, take a sneak peek video of your mother when she is listening to your gifted choice of Carvaan and singing, swaying, or dancing to her favorite tracks! A Carvaan can make her days shine brighter, and she can feel young once again every day!