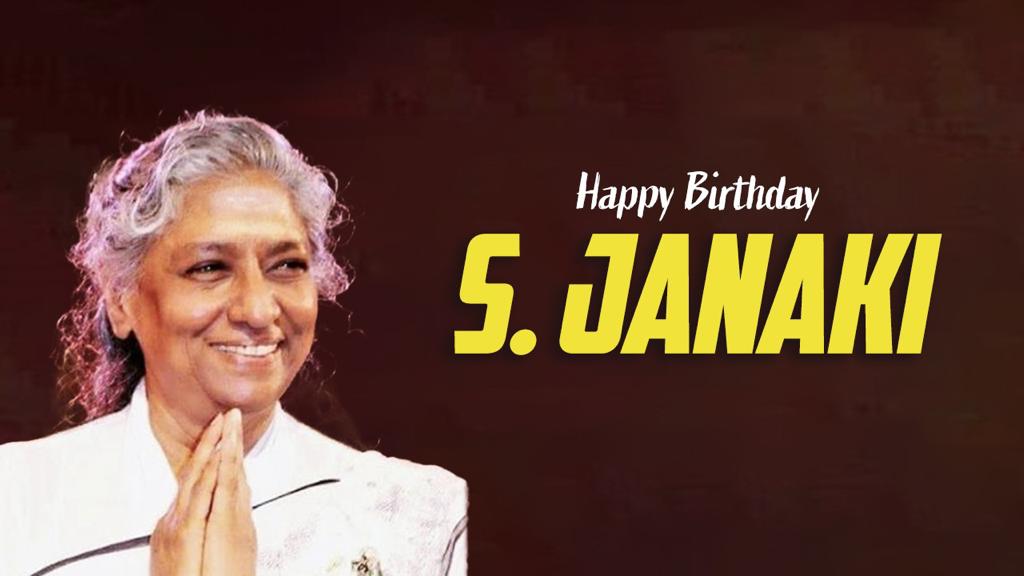 Sistla Janki is a legendary name in the field of the vocal world of music. Though Telugu by birth, she won the hearts of the entire south by singing in languages like Telugu, Tamil, Kannada, and Malayalam. It will be fascinating for you to know that she has placed her voice in Hindi, Konkani, Tulu, Badaga, Sanskrit, and Punjabi songs from the different regional languages apart from Southern India.
S Janki placed an example of versatility by singing in international languages like Japanese, German, Sinhalese, English, and also in French. This would naturally create inquisition to know more about S Janki who is fondly called Janki Amma. Janki Amma is a respectful title earned by S Janki who is also known as the nightingale of South India or Gaana Kogile (Singing Cuckoo in Karnataka).
She has recorded an overwhelming number of about 48,000 songs in 17 different languages in the music industry. She started her career at the tender age of 19. She had moved to Chennai as her uncle Dr. Chandrashekhar gave her this advice to further enhance her career and it proved right and true as she got an opportunity with AVM Studios with Music composer R. Sudarsanam, as a singer. 
Later she became well known as a playback singer by recording songs composed by T. Chalapati Rao for the Tamil movie Vidhiyin Vilayattu. After this, she became a preferred choice as a singer of Ilayaraja and he offered her at least 2 to 3 songs in almost every movie he did, belonging to four southern languages.
Because of her adaptability to sing for the characters of all the ages, right from a teenage character to a youth to an older one, all were beautifully justified by her voice modulating ability, she started getting more and more projects into singing and is an inspiration to many singers in the industry. 
She has bagged many awards like National Film Awards several times for songs like 'Senthoora Poove', 'Ettumanoor Ambalathil' etc, along with Mirchi Movie Awards, Filmfare Awards South, Nandi Awards, and Tamilnadu State Film Awards to name a few. 
She has sung for Hindi films too and gave famous songs like "Yaar Bina Chain Kahan Re" from the movie Saheb, "Prabhu more avgun chit na dharo" from the movie Sur Sangam, "Dil Mein ho tum" from movie Satyamev Jayate, are some of the various superhits done by her in those times. 
This list will be incomplete without mentioning about 'Bol Baby Bol Rock-N-Roll' song from Meri Jung, 'Nakhrewali Chaal' from 'Jai Jawan Jai Kisan', 'Kitne Rangeen Hain' from 'Do Dil Deewane', 'Dil Mera' from 'Tarkeeb' music by Bappi Lehri and cast with Mithun Chakraborty, and some tracks for mythological based albums like 'Mati Ke Putle Ko' from 'Jai Balaji' and 'Surya Pataka Ki Chhaya Mein' from 'Ramayan'.
She had several collaborations with renowned artists, music directors, and composers like Ghantasala, Dr.Rajkumar, P. Susheela, Vani Jayaram, K J Yesudas, L R Eeswari, P. Jayachandran, P. Leela, K. S. Chithra, Sujatha, Jency, P B Srinivas and of course S P Balasubramanyam.
She is known for giving live performances in over 5000 concerts held worldwide and has sung songs of different genres. Despite respiratory problems, our favorite S Janki has performed many challenging songs. She retired from her singing career in October 2016. However yet made a comeback in 2018 for the film Pannadi.
The synopsis of this legendary singer's personal life is as interesting as her career. S Janki Amma, a respectable name in the industry, was born on 23rd April 1938 in Pallapatla to Sreeramamurthy Sistla (her father). Sir Sreeramamurthy was an Ayurvedic doctor and a teacher by profession. She was married to a family that respects art. She got married to V. Ramprasad in 1959. He was a very supportive husband to her, always motivating her further in her career, and used to also accompany her on many recording projects, he used to lovingly be a critic too during those recording projects sometimes, which symbolizes a cordial marital relationship between them. 
His demise occurred in 1997 due to cardiac arrest S Janki Amma denied wearing colorful sarees or golden borders after her husband's demise. She said in one of her interviews after her husband's demise that "He loved every song of mine, he was mad about my music and would never leave me alone even during my recording sessions and I could not leave him too! He spent his whole life just for me and without his support, I would not have been where I am today. He was there with me, he is there with me and he will be there with me in my thoughts!".
Her father-in-law was a well-known makeup artist of his time. Her son Murali Krishna is located in Hyderabad, he has acted in a few films and is pursuing an audio business. She has two daughters named Amruthavarshini and Apsara. Her simplicity reflects in her choice of cuisine and taste buds that she loves the combination of rice and curd accompanied with butter as one of her favorites.
Certainly, this legendary singer is a mammoth talent amongst Indian Vocal Artists, having said so it is always observed and mentioned that she carries no ego and is very down to earth or humble as an approach.