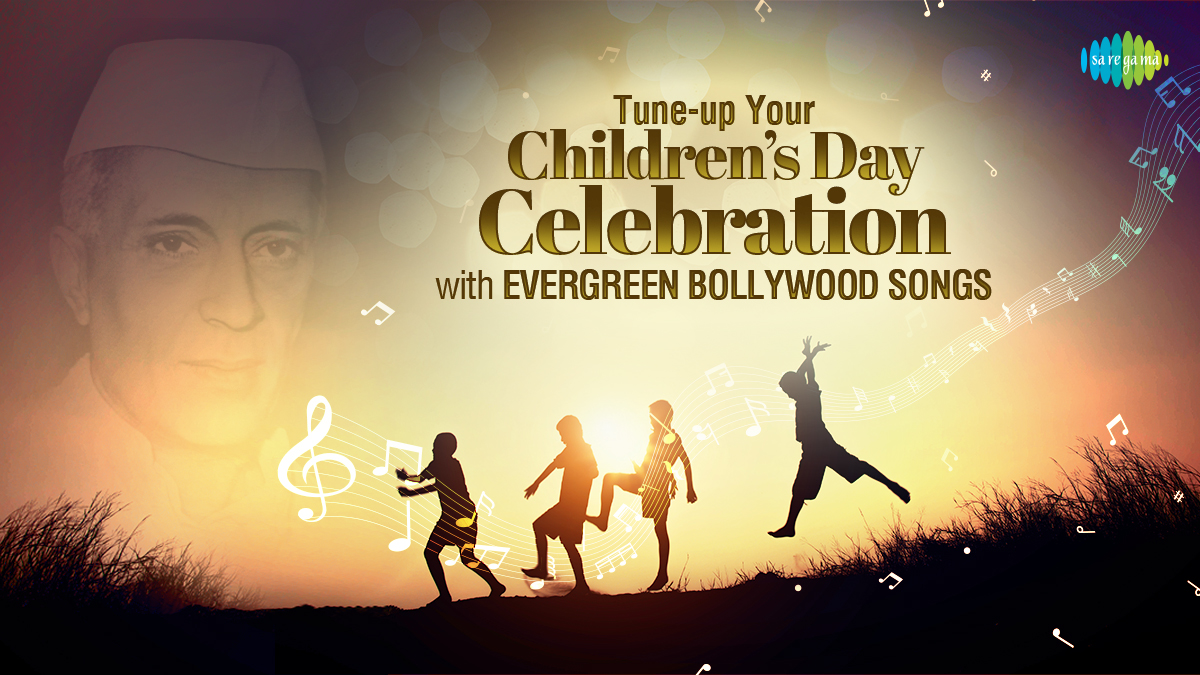 Childhood certainly is the most beautiful phase of a person's life. And not only because of the carefree and "no responsibilities" zone but also because it's the age of development. It's true that there is no specific age to learn or unlearn something, but childhood is the phase that conditions the base of your personality, your thinking pattern, and your cognition. Sometimes as children, we tend to develop certain habits that stay with us for the longest time, whether we like it or not. But most importantly we describe our childhood solely on the basis of the kind of memories that we made. So that is why the memories made in childhood are super precious. 
As children's day is coming up, let's have a look at some ideas that would add on and enhance those precious memories of your children. 
Kids these days are unaware of the legendary songs that were created in the 60s and 70s. Grab this opportunity and create a list of musical games that would acquaint the children with the evergreen Bollywood songs. 
Musical games that you can organize on children's day
Freeze and Dance
This game is fun but it also is good to enhance reflexes amongst kids. So gather the kids around in an open area (make sure there is enough space so that they don't end up hitting each other while dancing). The rules of this game are simple, everyone will have to start grooving (in case the kids are too young so they'll start jumping) as the music starts. Play songs like Eena Meena Deeka or Ichak Dana Beechak Dana. They will have to continue to do so until the music stops. The moment the music stops everyone would have to freeze. Now whoever is caught moving even slightly would get out, as the other kids would continue with the following rounds. The last two kids left would be announced as winners. 
Pass the parcel
We know you already know how to play pass the parcel. But this one comes with a slight alteration. So to begin with, it's the usual setup. Get the kids to form a circle and give one of them a parcel (pillow, soft toy etc). Next, as the music starts the kid with the parcel will start passing it along. Here you can play songs like Mere Paas Aao Mere Doston or Chakke Mein Chakka Chakke Pe Gaadi. When the music stops, the kid with the parcel will have to complete the lines of the song or rhyme (Depending on their age). If they are able to continue the song from where it was left they would be allowed to resume the game otherwise they can only resume the game when they successfully learn the lyrics and recite them.
Draw the song
Tap into the creativity of children with this fun musical game. It's just like Pictionary, but musical. Divide the children into two teams A and B and prepare chits with various rhymes and songs on them. One player from team A will pick a chit and will try to draw different things that would help their team to guess what the song is. Set a timer, and if the team is able to guess the song before the time runs out, they score a point otherwise the same song passes on to the next team. The first team to reach 5 points would be announced as the winner. This game helps children to be more imaginative and also enhances their drawing skills. To make this game more interesting and challenging add rounds wherein the kid will have to draw with a blindfold on. Or the team that is unable to guess the song will have to sing the entire song on a karaoke etc. 
Make your own lyrics
This game might be challenging, so you can play this game with children who are in their teens. For this game, you'll have to prepare cards with lyrics on them. But here certain parts of the lyrics will be missing. The participants will have to complete the song using their creativity and won't be allowed to use the original wordings of the song or the words that would signify the original ideation of the song. For example, if the lyrics on the card reads Lakdi Ki Kathi and then there are missing words then the kid will have to come up with some unique and creative words to complete the lyrics. The most creative ones are named winners. 
In order to play music at your convenience, we suggest you to opt for Saregama Carvaan Musicbar and make this children's day fun! 
Saregama Carvaan Musicbar is the one and only soundbar that comes with an integrated FM and 1000 pre-loaded melodies best suited to play all the songs or nursery rhymes throughout the party. 
With four 60W full-range front-facing speakers and powerful bass, the Carvaan Musicbar CB120 produces a powerful, balanced signature caravan sound that creates an immersive listening experience. The soundbar also provides a variety of Multi-Connectivity options, including HDMI. For a seamless connection to your TV or computer, use ARC, Coaxial, USB, Aux IN, and Bluetooth.
4 audio modes, including Movie, Music, News, and 3D, are enabled to give you the highest quality of experience. You can also pair your smartphone with Bluetooth V5.0 wireless connectivity and start listening to your favourite music. Additionally, the soundbar supports apps, so you can easily browse and listen to the music of your choice, along with using the soundbar to make playlists on the Carvaan app.
As you'll be arranging tons of games, you'll also need to curate the perfect gift for all the kids. A gift that is filled with both fun and learning Saregama Carvaan Mini Kids, has to be the best choice!
Entertainment and Learning (Age: 2 – 10)
Kids nowadays tend to spend most of their time playing games on Mobile devices or watching some content on television which increases their screen time. Carvaan mini kids is specially designed for children between the ages of 2 and 10. It is small, portable, lightweight, child safe, and simple to use so that no help from parents would be required. Kids can play the pre-loaded audios without an internet connection, also there are no commercial breaks to ruin your child's listening time.
Every kid can use it independently and listen to their favourite rhymes like Twinkle Twinkle Little Star or Humpty Dumpty Sat on a Wall and stories like Most Foolish Person or Dishonest Judge while also learning phonetics, alphabets, numbers, and table skills. 
The educational and entertainment demands of your child are now fully met by Carvaan Mini Kids. There are four distinct modes included: rhymes, stories, learning, and mantras. This makes it simpler to choose items based on your child's mood and needs.