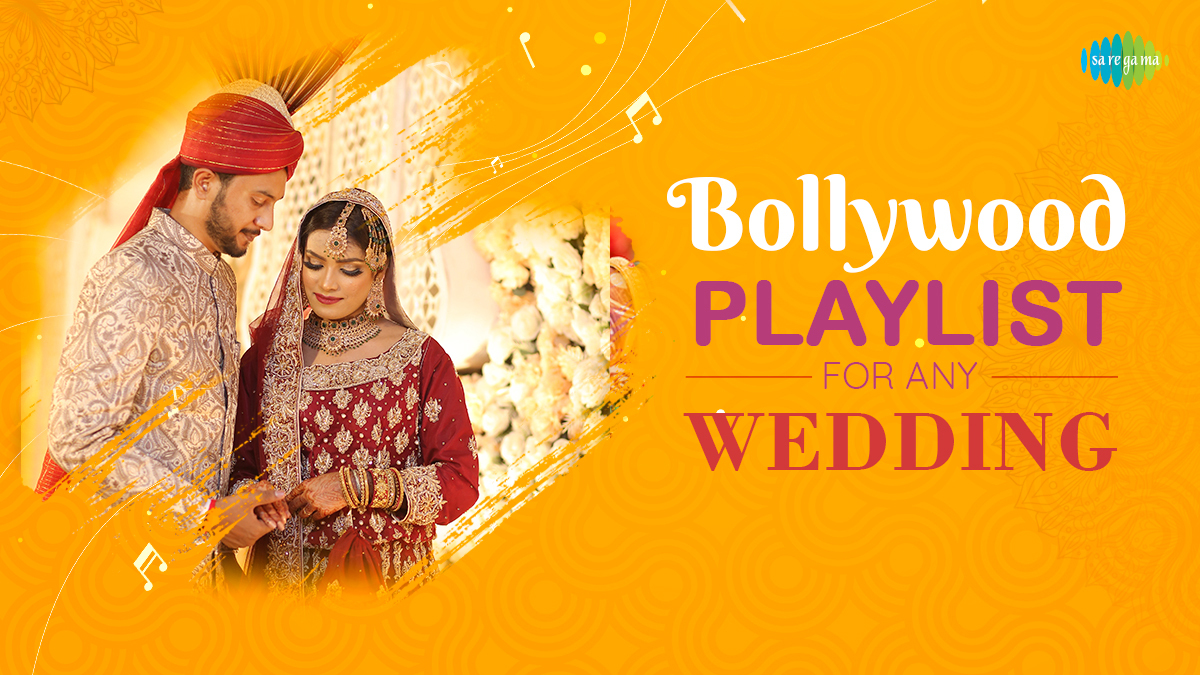 The wedding season is around the corner. And that means it's time to start your sangeet rehearsals and start curating the perfect playlist that fits the mood of every function and ceremony. One of the best things about Indian weddings is the extravaganza that revolves around them. Every rasam, every function is filled with tons of emotions, love, fun and MUSIC! Seriously no shaadi is completed without playing Gud Naal Ishq Mitha or Didi Tera Devar Deewana. Weddings literally are like a festival in India. They are filled with bonding activities, lots of food, singing, dancing etc. Actually, these activities also act as a reward for the efforts that go into the preparations of every ceremony. 
There are weddings and then there are Indian weddings. Indian weddings are hands down way more fun and exciting than any other wedding you'd attend anywhere in the world. An Indian wedding is a mixture of a ton of things especially dance and music  (thanks to our rich Bollywood music), as well as every shade of colours and flowers you can think of. The celebrations and ceremonies last for days sometimes even more than a week. Do you ever get tired of it? Of course, you do, but considering the enjoyable experience an Indian wedding provides, it is well worth the cost. 
You can enjoy every aspect of the Indian wedding extravaganza, including the traditional food, clothing, and rituals. It is a lot of fun because you will be treated like a special guest with proper transportation arrangements, pre-arranged lodging, and a fantastic food menu featuring the best Indian cuisine. Overall, attending an Indian wedding will allow you to experience the warmest hospitality and a significant portion of the nation's culture. 
The numerous rituals make Indian weddings very unique. There are a plethora of fascinating and distinctive rituals and traditions that you are likely to thoroughly appreciate during an Indian wedding, from applying turmeric on the bride and groom's faces to the bride's sister or sisters hiding the groom's shoes. There is no disputing that Indians enjoy cooking and eating fine cuisine. And shaadis act as the perfect way for them to flaunt their cultural cuisines. The best delicacies from different areas and popular Indian meals are prepared throughout the wedding to provide visitors with an unmatched culinary experience. After all, food is an integral component of any Indian wedding, and believe us, it is one of the things that visitors talk about after attending an Indian wedding. Your choices range from savoury appetisers (both vegetarian and non-vegetarian) through the main course that includes at least 50 different dishes, followed by a round of sweets that will also be rather numerous. Therefore, it is not an exaggeration to say that an Indian wedding is essentially a cuisine tour.
Apart from food, one thing that remains extremely memorable for everyone who attends the wedding is the dance or singing performances. No matter what genre of music you're currently vibing on, as soon as you enter the shaadi venue you're mostly only going to survive on the Bollywood shaadi playlist. Indian weddings are filled with different sorts of functions that cater to different moods. 
Let's have a look at songs as per different functions:
Engagement 
Roka or mangni or sagai is where the festivities of an Indian wedding start. It's widely believed in India that when two people get married it's not just them coming together but it also signifies the union of their families. So Sagai acts as the ice breaker between the two families, that is if they are not already acquainted with each other. Engagements are fun-filled evenings with tons of games and music. And if you're planning to perform at an engagement, we have some song suggestions for you:
Mehendi
The rasam of Mehendi is usually performed a day before the actual wedding takes place. Henna is applied on the hands and feet of the bride to wish her prosperity and health in the new phase of her life.  Just like any other rasam, Mehendi is performed in the most musical way possible. Have a look at the songs that you can play or perform, on the day of Mehendi. 
Sangeet
Sangeet's sole purpose is to bring people together. It's a night filled with games, activities and a LOT of Dancing. So we suggest you to up your game with these groundbreaking songs that would make you the star of the evening 
Bidaai
Now comes the saddest part of any Indian wedding and that is Bidaai. This is where the bride bids all of her maternal family goodbyes as she is now married and is going to be a part of a different family. This ceremony comes with songs like:
Reception 
Reception either happens on the same night as the wedding or on any of the following days. It's basically a feast thrown by the families to celebrate the union of the couple. Reception is an evening full of delicious food, music and games. Songs that fit the evening are:
But before all the ceremonies begin, a very important part of the preparation comes, and that is the dance rehearsal. The rehearsals are actually a fun activity wherein all family members come together and rehearse for their performances. With Saregama Carvaan Musicbar enjoy non-stop rehearsals and make fun memories with your loved ones.
Saregama Carvaan soundbar is the best choice this wedding season as it comes with 1000 pre-loaded evergreen Hindi songs and also provides a powerful bass and its speakers are capable to fill the whole room. You can either connect it to a TV or any other device through Aux or Bluetooth and start rehearsing your masterpiece.