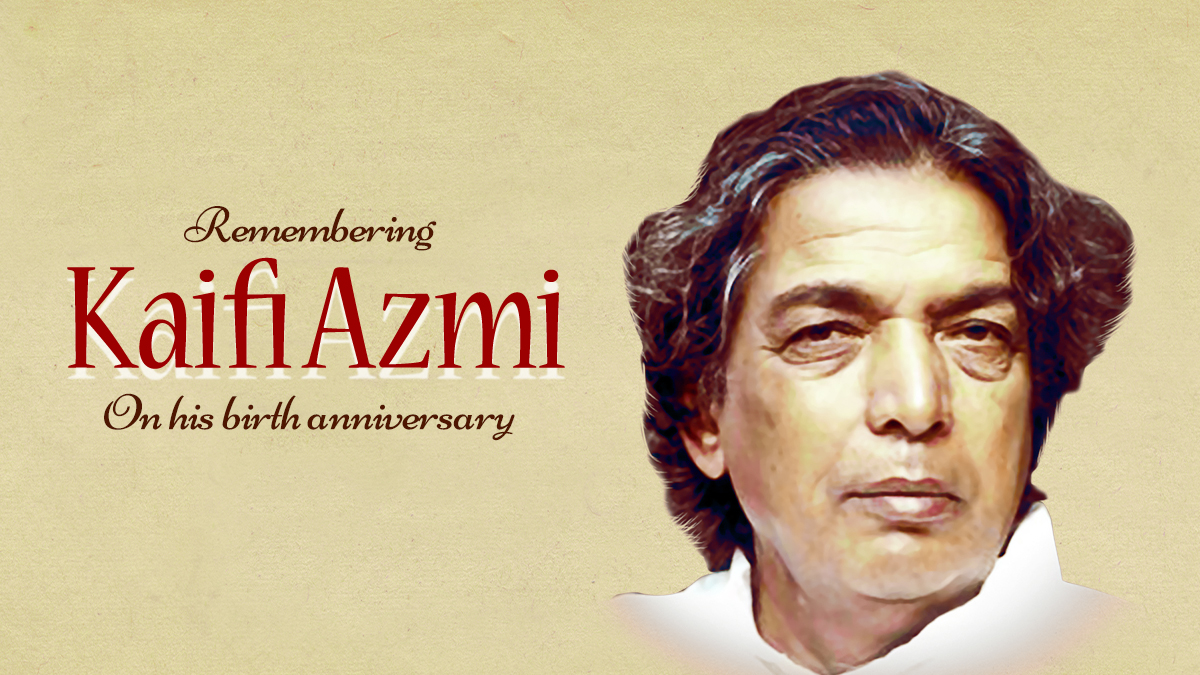 Kaifi Azmi is an Indian Urdu poet who has written numerous legendary ghazals. He has also worked as a lyricist in the Indian Cinema. Kaifi Azmi's birthday is remembered with the memory as he is the one who brought Urdu literature to the Indian motion pictures. Kaifi Azmi was born Athar Husain Rizvi in the year of 1919. Kaifi Azmi's birthday is celebrated on 14th January. s
Kaifi Azmi's birthday is remembered from his first ghazal, Itna, to Zindagi Mein Kisi Ki Khalal Pade. This ghazal got him invited to a Mushaira, where he recited the ghazal, or rather a couplet of a ghazal, which was greatly appreciated by the mushaira's president, Mani Jaisi. But, most people, including his father, assumed he recited his elder brother's ghazal. His father and clerk decided to put his lyrical ability to the test when his elder brother disputed it. They gave him one of a couplet's lines and instructed him to compose a ghazal in the same rhythm and rhyme.
Azmi accepted the challenge and wrote a ghazal in response. This challenge is still remembered and celebrated on Kaifi Azmi's birthday. In undivided India, this specific ghazal became a rage, and it was immortalized to great ghazal vocalist Begum Akhtar in her rendition. During the Quit India agitations in 1942, Azmi abandoned his Persian and Urdu studies and became a full-time Marxist shortly after, joining the Communist Party of India in 1943. During this time, he was discovered by Lucknow's prominent progressive writers. They were blown away by his leadership abilities. They also viewed him as a developing poet and encouraged him in whatever way they could. On Kaifi Azmi's birthday, he is also remembered for his widespread praise as a poet and joined India's Progressive Writers' Movement. He began working at a textile mill when he was twenty-four years old.
People remember Kaifi Azmi's birthday, his Urdu poetry on his favorite themes – love and heartbreak and some similar themes related to them. In 1943, he joined the Communist Party of India (the CPI) 1943 and the Progressive Writers' Movement. This gave a whole new tone to his Shayari. Kaifi Azmi debuted in Hindi cinema in 1951, writing songs for the Shaheed Latif-directed film Buzdil. He penned lyrics for nearly as many movies as he lived, spanning over fifty years. This restraint is a telling fact: whereas several of his contemporaries much outnumbered Azmi Sahib in terms of sheer output, Azmi Sahib may have stolen a march on most of them when it comes to quality. Let's explore a few of the hit songs on Kaifi Azmi's birthday. The lyrics of his songs are pretty meaningful. It conveys various emotions.
Millions on Kaifi Azmi's birthday remember his numerous hits. The song 'Dekhi zamaane ki yaari' from 'Kaagaz ke Phool' was released in the year 1959. It is one of those rare songs that pretty much captures the essence of the film in a single song. It starts when Mr. Sinha (Guru Dutt), a famous filmmaker surrounded by adoring crowds, realizes that fame and fortune do not always bring happiness. It reaches a climax near the conclusion, when Sinha, now a broken and older man, returns to the land he previously governed but is now despised by everyone. People remember his legend on Kaifi Azmi's birthday with his popular hits.
The song 'Chalte-Chalte Yoon hi koi mil Gaya thha' from the Pakeezah movie was released in 1972. 'Chalte-Chalte Yoon hi koi mil Gaya thha' has a very different tone from 'Dekhi zamaane ki yaari,' which was one of the popular hits.
It is shown in the movie that Sahibjaan, Meena Kumari's tawaif, is a sorrowful and lonely young woman, pining for the guy she has never seen but who, in a memorable train encounter, left behind a message admiring the beauty of her feet, which he watched as she slept. Though she goes through the motions of entertaining her clients, the love songs she sings, the longing and sorrow of separation that wells up in her are all directed at that anonymous admirer.
The song 'Ya dil ki suno duniyawaalon' from the movie Anupama was released on 1966. Anupama is a beautifully sympathetic narrative of a young woman who is restrained and mistreated by a widowed father who blames her for the death of his beloved wife, who died in childbirth. The lyrics of this song are written very well, which depicts the movie's story as a whole. So download the Saregama app and listen to the hits by Kaifi Azmi on his birthday and indulge yourself in the world of unforgettable tunes and lyrics.
The song 'Jaane kya dhoondti rehti hain' from the movie 'Shola Aur Shabnam' released in 1961 is still unforgettable by the audience. This song is still played on various musical apps by audiences on Kaifi Azmi's birthday. It has been said that the song 'Main yeh sochkar uske dar se utha thha' from the movie 'Haqeeqat, released in 1964, is one of his best compositions. Though the movie is arguably the most realistic Hindi war picture ever made, it is another Dharmendra film.
On Kaifi Azmi's birthday, people listen to some of his excellent songs from the movie 'Haqeeqat .' The song 'Zara si aahat hoti hai' is a beautiful song of anticipation, and another song, full of yearning, about missing home and loved ones. Kaifi Azmi's birthday is incomplete if we don't listen to the most fantastic composition 'Hoke Majboor Mujhe' and 'Masti mein chhedke taraana koi dil ka,' joyful and carefree song, and 'Kar chale hum fida Jaan-o-tan saathiyon,' is the essence of patriotism. The song 'Jhoom-Jhoom dhalti raat' from the movie 'Kohraa 'released in 1964, is one of the famous hits still heard by the masses. Hear the best compositions of Kaifi on Kaifi Azmi's birthday.
Download the Saregama app and bring home Saregama Carvaan now and drown yourself in soulful music like never before! Relish the musical bliss that only Saregama can provide.