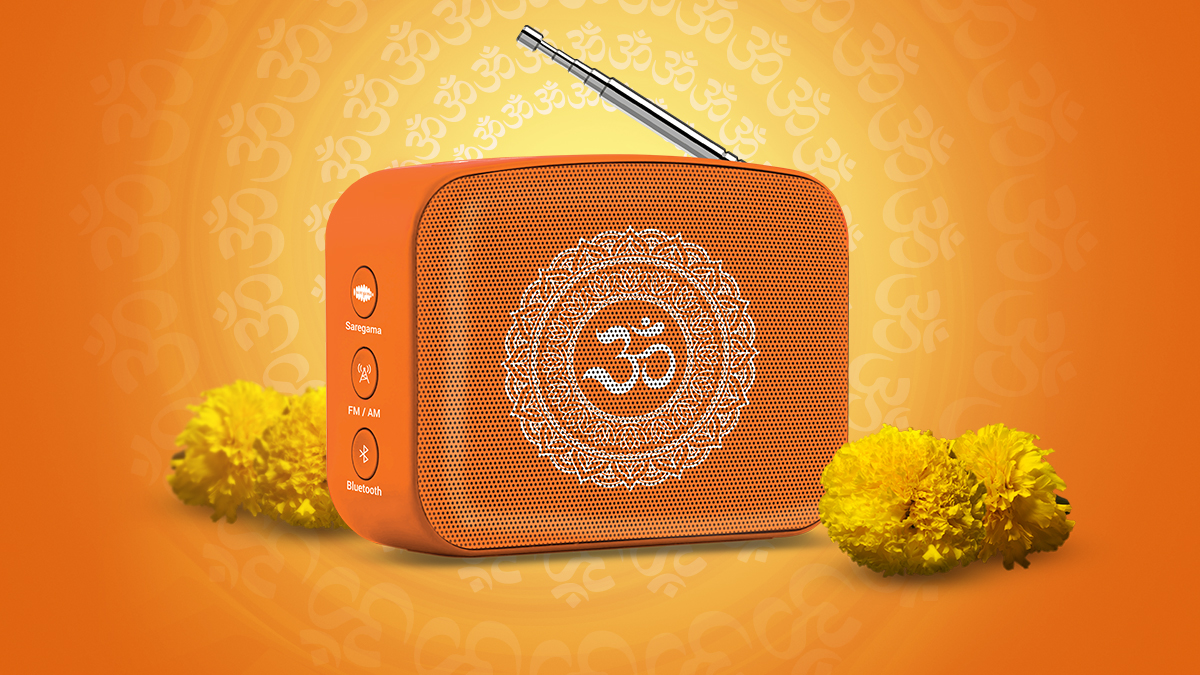 Revive the age-old tradition of starting your day with devotional songs- presenting you Saregama Carvaan Mini Bhakti. It has 300 devotional bhajans, aartis, and mantras to delight your spiritual appetite and give a perfect kickstart to the day. The pre-loaded devotional songs on Mini are categorised by deities like Shiv, Ganesh, Krishna, Sai, Devi, and Ram/Hanuman. This device is a portable music player that comes with features such as Bluetooth, USB, and FM/AM.
The Mini Bhakti has melodiously curated songs that will lift your soul higher. Aartis, Mantras and bhajans of Shiv, Ganesh, Krishna, Sai Baba, Devi, Ram Hanuman are loaded in this device. Experience peace through devotional songs like Om Jai Jagdish Hare, Satyam Shivam Sundaram, Riddhi Siddhi Dayak, Yashomati Maiya Se Bole Nandlala, Shirdi Ke Sai Baba and more.
You can conveniently savour the joy of songs from your personal collection via Bluetooth or USB. Plus, the Mini Bhakti has 3.5 mm audio jack for connecting external speakers and headphones when you have spiritual gatherings or want to listen privately at the office. If you are a music lover, who relish the tunes of FM radio stations, Mini Bhakti offers you that option as well.
The Mini Bhakti makes a great portable device to carry along to your morning walks or even pilgrims to enjoy the peaceful and transcending devotional tracks. The quality of sound produced by the speakers is high-end, crisp and clear enough to fill your room with upbeat music.
A fully-charged battery will last you up to four hours so you can enjoy spiritual songs without any interval. You can easily charge your Mini at home, office or even in the car with an Android charger, eliminating the hassle of carrying a separate cord for the device.
Carvaan Mini Bhakti comes with a 6-month warranty to keep you safe from contingencies. The premium quality design and size coupled with pre-loaded songs makes the Carvaan Mini Bhakti an absolute winner in the music space. Gift it to your parents and grandparents or keep it for yourself. This audio player is a treasure to all those who want to transcend towards higher self.
Start your day with transcendental music. Get your Carvaan Mini Bhakti today.