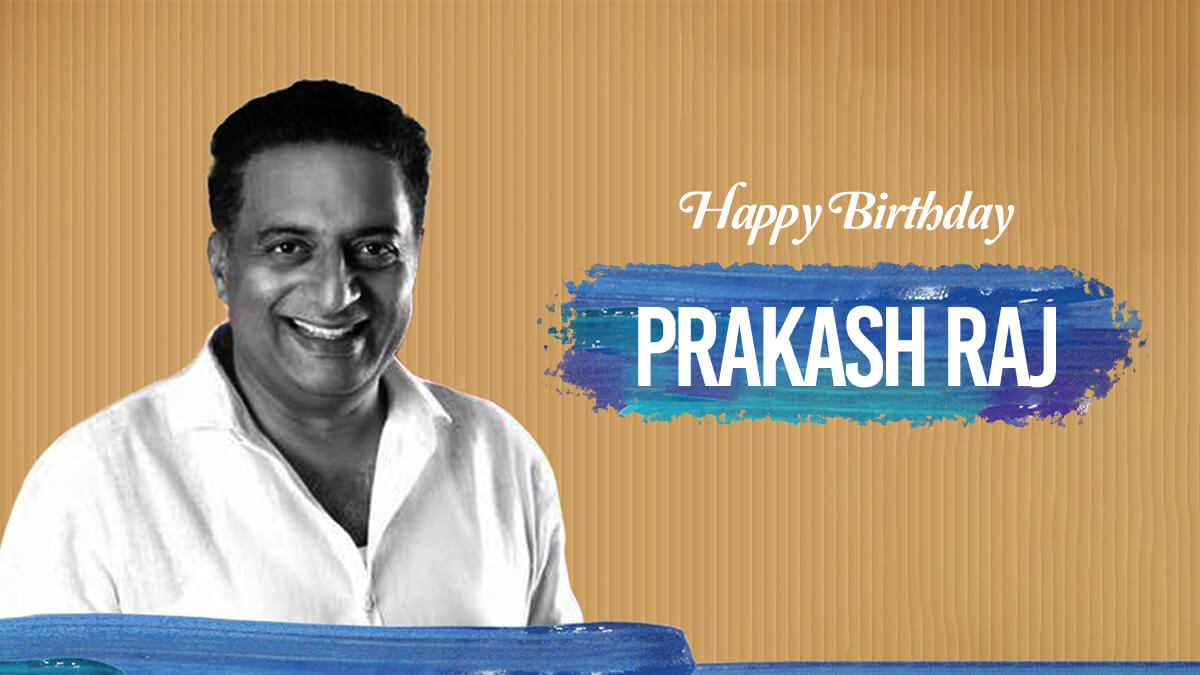 Actor Prakash Raj is a known name in Indian cinema. Though he has majorly worked in Tamil, Telugu, Kannada, and Malayalam language films, he has made a mark in Hindi movies too with flicks like Wanted (2009), Singham (2011), Dabangg 2 (2012), Entertainment and Heropanti (2014), and many more. With all these movies, actor Prakash Raj has undoubtedly raised the bar for actors as antagonists in Bollywood. Prakash Raj's filmography is one of the most diverse out there; the actor has worked in every genre out there and in five different languages.
Saregama's exclusive playlist of actor Prakash Raj songs is filled with melodies in various languages. We have created this diverse playlist for all our listeners to enjoy the hit songs of actor Prakash Raj.
Actor Prakash Raj was featured in a Tamil-language romantic comedy along with Dhanush and Shriya Saran. The movie is Thiruvilayadal Arambam (The Divine Game Begins). It was released in 2006 and did pretty well at the box office. Prakash Raj played 'Guru,' a villain who tries to separate the couple played by Dhanush and Shriya. The soundtrack of Thiruvilayadal Arambam was as accepted and appreciated as the movie itself. Some songs from the film that are featured in our special actor Prakash Raj playlist are- Aadra Raama by D. Imaan and Ennamma Kannu by Karthik and Ranjith. Make sure to download and listen to our outstanding actor Prakash Raj's special playlist only on Saregama.
Actor Prakash Raj's acting career started not with a film but with a TV show. The actor first appeared on Doordarshan in the show 'Bisilu Kudure' (Stallion). Prakash's performance in this show was highly regarded.
Actor Prakash Raj acted in another comedy in the year 2013. The movie was titled Thillu Mullu 2. The movie is a remake of the Hindi film Gol Mal, directed by Hrishikesh Mukherjee. Prakash Raj acted in the film with Shiva and Isha Talwar in lead roles. The soundtrack from Thillu Mullu 2 that you can add to your playlist of actor Prakash Raj songs is- Aajaa by Haricharan and Priya Himesh, Ragangal Padhinaru by Karthik, and the title track Thillu Mullu by M.S.Viswanathan and Yuvan Shankar Raja. Download Thillu Mullu songs from Saregama and add them to your actor Prakash Raj songs list.
Actor Prakash Raj's journey in movies began with the Tamil-language film Duet, released in 1994. K. Balachander directed the movie, proving to be a significant milestone in Prakash Raj's acting career. Post Duet, actor Prakash Raj worked in many Tamil, Telugu, and Kannada movies. One such movie is Maasila Unmai Kaathale from the year 1999. The was starred against the famous Tamil actress Khushboo. Aanandame Nenjil Aanandame sung by Harini, Aayiram Jenmam by Krishnaraj and Sujatha, and Ae En Anbey by Bhairavi and Krishnaraj are some of the songs from Maasila Unmai Kaathale that we have included in our actor Prakash Raj special playlist. You can download and listen to these songs on Saregama and Saregama Carvaan.
Actor Prakash Raj worked in a Kannada-language mystery thriller film-Z. The movie was released in 1999. Z was written and directed by K. Praveen Nayak and was later dubbed into Telugu as Maha Natudu. The soundtrack of this movie was composed by five different composers, which makes it diverse. Some of the songs from Z that we have included in our list of actor Prakash Raj songs are- Choli Aata by L.N Shastry and composed by Praveen D. Rao, Preama Preama by Rajesh Krishnan and S. Sowmya, composed by Rajesh Ramanath, and Reelo Reelo by Murali Mohan and L.N Shastry and composed by Murali Mohan, and Thutiyalli Thutiyu by S. Sowmya and composed by Rajesh Ramanath. Download the soundtrack of Z and add it to your own playlist of actor Prakash Raj songs.
With the Tamil film Dhaya (2002), in which he starred with Meena, actor Prakash Raj became a film producer. His movie received a National Special Jury Award. Later, he produced films in Tamil such as Naam (2003), Azhagiya Theeye (2004), Kanda Naal Mudhal (2005), Poi (2006), Mozhi (2007), Velli Thirai, and Abhiyum Naanum, which won many Tamil Nadu State Awards in 2008, and Inidhu Inidhu in 2010. A few songs from some of the movies by Prakash Raj as a producer are- Aazha Kannaal by Tippu and En Jannalil Therivadhu by Karthik from the movie Mozhi.
Prakash Raj has won five National Film Awards for Tamil-language Iruvar (1997), Telugu-languaged Anthapuram (1998), Tamil-language Dhaya (2001) and Kanchivaram (2007), and Puttakkana Highway in Kannada (2010), eight Nandi Awards, eight Tamil Nadu State Film Awards, five Filmfare Awards South, four SIIMA Awards, three CineMAA Awards, and three Vijay Awards as of 2021.
Enjoy our curated list of actor Prakash Raj songs from Saregama and listen to all his hit songs on Saregama Carvaan.