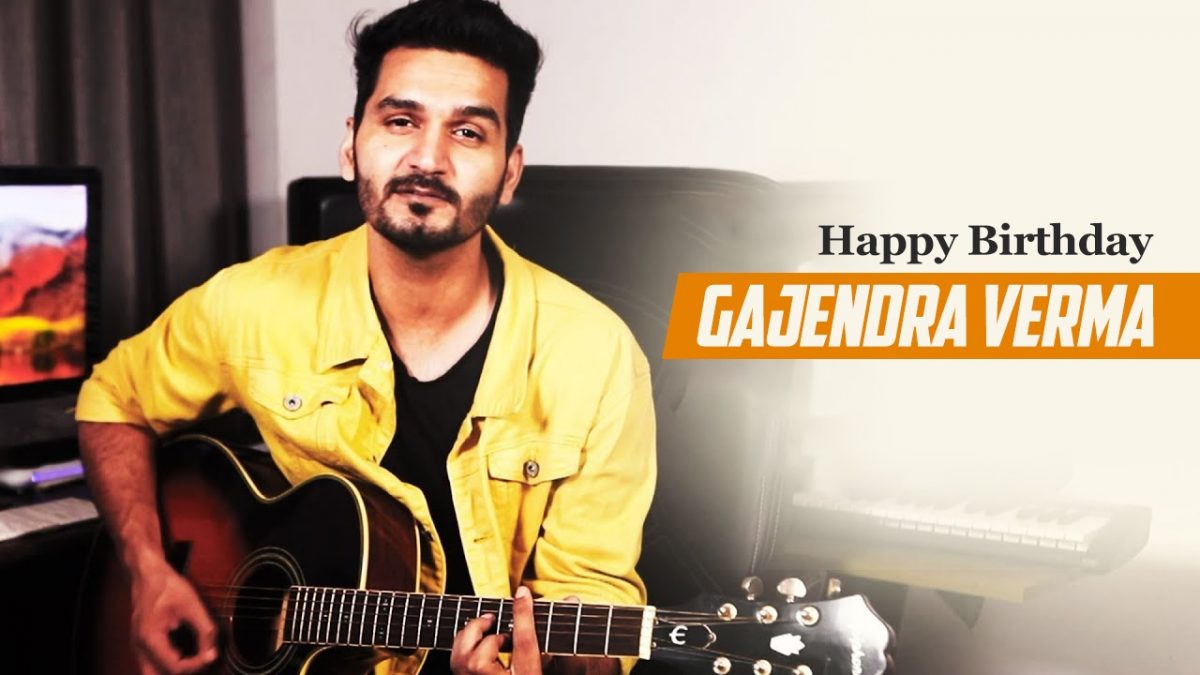 "Music is more or less, the purpose of my life, It's that simple… true though!", says Gajendra Verma.
Gajendra Verma is our country's one of those artists who is much loved by his viewers and have become a viral sensation. He is well known for his quirky creations and exceptional recreations wearing different hats of a composer, singer, actor, or lyricist. He leaves the audience spellbound and showcases music creatively and contemporarily 
'Music' is the amalgamation of different sounds of every emotion! Gajendra Verma firmly believes and one can also say breaths with that philosophy. Gajendra Verma was born in a modest town called Sirsa in Haryana, on 20th April 1990. He considers himself blessed to be born in a family that was soaked in music. An integral part of their family was music and arts. 
Surendra Verma, who was Gajendra's father, was deeply associated with arts and music. He had expressed himself wholeheartedly as a writer, teacher, and lyricist. Other than being an actor himself, he also holds a Ph.D. in Hindi literature. Gajendra Verma's mother, whose name was Chand Verma was a homemaker. Gajendra Verma was blessed with other two siblings and to no surprise in this healthy musical family, his brother shared the same passion for music just like him. 
Gajendra Verma once mentioned his journey and shared that he did not acquire any professional training in music. His only institution then was his father and elder brother, Vikram Singh. Gajendra was so connected and drawn to music that he took tiny footsteps to climb the stage at age 3 to give his first performance. 
When Gajendra turned 11, he along with his family moved to Jaipur to complete his schooling. He pursued his secondary education at Army Public School, Jaipur, where he participated actively in school festivals and competitions and proclaimed himself a winner in most of them. 
This was the onset of his passion for music, which grew in leaps and bounds thereafter. His appreciation for the world of music nurtured his inner calling. Gajendra Verma was clear about his life goals and stepped into the city that never sleeps, Mumbai for the first time. He foremost gained professional knowledge in Sound Engineering with a 2-year course from the well-esteemed SAE College in Mumbai. Upon completion of the course, he then became a teacher at the same institute to spark the same passion in young hearts.
Gajendra Verma's journey in the music industry can be said to have given him a roller coaster ride. The very onset of his career was a controversy that eventually brought him fame and a pool of opportunities. In 2008, a song went viral on youTube named "Emptiness" or "Tune Mere Jaana" under the name Rohan Rathod, an IIT student who was passing his last days, nothing of which was true. This song strikes a sensation among music lovers of the nation and rapidly receives about 40 million views in no time. 
Gajendra Verma then raised it to the court that this song was sung and composed by him more than seven years prior to this incident. He also mentioned that the story behind this video on youTube is fake and his creation was being misused. After he won the case, he released the song officially with support from Sonotek Music Channel. 
In the year 2013, his first Bollywood film – 'Table No 21', was his debut as a Singer/Music Director in the industry. This film produced by Eros featured Rajeev Khandelwal and Paresh Rawal. 
Many of his hits, 'Baarish' song from Yaariyan, 'Muje Ishq Se', 'Tera Hi Rahun', 'Mera Jahan', 'Ik Kahani', made a special place in everyone's heart. A horror-thriller film, Mercury in 2018, with actors like Prabhu Deva, the title song 'The Mercury Song' was created by Gajendra Verma. 
The mega-blockbuster from Gajendra Verma in his entire career has been 'Tera Ghata' song released in 2018 which has crossed 450+ million YouTube views. His fan following increased beyond the level and then he was being called 'Mr. Good Vibes'.  
An Exclusive presentation with Saregama music in 2019 is Gajendra Verma's recreation of Lata Mangeshkar's song 'Milo Na Tum Toh Hum Ghabraye' from the film Heer Raanjha written by Kaifi Azmi and composed by Madan Mohan. This song features Tinu Ahuja, the superstar Govinda's daughter paired with Gajendra himself, who is the singer, composer, and lyricist of the remake. 
From the charts of 2021, the song 'Sun Baliye' sung along with Sonu Kakkar, reminds one of that incomplete love story dilemma and also others like 'Pehla Pyar', 'Aaj Phir Se', and 'Na Hona Tumse Door'
Knowledge does not end with one's education and an artist's desire to attain fulfillment of his ambitions and hopes is fictional, is what he believes. He follows the footsteps of his favorite artists devotionally, which includes A. R. Rahman, Lucky Ali, and Coldplay. 
He worships Lata Mangeshkarji and her words, she once mentioned, "Listening to good music is also a good riyaaz". He considers himself grateful to have been raised in the same country where she established the foundation of music. Gajendra reflects that not only did she give us timeless numbers to cherish but also taught us life lessons, particularly for artists. Lata Mangeshkar taught us how to always remain determined, to perform more than 100 percent, to be grateful to the world of art, to follow your course of life, and primarily to be graceful towards a life with its ups and downs.