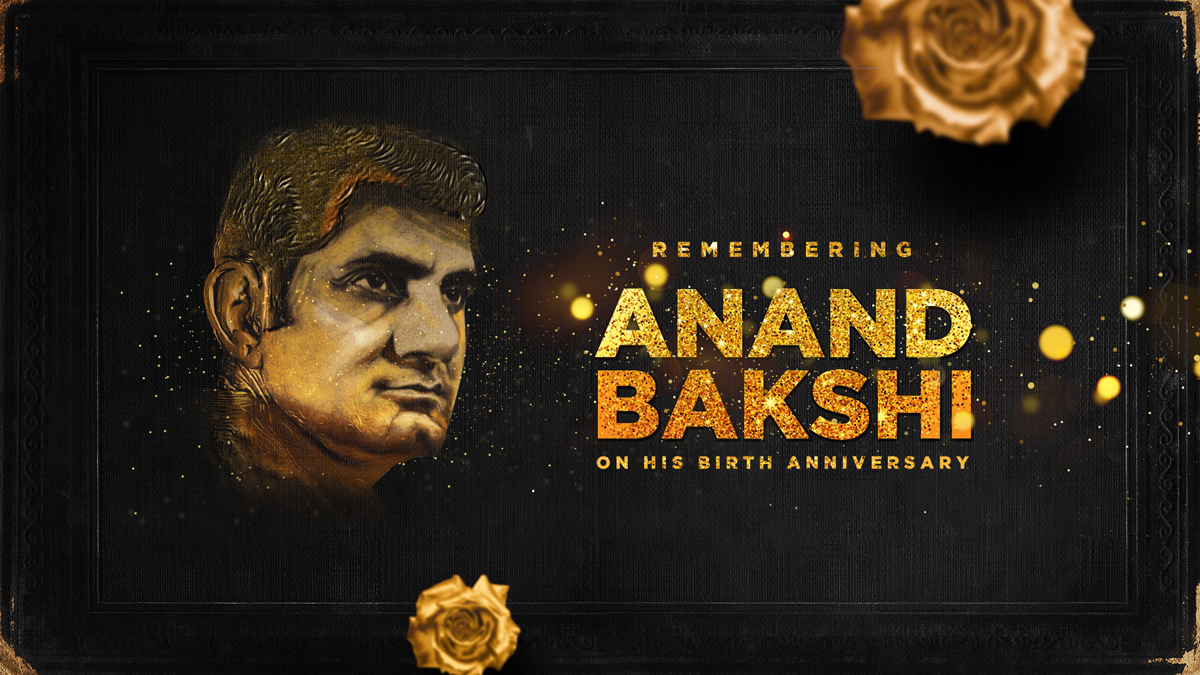 A popular Indian poet and lyricist who reached people's hearts with his simple words, Anand Bakshi worked on over 600 released films and some non-released works, getting nominated for Filmfare Best Lyricist over 40 times and winning for four.
On the occasion of Anand Bakshi's Birthday, Saregama Tweeted "A legend who created magic with his words. Remembering Anand Bakshi, one of the elite lyricists of Bollywood."
A legend who created magic with his words. Remembering Anand Bakshi, one of the elite lyricists of Bollywood.#Saregama #AnandBakshi #HappyBirthday #Retro #Bollywood #Lyricist #OldBollywood #EkAjnabeeHaseenaSe #PhoolonKaTaronKa #TujheDekhaToYeJaanaSanam pic.twitter.com/3mkdBbRY1c

— Saregama (@saregamaglobal) July 21, 2021
Born on the 21st of July 1930 in Rawalpindi (now Pakistan), Anand Bakshi along with his family migrated to India in the aftermath of the partition in 1947, with Bakshi being only 17 years old. The family arrived in Delhi first via a Dakota aircraft, migrating to Pune first, then Meerut, and finally settling in Delhi.
Bakshi always had an interest in poetry and prose but he did it mostly as a hobby. As a youth Bakshi joined the Indian Navy where due to the paucity of time he could only write occasionally. In the beginning, he would write poetry and lyrics and use them in local programs related to his troops. For many years Anand Bakshi worked in the troops while simultaneously tried to get his works published and market his songs in the Mumbai Film Industry. 
After the Indian Navy, Bakshi went to Mumbai to try his luck and make a name for himself as a singer and writer but he found more success as a lyricist. His first break came in the form of Brij Mohan's "Bhalaa Aadmi" in 1958, a movie he wrote four songs for. His first ever song being "Dharti Ke Laal Na Kar Itna Malaal" which was recorded in his voice on All India Radio interview in 1956. He worked as a lyricist for a few films, with people like Kalyanji & Anandji but his first real breakthrough came in movies Himalay Ki God Mein (1965), Jab Jab Phool Khiley (1965), and Milan (1967). With these superhit films, Bakshi established his place in the Mumbai Film Industry as a lyricist of high caliber.
He worked in over 638 films, writing over 3500 songs in his career, working as a preferred lyricist for Rajesh Khanah's films with Rajesh Khanna as a lead. Some of his famous songs include; Pyar Diwana Hota Hai (Kati Patang in 1971), Zindagi Ke Safar Mein (Aap Ki Kasam in 1974), Aap Ke Anurodh Pe (Anurodh in 1977), Chitthi Na Koi Sandesh (Dushman in 1998), amongst others are some of his popular works.
He was nominated for over 40 Filmfare Awards for Best Lyricist out of four which he won. Apart from these, Anand Bakshi had a way with his simple words that reached the hearts of even the most remote people.  
Late in his life, Anand Bakshi suffered from heart and lung disease due to his life-long smoking habit. He died on 30th March 2002 when he caught a bacterial infection during a minor heart surgery that resulted in multiple organ failure.  
On the occasion of Anand Bakshi's 92nd Birth Anniversary, Saregama celebrates his works and his contribution to the Indian Film Industry. 
Now you can stream and download all your favorite Anand Bakshi songs on Saregama Carvaan. Saregama Carvaan is a portable audio player with preloaded 5000 evergreen Hindi songs that you can listen to anywhere anytime without ad breaks or internet connection. It consists of other features like Bluetooth, FM/AM radio, USB, and AUX connectivity.