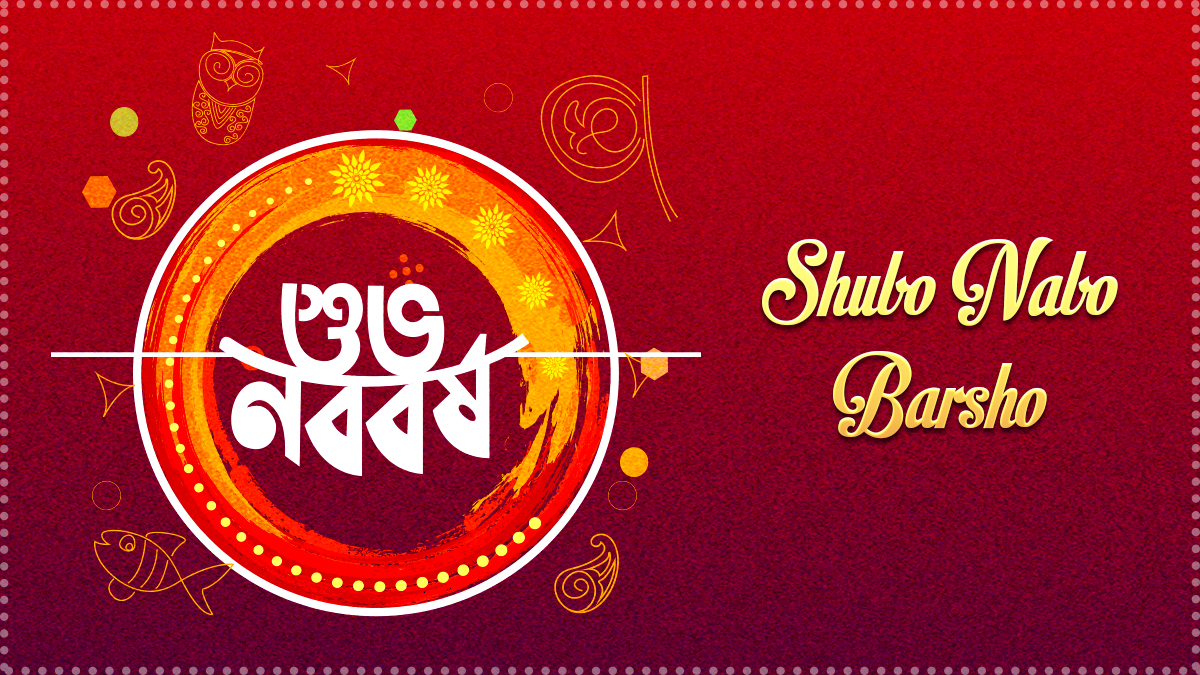 In the 'City of Joy', the Bengali New Year is celebrated with many festivities, such as an exhibition of food, people getting together to clean the house, and praying to set themselves up for the coming year. It is a celebration that signifies prosperity, wealth, and health. The activities in the celebration often include decorating waterpots with alpana patterns, cleansing oneself, and going to temples.
When Bengalis greet each other, they say "Shubho Naboborsho", which translates to "Happy New Year". On this day it is common to visit relatives' houses or have a family reunion or get-together. 
As a part of the festivities and to welcome a new year, many Hindus visit the temples of Goddess Lakshmi and Lord Ganesh to offer prayers. After their prayers are done certain rivers will then be visited by the people, with some Bengalis offering prayers for commercial establishments as well. New commercial outlets and shops will be opened for business on this auspicious day. There will also be competitions for children to showcase their skills such as singing, dance, or art at schools
Bengalis also follow the gift-giving ritual during this festival. Almost everyone is busy searching online for perfect & unforgettable gifts for their loved ones. Exploring different options from clothes to confectionaries, to toys, or home accessories, everyone wants to please the recipient. 
The art of gifting is understood well if you know which parameters are more important. Some gifts last for a day or two and some for a few months. However, think of a gift that can stay with their family forever for years together, adding happiness to their lives all the time. It can be used by every generation in the house. 
One such gift is the Carvaan – Bengali and Carvaan Mini – Bengali editions. A specially designed masterpiece that has curated songs from various artists like Hemanta Mukharjee, Manna Dey, Sandhya Mukharjee, Asha Bhosle, Lata Mangeshkar, Kishore Kumar, R.D. Burman, Shyamal Mitra, Geeta Dutt, and the list goes on. 
A Carvaan Bengali comprises 5000+ songs, playlists from various artists, and also different moods. There are special playlists to celebrate nature, the feeling of love or romance, and sentimental or devotional songs to choose from. The other variant called the Carvaan Mini – Bengali has 351+ superhit tracks cherry-picked from the artists mentioned above. 
The Bengali phrase 'Mangal Shobhajatra', which translates to "procession for well-being," takes place every year and features an ancient custom that promotes the progress of the country, humanity, and individuals.
People participate in these processions in numbers, with humongous depictions of nature which include different animals and birds, traditions, tales, or even mythological characters and celestial stories. It is meant to unite the people as Bangladeshi citizens rather than separate them based on gender, age, class, or religion. In 2016, UNESCO declared it a part of world culture with intangible heritage status.
Cultural events are organized across Bengal and people enjoy Rabindra Sangeet, Nazrul Geet, and other traditional songs. Some other all-time favorite songs like 'Ek Kanyake Dekhe To Lagchhe Emon' by Kumar Sanu, 'Priyotamo, Ki Likhi Tomay' by Lata Mangeshkar, and 'Chanchal Mon Anmona Hoy' by Hemanta Mukherjee.
There are also many devotional songs to connect to the divine like 'Pujar Thalay' by Anuradha Paudwal, 'Bajlo Tomar Aalor Benu With Narration' by Supriti Ghosh, and 'Amay De Ma Pagal Kore' by 'All Time Greats' by Pannalal Bhattacharya. Romantic songs like 'Prem Elo Chup Shono', 'Ek Din Chine Nebe Tare', 'Ekhono Akashe Chand', 'Ami To Tomar Chirodiner Hnasi', and 'Nishiraat Banka Chand Akashe'  take you back to those rosy days.
Almost all restaurants prepare special Bengali dishes, which usually attract lots of customers on this special day. Eating quintessential Bengali food and having sweets are also important. 
After rituals, Bengali people start the day with a meal that includes Luchi (a type of Indian bread), Dal made of chickpeas and crunchy coconut pieces, and Aloor Dum (a creamy yogurt-based potato gravy). These foods provide nutrition to commence your New Year's day celebrations.
For the two main meals of the day, a non-vegetarian dish that is essential in any Bengali cuisine is Fish curry. This preparation is delicious with rice or roti and adds an amazing richness to the meal.
Celebrating the Bengali New Year or Poila Boishakh in the east of India which is the birthplace of 'Rasgullas' means cherishing various special sweets. Some popular ones include Sandesh, a rice paste-based sweet, and Mango Sandesh which are sweets flavored differently with seasonal choice of fruit. For dessert, there is Chaler Payesh, a type of kheer that is slightly different from the version served for breakfast.
Many families will buy new clothes before the first day of the festival and wear them on that day. There's no specific dress code for Pohela Boishakh, but most women wear a saree, and men wear 'Dhoti and long shirts called 'Kurta'. 
When you imagine a Bengali woman, a beautiful saree is inevitable. There are many different techniques and drapes that make the sari unique, with its own charm and sensuality. The most popular traditional choice is a Korial (intrinsic patterns) and Garad (white) saree, which are typically paired with red bangles and bindi with magnificent jewelry. Other favorites are Dhakai Jamdani, Baluchari Saree, Tant Saree, Tussar Silk Saree, Kantha Silk, and Muslin Cotton Saree. 
This Bengali New Year, get your own Carvaan – Bengali or Carvaan – Mini Bengali, or gift someone this timeless instrument of joy, that can be relished by everyone at home and make their New Year the best one to come! A family that sings together, dances together, stays together!