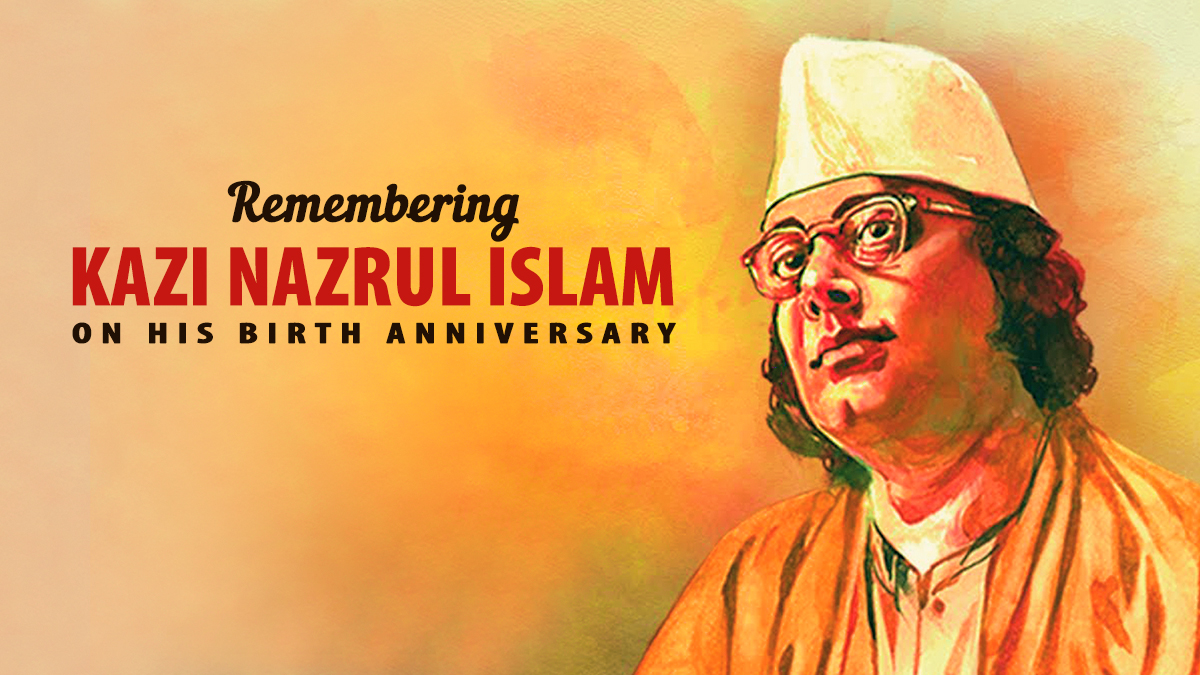 Kazi Nazrul Islam was a National Poet Of Bangladesh, a writer, and a musician. Popularly known for his works on religious devotion and rebellion against oppression, Nazrul produced a large body of poems and music. Because of his political and social activism, and his sense to get justice, he was named "Bidrohi Kobi" or "Rebel Poet".
Born on May 25th, 1899 to a Bengali Muslim Kazi family in a village of the Paschim Bardhaman District of Bengal Presidency, now West Bengal. Growing up Nazrul studied Quran, Hadith, Islamic philosophy, and Theology at a Maktab and Madarsa run by the Mosque and the Dargah respectively where his father worked as a caretaker. He lost his father at an early age of 10 and took his place as the caretaker to provide for his family. Ever since his childhood, Nazrul was attracted to folk theatre, he joined a Leto run by his uncle where he traveled with them learning to act and also writing poems and music for the plays.
Through his experience, he started to take on Bengali and Sanskrit Literature as well as Hindu scriptures like the Puranas. After a while, he left the trope and enroll in high school, learning scriptures, music, and languages like Bengali, Arabic, Persian, Sanskrit literature, and Hindustani Classical Music by his mentors and teachers who were always impressed with Nazrul's dedication and skills.
In 1917 at an age of 18 Nazrul enrolled in the British Indian Army out of political curiosity and a thrill for adventure and was stationed near the Karachi cantonment where he wrote his first prose and poetry. That was the beginning of his legendary career.
In 1920 his regiment got disbanded and Nazrul settled in then Calcutta, reading works of Rabindranath Tagore, Hafez, and Rumi. He published his first novel "Bandhan-hara" in 1920. He continued to work on the piece for the next seven years while still producing poems and music. His first collection of poems received critical acclaims. While working at the Bengali Muslim Literature Society Nazrul grew closer to other Muslim poets and writers.
Nazrul reached the peak of his fame in 1922 with his work called "Bidrohi" (The Rebel) which received the admiration of India's Literary Society for his description of the Rebel and his writing style. Nazrul followed up Bidrohi by writing "Pralayollas" (Destructive Europhia) and the first of his many anthology poems "Agni-Veena" in 1922.
He produced 4000+ music, poems, and works pieces during his 34 years long career. But apart from writing and composing, Nazrul started a bi-weekly magazine "Dhumketu" where he openly criticized the British Raj and was later arrested for publishing a particular poem in his magazine. He was charged with sedition. He kept producing numerous poems and pieces during his imprisonment and was released in 1923. Many of his books and works were banned after his arrest and imprisonment by the British government yet his works kept been distributed and read in secret.
Even Rabindranath Tagore even dedicated an entire play called "Basanta" to Nazrul. No matter how much his efforts and words were banned, the popularity of Nazrul kept spiking. He got more and more involved in politics and social activism and even helped people organize a socialist political party committee for national independence and the service of the working class. In 1925 he opened started a weekly and was its chief editor.
He went on to marry a Hindu woman, a marriage that was widely criticized by people of both religions. His work also faced criticism after his marriage though his popularity kept on increasing. Nazrul was labeled a revolutionary in his time as he advocated the rights of women, equality, and he criticized society's negative views on prostitutes in his infamous poem "Naari". Nazrul wrote so many songs and music that his works are widely called "Nazrul Geeti". Even though the number of his works is considered to be over 4000, that exact number of his works is still unknown.
Nazrul and his wife Pramila fell ill following the year 1939. Despite his illness, he returned to work mortgaging his trophies and poems to pay for his wife's treatment. However, his health deteriorated quickly and they were both admitted to a mental asylum where they kept being treated with homeopathy and Ayurveda. Later seeing their progressively worse condition, both Nazrul and Pramila were sent to London, then Vienna for treatment.
Nazrul was diagnosed with Pick's disease and his case was termed chronic and untreatable at the time. Returning home Pramilla succumbed to her illness in 1962 while Nazrul remained in intensive medical care. On 24 May 1972, the newly independent Bangladesh brought Nazrul to live in Dhaka with the consent of the Government Of India. He was declared officially a citizen of Bangladesh though Nazrul succumbed to his long-lasting ailment on 29th August 1976. Tens of thousands of people attended his funeral service, Bangladesh observed two days of national mourning, and the Parliament Of India observed a minute-long silence in his honor.
Nazrul introduced ghazals in the Bengali language and he criticized any kind of bigotry based on gender or religion. His works explored themes like love, freedom, humanity, and revolution. He was awarded the Padma Bhusan in 1960, Ekushey Padak in 1976 and he was officially named the National poet Of Bangladesh.
On the Birth Anniversary of Kazi Nazrul Islam, Saregama celebrates his life and contribution to society.
Now stream and listen to your favorite Nazrul songs and ghazals on Saregama and Saregama Carvaan Bengali. Saregama Carvaan Bengali is a portable digital music player that comes with pre-loaded 5000 Evergreen Bengali songs and Hindi Film songs, Folk songs, Devotional songs, and Tagore songs you can enjoy to without internet and ad breaks. The portable player also has some exclusive features like Bluetooth, FM/AM radio, USB, and AUX connectivity.