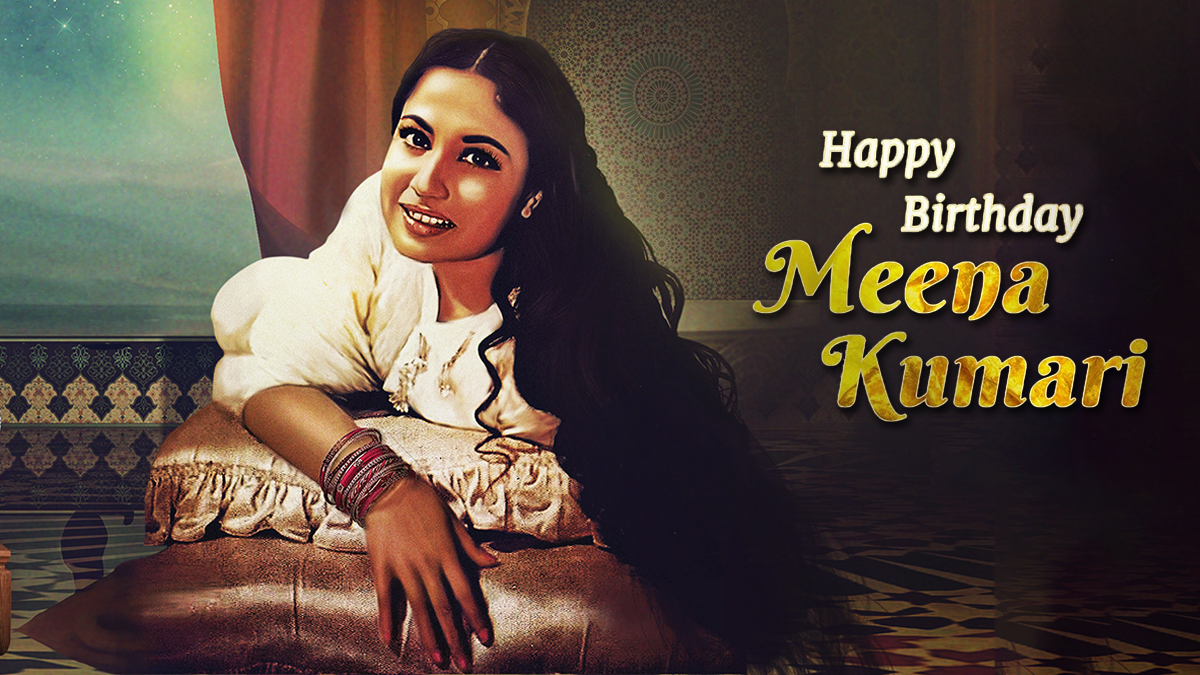 Meena Kumari, the legendary actress of Bollywood, ruled the industry, especially in the 1950s and 60s. Popularly remembered as the "The Tragedy Queen of Bollywood," she gave some of the most spirited acting performances that are etched in the minds of cinema lovers and continues to evoke endless emotions. On Meena Kumari's birth anniversary, Saregama remembers the iconic actress. 
Her life, as many have reflected in the past, was a mysterious paradox or an intriguing and complex story that cannot be unraveled or dissected easily. Perhaps, this was the reason why she nonchalantly exhibited roles that had complex shades delved deep into the emotions and were powerful. 
Meena Kumari's real name was Mahajabeen, and she was born to Ali Baksh and Iqbal Begum on August 1, 1933. She made her acting debut in Bollywood at the tender age of six in 1939. Many believe she was forced into acting to support her family financially. As years went by, she acted in many more movies and was first recognized as Meena Kumari in the 1946 film Bacchon Ka Khel. Her big break came with Baiju Bawra in 1952, where she played the female lead and which turned her into a star. There was no turning back. She collaborated with some of the finest filmmakers of her generation such as Hrishikesh Mukherji, B.R Chopra and Bimal Roy and starred opposite legends like Dilip Kumar, Ashok Kumar, Raj Kumar, Bharat Bhushan, Balraj Sahni and others. 
She gave many superhit movies which include Daaera, Sharda, Dil Ek Mandir, Azaad, Kohinoor, Miss Mary, Shararat, Phool Aur Pathar, Mere Apne and many more. But without a doubt, her most sensational performance, which is revered even today, would be Sahib, Bibi Aur Ghulam in 1962,  where she played the character of Chhoti Bahu and won critical acclaim and many hearts. At the same time, Pakeezah, a musical melodrama, which took 14 years to complete, was the magnum opus of her career. Eventually, the movie became a cult classic. As destiny would have it, Pakeezah was her last movie before she died on March 31, 1972. 
Besides acting, Meena Kumari did playback singing early in her career. Also, she loved poetry and wrote magnificent poems. Her collection of poems was compiled by lyricist Gulzar and published after her death. 
It is fascinating that Bollywood, over the years, had so many superstar actors and actresses. However, only a few remain in public memory, and their performances continue to create conversations. Meena Kumari was one among that rare species who gave electric performances with such ease. She was so capable that even mediocre movies or scenes were full of life due to her presence. Her versatility was on display with her comic, romantic as well tragic roles that she played. 
However, it is perhaps due to many tragedies in her personal life that she is remembered for her tragic roles in movies. She married Kamal Amrohi in 1952, who was a director and screenwriter and directed the movie Pakeezah. However, they were separated in 1964. Later, she had many failed relationships, and alcoholism took a toll on her health. In her last years, she was diagnosed with liver cirrhosis which ultimately caused her untimely demise.
Meena Kumari was the first actress to win the Filmfare Best Actress Award in 1953. She was nominated for the esteemed award twelve times, out of which she won four film fare awards. There will never be another Meena Kumari. Her impeccable acting skills, different shades of her personal life, and her love for poetry – this combination makes her one of the unmatchable legends on-screen and a memorable personality off it. She lives on in our memories. 
Now you can play Meena Kumar's most popular songs such as Ajeeb Dastan Hai Yeh, Chalte Chalte Yu Hi Koi, Kabhi To Milegi Kahin, Kitna Haseen Hai Mausam and many more only on Saregama Carvaan. Saregama Carvaan is a portable digital audio player that comes with 5000 preloaded evergreen Hindi songs that you can enjoy anytime without ad breaks or an internet connection. It consists of other features like Bluetooth, FM/AM radio, USB, and AUX connectivity.