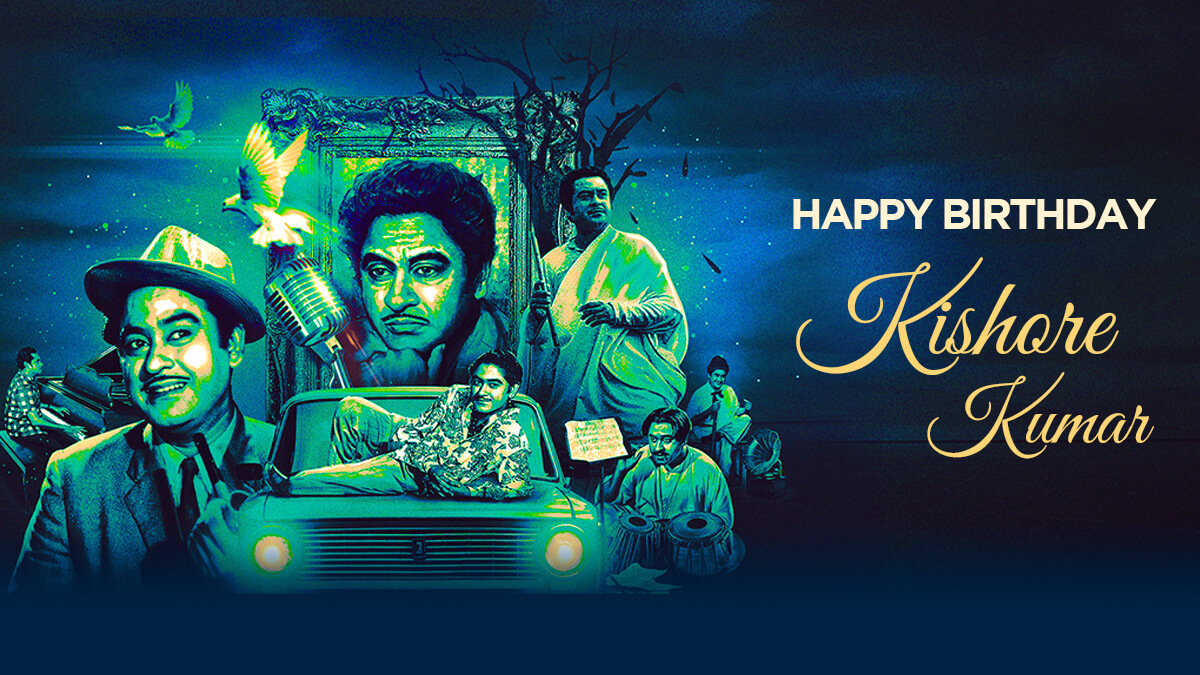 Today would have been the 92nd Kumar Kishore birthday, arguably the only Bollywood singer who continues to inspire a whole generation of singers even today. The legend we remember today as Kishore Kumar, the playback singer, actor, music director, lyricist, writer, director, producer and screenwriter was born as Abhas Kumar Ganguly on 4th August 1929 in a Bengali family that lived in Khandwa, Central India. Born to a lawyer father and a homemaker mother, he had no connection with Bollywood until his brothers Ashok and Anoop ventured into cinema.
After the elder Ashok became a film star, the Ganguly family traveled to Bombay often and that's when Abhas Kumar changed his name to Kishore Kumar. Young Kishore started his career as a chorus singer at Bombay Talkies. His first film appearance was in Shikari released in 1946 in which his brother Ashok played a lead role. Kishore Kumar also sang the song "Marne Ki Duayen Kyon Mangu" for the film Ziddi in 1948. In 1949, Kumar settled in Bombay and started getting acting assignments through his brother Ashok. But Kishore Kumar was more interested in singing than acting. Between 1946 and 1955, Kishore Kumar appeared in 22 films out of which 16 were flops. But between 1955 and 1966, tides turned and Kumar had some success in acting with films like Ladki, Naukari, Miss Malaysia, Char Paise and Baap Re Baap.
A Kishore Kumar birthday is nothing without remembering his singing. When it came to music, Kishore Kumar was highly inspired by singer K.L. Saigal and imitated his style of singing in his initial films. He also had a lot of respect for poet and musician Rabindranath Tagore.
Yodelling was a signature part of Kishore Kumar and he implemented it in the songs, "Tum Bin Jaaon Kahan", "Zindagi Ek Safar Hai Suhana" and "Chala Jata Hoon." His singing and yodelling were inspired by western artists like Jimmie Rodgers and Tex Molton.
The Song "Aake Seedhi Lage Dil Pe" from the movie Half Ticket holds a special place in the hearts of Kishore Kumar's fans as Kumar extraordinarily sung both the male and female parts of the song. The famous and well-known music director S.D Burman is the one that spotted Kishore Kumar's singing talent. He made Kishore believe in his voice and give up imitating. From the 50s to the early 70s Kumar was the voice of Dev Anand. Songs like "Maana Janaab Ne Pukara Nahin" from Paying Guest, "Haal Kaisa Hai Janaab Ka" from Chalti Ka Naam Gaadi, "Hum Hain Rahi Pyar Ke" from Nau Do Gyarah, "Ai Meri Topi Palat Ke Aa" from Funtoosh, and "Ek Ladki Bheegi Bhaagi Si" are considered hits even today. Asha Bhosle and Kishore Kumar also sang many duets for S.D Burman like "Haal Kaisa Hai Janaab Ka" and "Chhod Do Aanchal."
Kishore Kumar is one of the biggest names of the Indian Film and Music industry and even today singers take inspiration from his contribution to Indian Cinema. On Kishore Kumar's birthday, many activities and events are organized throughout the country reminiscing the genius and complete oeuvre of the singer. 
Throughout his career, Kumar has won eight Filmfare awards which is a record to date. Apart from Hindi, Kishore Kumar also sang in multiple Indian languages including Bengali, Marathi, Assamese, Gujarati, Kannada, Bhojpuri, Malayalam and Urdu.
On Kishore Kumar's birthday anniversary, Saregama remembers and celebrates all the contributions of the legend to the Indian Film and Music Industry.
You can listen to Kishore Kumar's popular songs and compositions on Saregama Carvaan. Saregama Carvaan is a retro-looking digital audio player with 5000 pre-loaded evergreen Hindi songs. You can also listen to the contributions of Kishore Kumar to different regional languages on Saregama Carvaan Bengali, Saregama Carvaan Marathi and Saregama Carvaan Malayalam.
Kishore Kumar is and will be the most loved voice of the country!