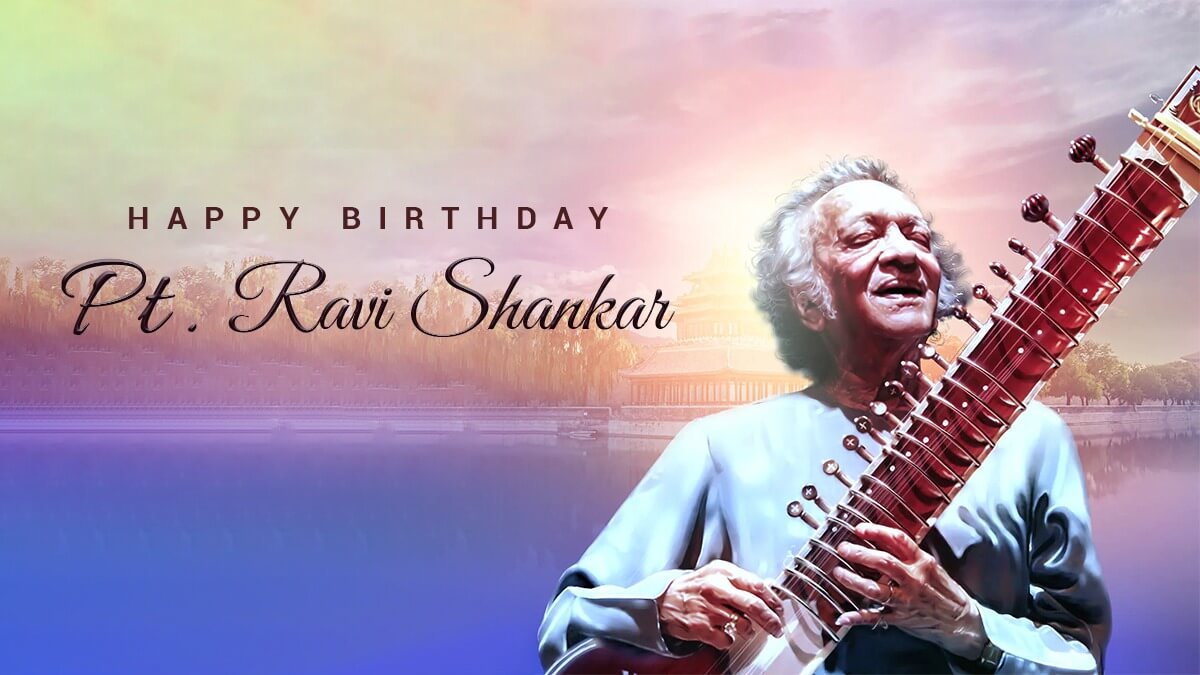 Bharat Ratna Pandit Ravi Shankar was an ace Indian Musician and a brilliant Hindustani Classical Music composer. Born on April 7th, 1920, at Banares in a Bengali family; Shankar was the youngest amongst his seven siblings brothers. Shankar had not met his father till the age of eight as his father; Shyam Shankar Chowdhury married another woman while practicing as a lawyer in London. Shankar lived with his mom and by this time had shortened his first name from Ravindra to Ravi which meant "sun."
At just 10 years of age, Ravi went to Paris with a dance group choreographed by his brother Uday Shankar. At 13, he was a member of the group and started training for dance and various Indian instruments. In the early 1930s, the dance group traveled across Europe and the United States. Ravi learned French and was discovering western classical music jazz and cinema. Allaudin Khan, the lead musician of the princely state of Maihar was spotted by Ravi at a music conference in December 1934 in Calcutta. Uday then convinced the Maharaja of Maihar and bought in Khan to be the soloist for a tour of Europe. This is when the youngest Shankar started shaping under Khan to be a serious musician.
Ravi, unfortunately, had lost his beloved parents by the time he returned from Europe. Touring the west had become difficult due to World War II. It was the year 1938 that young Ravi Shankar had given up his dancing career and started studying Indian Classical Music under Allaudin at Maihar while living amidst the Khan's in a Gurukul system. Shankar started his training on a sitar and surbahar, also learning ragas and the music styles of dhrupad, dhamar and khyal. His companions at training were the children of Allaudin, Ali Akbar Khan and Annapurna Devi. In December 1939, Ravi Shankar performed a jugalbandi with Ali Akbar Khan which was his debut as a performer.
After completing his training, Ravi moved to Mumbai in the year 1944 and joined the Indian People's Theatre Association where he composed music for ballets in 1945 and 46. One of the greatest achievements of Pandit Ravi Shankar's career was when he recomposed the music for "Sare Jahaan Se Acha" at the age of 25. He then worked as a music director for the All India Radio. Later in the 50s, Ravi Shankar composed some internationally acclaimed music for the Apu Trilogy and Satyajit Ray. He also composed for movies like Godaan and Anuradha.
In the year 1956, Ravi Shankar quit the AIR and began touring the west. He recorded his first album Three Ragas in London the same year. After touring the United States, Europe and Australia, Pandit Ravi Shankar became the first Indian composer to compose for non-Indian films. In 1962, Shankar established the Kinnara School of Music in Mumbai. He has also won a Grammy award for the Best Chamber Music Performance for West Meets East, a collaboration with Yehudi Menuhin. The Collaboration of Pandit Ravi Shankar with the Beatles guitarist George Harrison is still considered a highlight of his career.
Pandit Ravi Shankar has a very distinct style and he marked Hindustani Classical Music on the world's musical map. You could now listen to Pandit Ravi Shankar's best compositions on Saregama Carvaan, a digital audio player with 5,000 songs featuring the legends of the industry.
It was almost a century of Hindustani Classical Music promoted by the maestro himself and the world will always be privileged and inspired by the compositions of the Bharat Ratna Pandit Ravi Shankar.