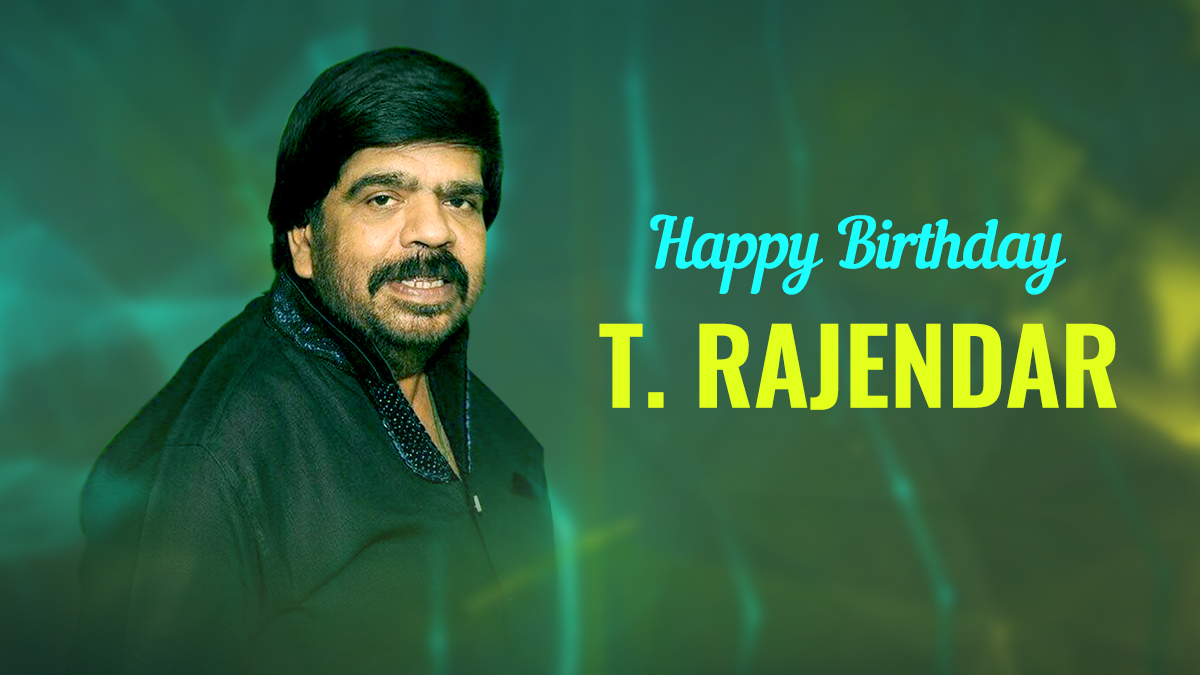 Better known as Thesingu Rajendar, TSR, or Simbu in the industry, T. Rajendar is a South Indian Film Industry Giant. From being an actor, composer, director, producer, screenwriter, songwriter, playback singer, cinematographer, and distributor who works majorly in the Tamil film industry, T. Rajendar is also a prominent politician in Chennai, Tamil Nadu. 
Born on the 9th of May 1955, T. Rajendar started his career in the Kollywood industry, making successful films starring him as the actor, scriptwriter, playback singer, and dancer. His popularity emerged from his one-of-a-kind acting style; which later on became his signature. In the 1980s, T. Rajendar's work was extremely popular, his films would-be blockbusters and his songs were appreciated widely. He has been working since the 1980s till date, dabbling his hands in his wide assortment of skills. He is also known for introducing new faces in his movies, he has launched some of the famous South Indian Actresses including Mumtaj, Jeevitha, Nalini, Jyothi, amongst others. He has worked and made countless Tamil Films before he became a distributor and started his banner. He has also done countless gigs as a playback singer since 1994 till date.  
Some of his notable works include Oru Thalai Ragam (1980) where he made his first cameo as an actor, Vasantha Azhaipugal (1980), Sattam Sirikkiradhu (1982), Pookalai Pareekatheergal (1986), Mythli Ennai kaathali (1986), Pookal Vidum Thoodhu (1987), Muthukkal Moondru (1987), Oru Thayin Sabatham (1987), Enga Veetu Velan (1992), SabashBabu (1993), Oru Vasantha Geetham (1994), Monisha En Monalisa (1999), Arya Surya (2013) amongst countless others.  
T. Rajendar also founded the political party named All India Latchiya Dravida Munnetra Kazhagam in April 2004 after working as a propaganda secretary for the Dravida Munnetra Kazhagam. In 2006, he was voted as the vice-chairman of the Small Savings Scheme, subsequently quitting the post. T. Rajendar is also known to talk to "Common" people through Skype, discussing the latest politics in recent years. He is extremely active in politics. Apart from the big screen, Simbu started his web TV Channel called "Kural TV" where he would broadcast the plights of the Tamil people along with running his works. He has been an advocate for the Tamilians for the longest time, not shying away from telling the truth and widely showing his support and standing.
In his four-decade-long career, T. Rajendar has dabbled in all his skills, using them to produce well-loved content, whether in the form of movies, his songs, or even his political career. His songs are still widely loved and well-received as some of the evergreen South Indian melodies. Now you can easily stream, and download all of your favorite T. Rajendar favorite songs and music on Saregama. Saregama Carvaan is a portable digital music player that comes with pre-loaded 5000 evergreen songs along with striking features like Bluetooth, FM/AM radio, USB and AUX connectivity.  
You can easily stream his songs on the Saregama website along with the lyrics and enjoy your favorite pieces. We at Saregama wish T. Rajendar the best of health, happiness and prosperity on his 66th Birthday.