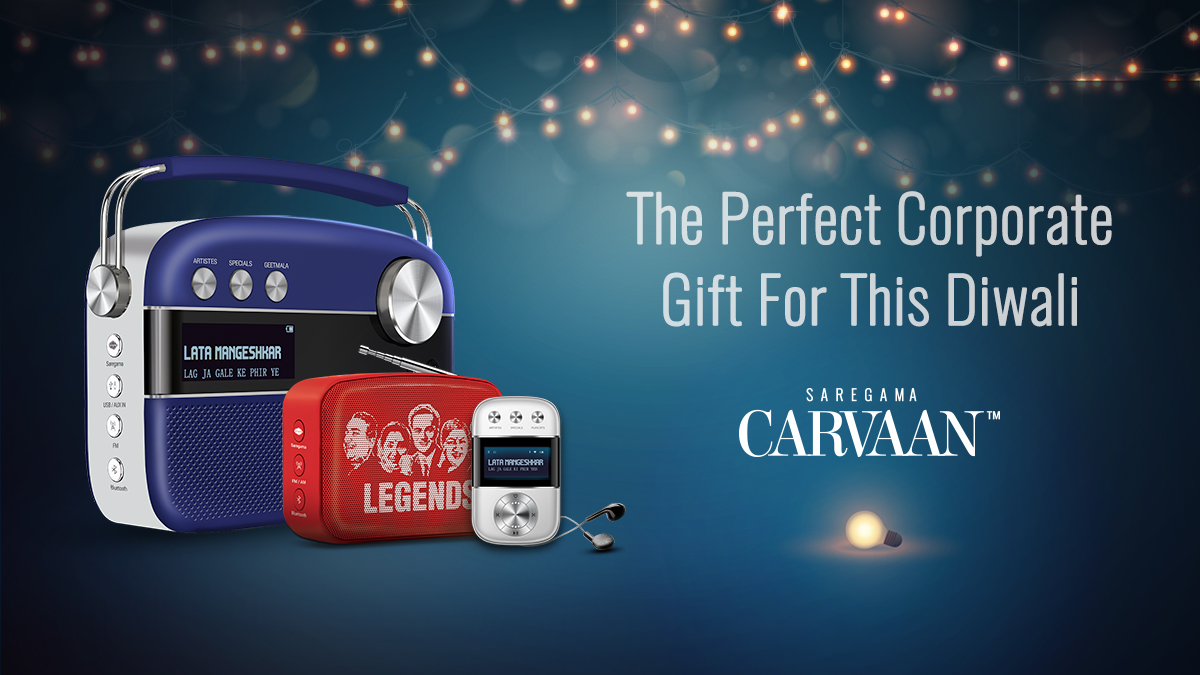 In the corporate world, gift-giving on festivals is an essential part of the Indian culture. It offers an excellent opportunity to express appreciation and strengthen the bond with employees, clients, associates, business partners, and customers. This festive season make gifting thoughtful and musical with Saregama Carvaan. The premium digital audio player is the perfect gift you can present to work colleagues and clients and let them experience the festival of light with deep & soothing music.
Several gifting possibilities usually include handcrafted gift basket, gourmet or grocery gifts, assorted chocolate & sweets boxes, or personalized items for office use.
While these gifts may lose its sheen over time, the pre-loaded collection of vintage songs leaves a lasting impression and makes everyone smile. It is a premium gift choice with 5000 songs from singing legends like Lata Mangeshkar, Kishore Kumar, Md. Rafi, Asha Bhosle, etc. Carvaan has a huge product range of digital audio players dedicated to music in Hindi and regional languages as well. Moreover, in this fast-paced life, music is the perfect source of peace and relief. Amidst the noisy urban cities, it is soothing to the mind and brings happiness to the soul.
A gift acts as a token of appreciation for the employee and a goodwill gesture towards business partners and customers. This festive season, go a step ahead and gift something that brings joy to their whole family. The premium version of Carvaan 2.0 Gold has 5000 songs and 150+ Wi-Fi based audio stations for every member of the family to enjoy their favorite music. The genres also include Religious Books, Kids Rhymes, Food, Health, Poems, and more. It has a beautiful metallic body and comes in champagne gold & rose gold color.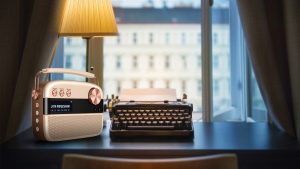 A good gift becomes best when elements of personalization are attached to it, and Saregama offers personalized USB music cards for gifting purpose. You can add the logo of your company or even add a picture of an employee/customer. It also enables you to add customized songs to the list. Saregama has a wide range of variants like Carvaan Premium, Carvaan 2.0, Carvaan Gold and more.
Saregama offers portable music players with multiple variants like Carvaan Mini dedicated to Hindi, Bengali, Kannada, Malayalam, Tamil, and Telugu legends. For Corporates and offices with a culturally diverse workforce, Saregama Carvaan is a truly memorable gift and can make the gifting experience best. So, it is a win-win for both. Carvaan Go with 3000 songs makes an excellent gifting option for uninterrupted music experience. For spiritually inclined business associates and partners, Carvaan Bhakti, Gurbani, or Shrimad Bhagavad Gita is the best choice.
Therefore, make this corporate gifting season musical with Saregama Carvaan. The magical blend of nostalgia and the joy of music is the best gift you can give as part of the festive celebrations.