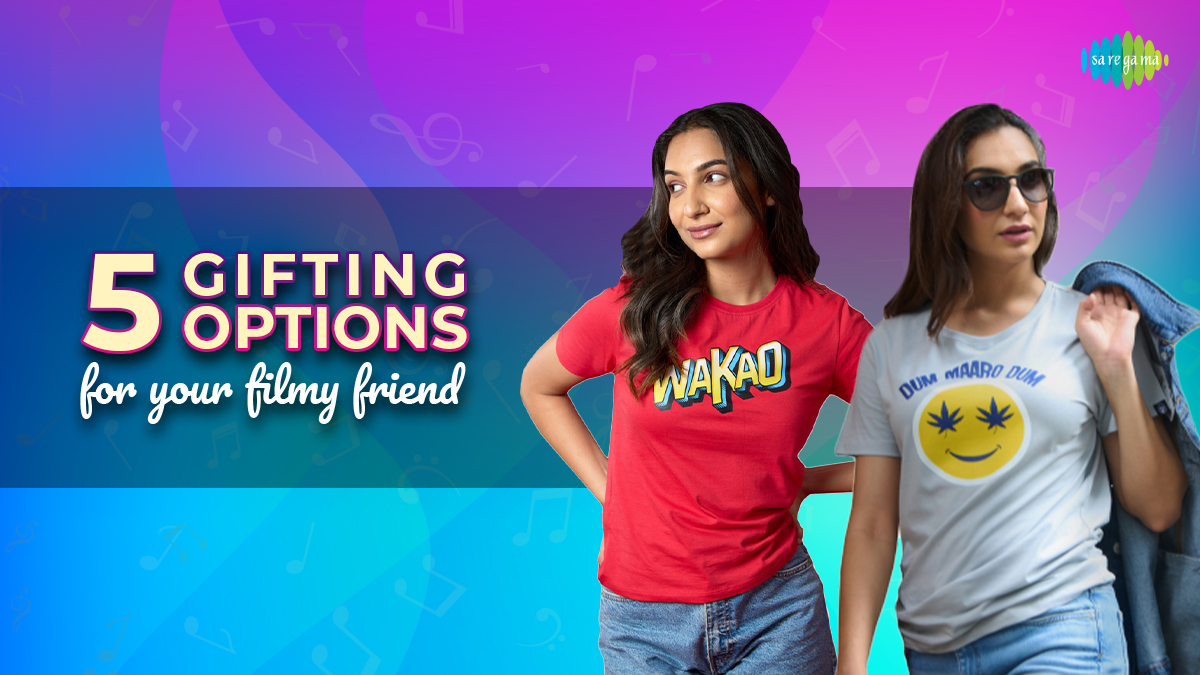 We all may have that one friend who must have tried every dish from a particular restaurant or the one who knows every minute detail of cars, or that one friend who happens to know all the gossips. But we most definitely have that one friend who can quote almost every line from a Bollywood movie.
This is the kind of friend who doesn't hug it out but instead gives you a Jaadu Ki Jhappi, who most often is very melodramatic, and would find several ways to insert Bollywood references in any ordinary conversation, in short, they are the kind of friends who seem to be right out of a Bollywood movie. We understand that watching a movie with them can be infuriating as they'll probably keep lip-syncing the dialogues or keep blurting out what will happen next, but let's be honest, they are also kind of fun to hang out with, right?
So in case, you have a filmy friend's birthday coming up or you just want to gift them something because the last time they gave you a spoiler, you yelled at them, then we can suggest some very apt gifting options. Saregama's latest venture Chutzpah, has come up with a collection of cool t-shirts designed by the fultu filmy tribe within us.
Chutzpah comprises quirky t-shirts with Bollywood dialogue references printed over them. Check out a few of the best ones below:
No no, read it again, it is not Amitabh Bachchan saying Do 'Boond' Zindagi Ke, it says Do Ghoont Zindagi Ke and if you click on the link above and check the image of this t-shirt you'll realise what drink is in context here. So if your filmy friend is also a 'Party' Party animal then you should definitely go ahead and get this t-shirt for them.
Shahrukh Khan at this point can probably say anything and make it iconic. This particular statement is from the movie Don, which gained immense popularity. As the name suggests, this t-shirt can be gifted to a cat lover. We all know cats are usually wild and if your friend is one of those cat owners who is often found with scratches over their arms then you know this is the best-shirt for them. But if you are taking this statement in the other sense that does not refer to cats, in that case, you can get this t-shirt for the guy who has always been a flirt and has a different crush probably every week.
This t-shirt unlike others have no hidden messages. It simply refers to having a positive outlook towards life. This is a very apt gift for a friend who is happy-go-lucky, just like how Rajesh Khanna was in the movie Andaaz. You can also get this for your philosophical friend who always looks at life from a very positive perspective and believes in living in the moment.
Yes, it's 'bean', to get the reference check the link above. In case you haven't realised this yet, we are a fan of puns. This t-shirt is for coffee lovers. If your filmy friend is driven by caffeine, if they are the kind of people who in the morning, would say things like 'Don't speak to me until after I get done with my coffee ', then this is a t-shirt which would fit them like a glove.
You must most certainly be friends with a person who won't stop ranting about their jobs. It's like whenever you meet them all they can talk about is their khadoos boss and the pile of work that never seems to fade away. That one friend who always thinks that this corporate world is nothing but modern slavery then uou should definelety get this for them.
These are just a handful of options, the Chutzpah collection has many more such quirky t-shirts that would cater to all kinds of filmy people. So what are you waiting for? Go ahead and have a look at the entire collection of Chutzpah t-shirts and select the ones that you think would fit your friend's personality the best, and you never know you might end up buying a few for yourself as well!
And if you are wondering about how to pronounce Chutzpah correctly, check out this Chutzpah