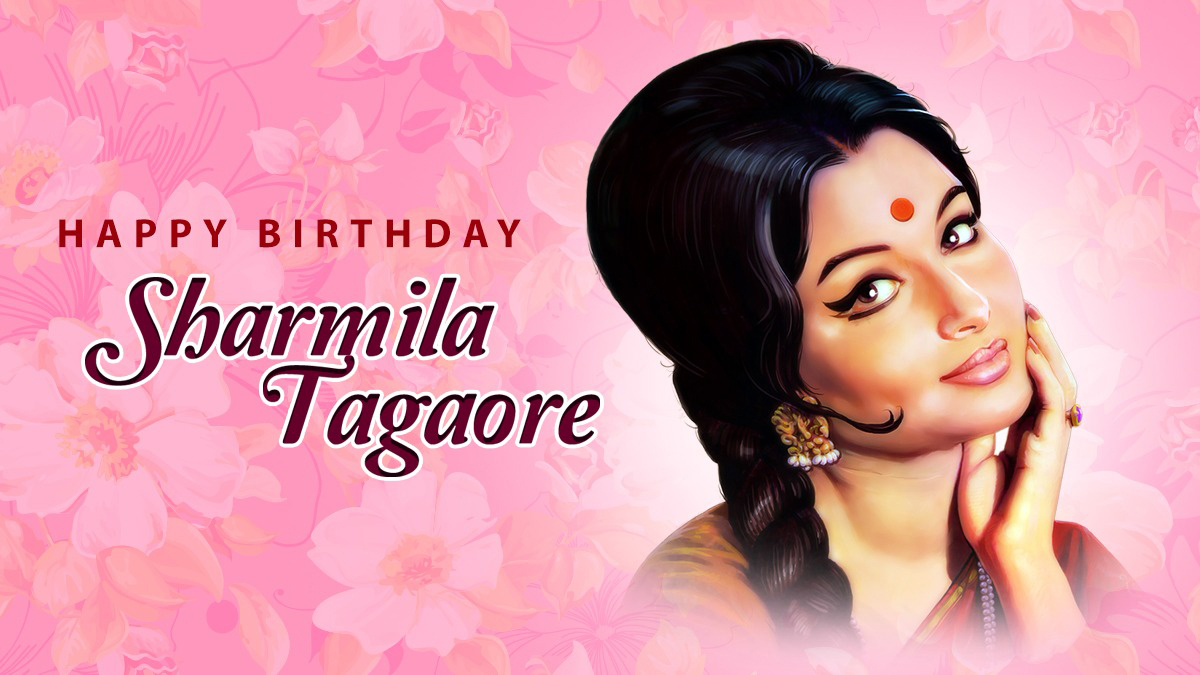 Distantly related to legendary poet and Indian Nobel Laureate Rabindranath Tagore and married to the stalwart cricket captain Mansoor Ali Khan Pataudi, and yet the ever so elegant, graceful, and talented acting star Sharmila Tagore is a rarity in India with her own individuality that is remembered and appreciated by all. A powerful performer who successfully straddled between art-house and mainstream cinema with equal aplomb, she played countless memorable roles in both Bengali and Hindi cinema. She captured the imagination of one and all and ruled the hearts of the audience in the 1960s and 1970s. On the occasion of her 78th birthday today, Saregama remembers her life both on and off the screen.
Sharmila Tagore was born to Gitindranath Tagore and Ira Tagore. The influence of art was obvious as she comes from the family of Rabindranath Tagore himself, one of the icons in India. In her teenage years, she made her film debut with another genius director Satyajit Ray in the movie Apur Sansar 1959, followed by many Bengali movies, one of the best being Nirjan Saikate with Tapan Sinha. However, she was destined to become a star not just popular in Bengal but throughout India.
It didn't take long to take the plunge from Bengal to Mumbai. In 1964, she made her Bollywood debut with the movie Kashmir Ki Kali movie with the charming Shammi Kapoor. Who can forget the songs Diwana Hua Badal, Taarif Karun Kya Uski and Isharon Isharon . The nation was bedazzled by the new face, extremely beautiful and talented actress Sharmila Tagore. She did a terrific job of mastering her language skills and the new methods of acting, which were widely different from Satyajit Ray or art-house movies in general. She is perhaps the only actress of her generation who made a successful transition from Bengali to Hindi movies so effectively. But throughout her career, she continued to do Bengali movies as well.
In the 1960s, she gave many super hit movies such as Waqt, Anupama, Devar, An Evening In Paris, Sawan Ki Ghata, Yeh Raat Phir Na Aayegi. In the late 1960s, she perhaps gave her most memorable performances of the decade with Satyakam and Aradhana, the roles, which are etched in the hearts and minds of cinema enthusiasts and the general audience. Her other superhit movies include Mausam, Amar Prem, Chupke Chupke, Abar Aranye (Bengali), Safar, Daag, Aa Gale Lag Jaa. Her pairing with superstar Rajesh Khanna and Dharmendra was the most successful. She was a style icon of India too, as her looks, hairstyles, and fashion choices inspired and influenced thousands of young people in India.
Sara Ali Khan shared adorable pictures with her "Badi Amma" on her birthday.
#SaraAliKhan wishes her "Badi Amma", #SharmilaTagore on her birthday with these adorable pictures.

We see where the good looks come from! pic.twitter.com/DLwN18DQxg

— Filmfare (@filmfare) December 8, 2021
Some of the best Sharmila Tagore songs include Mere Sapnon Ki Rani, Roop Tera Mastana, Kuchh To Log Kahenge, Yeh Kya Hua, Diwana Hua Badal, Isharon Isharon Men Dil Lenewale, Ab Ke Sajan Sawan Mein.
As for her personal life, at the peak of her career, she married the Indian Cricket Captain Mansoor Ali Khan Pataudi or Tiger Pataudi in 1965. Many opined that it was a marriage between the two most popular and loved things in India, Cricket and Bollywood, and it indeed was. They have three children, out of which two of them, Saif Ali Khan and Soha Ali Khan, are in the Bollywood industry. She received Filmfare Award for Best Actress in 1970, National Film Award for Best Actress in 1975, Filmfare Lifetime Achievement Award in 1998, and National Film Award for Best Supporting Actress in 2003. She continues her public life with much grace and dignity and is involved in social works in India and abroad. On her birthday, Saregama wishes the best to the yesteryear Bollywood star.