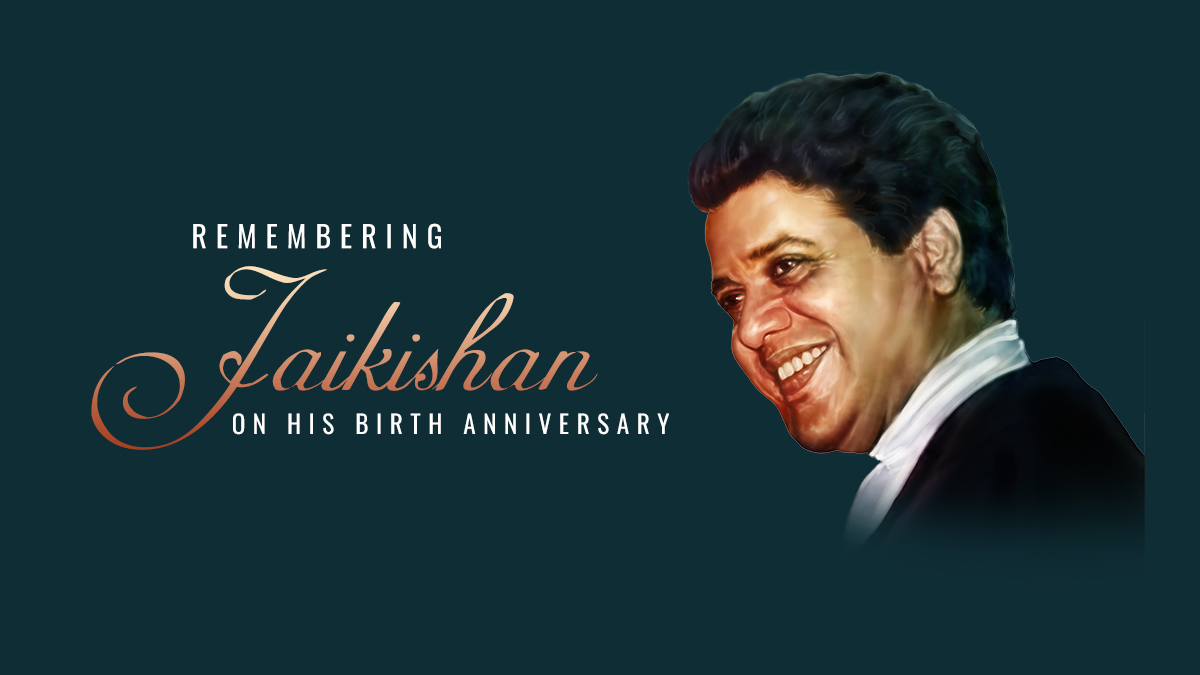 Jaikishan Dayabhai Panchal was part of the famous Indian music composer duo Shankar-Jaikishan. They worked together for 22 years between 1949-1971 and were considered the greatest music composer duo ever of the Hindi film industry. Their work was popular for having both lilt and sonority and was based on ragas.  
Jaikishan Dayabhai Panchal was born on the 4th of November 1929 to Dayabhai Panchal and his wife. As a child, he grew up in the small town of Bansda, present-day in the state of Gujurat as Vansada. Ever since a young age, Jaikishan showed dexterity, being adept at playing the harmonium. Growing up his interest in music kept growing as well and he received musical lessons from Sangeet Visharad Wadilalji and later from Prem Shankar Nayak. Later on, Jaikishan moved to Mumbai in search of work. 
It was at a chance encounter that introduced both Shankar Singh Ram Singh Raghuvanshi and Jaikishan Dayabhai Panchal one faithful day. Shankar apart from working in the Prithvi Studios used to frequent the office of a Gujarati director, Chandravardan Bhatt, who had promised Shankar a break as a music director in his movie. It was one of these days that he was visiting Chandravardan when he met Jaikishan outside his office. They started talking and instantly developed a liking towards each other. After finding out that Jaikishan was also looking for work, Shankar proposed he work at the Prithvi Theatres without asking film director Prithviraj Kapoor, although, Prithviraj Kapoor gladly took in Jaikishan, honoring Shankar's selection.  
Soon the pairing became inseparable and people started giving their Jodi nicknames. Working together so closely deepened Shankar-Jaikishan's friendship. But apart from pursuing their separate musical careers, they used to work in various significant roles including the famous stage play "Pathan". 
While working at the Prithviraj Studios, Shankar-Jaikishan started composing tunes and melodies together. In Raj Kapoor's first film as a director, Shankar and Jaikisan assisted him in the composing of his movie songs. Thus came their debut in the industry with Raj Kapoor's 1948 film Aag with their song "Barsaat". 
The decade between 1949 to 1959 saw the rise of the legendary musical duo Shankar-Jaikishan, popularly and fondly nicknamed as S-J. Some of their famous early works of the time include Barsaat, Aawara, Poonam, Badal, Nagina, Aurat, Aah, Patita, Kali Ghata, Parbat, Naya Ghar, Badshah, Shikast, Mayurpankh, Shree 420, Seema, Basant Bahar, Halaku, Shararat, Ujjala, Love Marriage, Daag, Anari, Chori Chori, Kathputli, Yahudi, Begunah, Main Nashe Mein Hu, Kanhaiya, Boot Polish, Choti Bahan, New Delhi amongst others.  
They were commercial geniuses along with being wonderfully God-blessed in music. They led Bollywood music despite tough competition from maestros like Naushad, Roshan, SD Burman, OP Nayyar, C Ramchandra, Salil Choudhury, and Madan Mohan remaining on the top much to the chagrin of very highly talented music directors! Shankar-Jaikishan formed a core team consisting of lyricists Shailendra and Hasrat Jaipuri, with singer Mohammad Rafi, Asha Bhosle, and Lata Mangeshkar.  
S-J worked with all the famous singers of their time and had a special talent for getting the best out of everyone they worked with. They stayed as the house composers for RK Films till the end and were always on their payroll. 
Their composing style broke the grounds of Bollywood music. Along with their vast knowledge of Indian Classical Music, S-J introduced western music as well, experimenting with the two and mixing them up together. They introduced a whole new genre of music. They also established the role and importance of orchestra in a song, rather than just being a song filler, they used the orchestra to enhance and relay the emotions. Even as a team, S-J used to compose songs separately as well but they had a gentleman's promise to not reveal the composer. Jaikishan was the master of composing the background score as well as being the best in romantic songs and catchy songs which became instant hits.  
Together, the duo won 9 Filmfare Awards for Best Music Director out of the 20 nominations they received. Apart from the Filmfare, they won 2 Sur-Singar wards and 2 BFJA Awards.  
Jaikishan Dayabhai Panchal took his last breath on the 12th of September 1971 due to cirrhosis of the liver, a disease caused by excessive consumption of alcohol. After his death, Shankar carried their banner of work alone but always mentioned the name Shankar-Jaikishan under the composer's section.  
On the Occasion of Jaikishan's 91st birth anniversary, Saregama celebrates his life and contribution to the Hindi Music Industry. 
Now you can listen to the top Jaikishan mp3 songs on saregama.com or high definition songs on Saregama Carvaan. Saregama Carvaan is a portable digital audio speaker that comes with 5000 preloaded evergreen Hindi sons that you can listen to any time without ad breaks or an internet connection. It also consists of other features like Bluetooth, FM/AM radio, USB, and AUX connectivity.