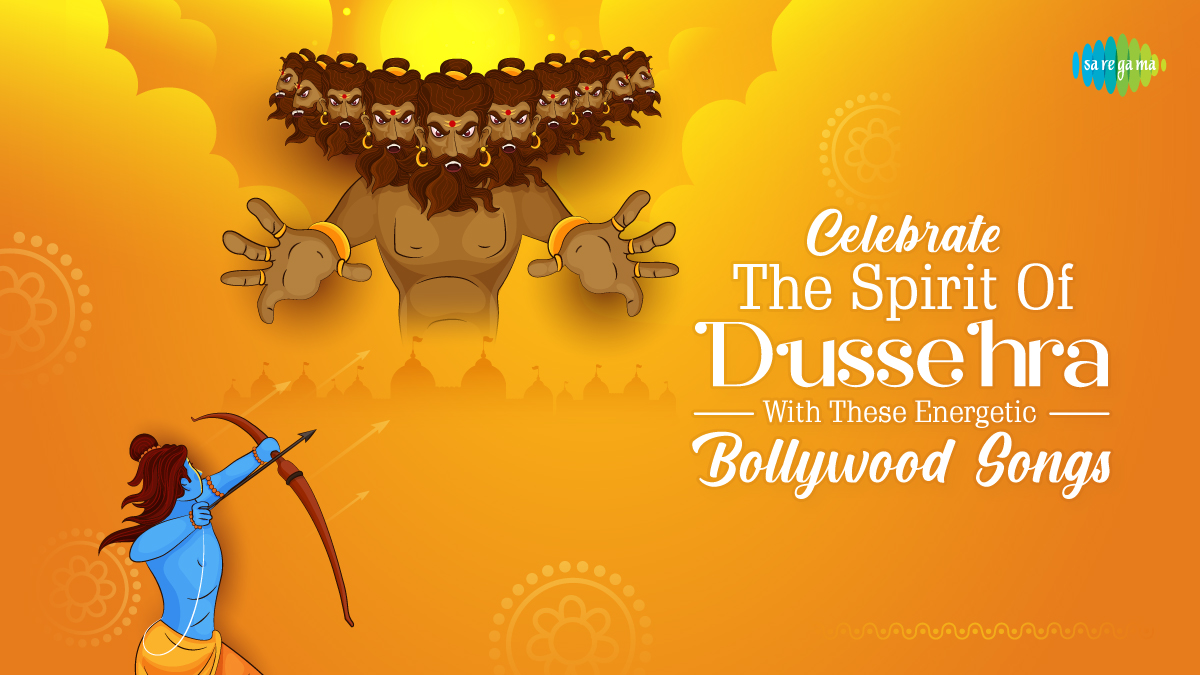 Dussehra, also known as Vijayadashami, is one of India's most prolific festivals, the seeds of which are rooted in the greatest tale of good versus evil ever told. It's observed at the end of Navratri every year to commemorate the day good triumphed. Read on to know more about Dussehra and the story of how it began. We've even included a curated playlist of devotional music to lift your Dussehra celebration to new heights. 
Origins Of the Dussehra Festival
The term Dussehra is composed of the Sanskrit words "Dasama" which means 10th, and "Ahar" which means day. The origins of Dussehra lie in the great Hindu epic of Ramayana, the second longest piece of literature in all of ancient history, surpassed in length only by the Mahabharata. 
The story goes there once was a Rakshasa (Demon) King by the name of Ravana. He was one of the most powerful beings in the world and ruled over the Kingdom of Lanka (modern day Sri Lanka). This was the South of India. Proud, evil, and desirous of attaining supreme lordship all over the world, Ravana was an embodiment of everything evil in humankind. Up in the North of India, in the city of Ayodhya (in present day Uttar Pradesh) Lord Rama, the seventh incarnation of Lord Vishnu, was born along with three brothers to King Dashrath. Upon being sent to exile by his stepmother, Lord Rama traveled with his wife Sita and brother Lakshmana. 
Ravana's sister Surpankha came to him one day having been humiliated by Lord Rama and Lakshmana. To avenge his sister, he seeks out King Rama in the forest where he was sentenced to exile for 13 years. But once he gets there, he is mesmerized by Lord Rama's wife, Sita's beauty, and conspires to kidnap her by luring the Lord away. He manages to succeed in luring both Lord Rama and Lakshmana away for just enough time to abduct Sita. And this marks the start of one of the greatest wars the world has ever known. 
Little did Ravana know that Lord Vishnu had especially incarnated as Lord Rama with the sole purpose of destroying him. A deadly fierce battle takes place in Lanka between Ravana and Lord Rama, with the latter emerging victorious. The day of Ravana's defeat led to the firm establishment of Dharma on Earth and came to be known as Dussehra. It's a festival that commemorates the victory of good over evil. 
Importance Of Dussehra Festival
Dussehra is a unique festival in terms of its perception in India. It symbolizes the triumph of virtue over sin, morality over immorality, of good over evil. The story of Ramayana exemplifies the dichotomy of a "dharmic" and an "adharmic" individual and where both paths eventually lead. Add to that, Lord Rama is one of the most widely worshipped deities in all of Hinduism. An added symbolism that various spiritual seekers usually adopt is to attach the images of Ravana and Lord Rama to the good and evil latent within each individual. Dussehra thus becomes the day that reminds us to nurture the good within us and support its victory over the evil within us. 
How Is Dussehra Festival Celebrated In India?
Different parts of India have their own interpretation of how Dussehra ought to be celebrated although this difference comes from culture. As you know, there are many stories associated with the festival, and Ramayana isn't the only one. However, the underlying motif of good defeating evil remains constant in all ways of celebrating Dussehra. 
In North India, people usually celebrate Dussehra by setting an effigy of Ravana, Kumbhakarna, and Megnath on fire and gathering around it to sing and dance. It's often a public function and sometimes, actors are cast to play the part of Lord Rama and Lakshman, enacting the battle where Ravana was defeated.
In Gujarat, Dussehra falls on the last day of Navratri. Men and women of all ages gather to dance on all nights of Navratri. The songs played are devotional and the dance form is called Garba, or Dandiya if it's played with sticks. Garba involves forming a concentric circle and going around it dancing in harmony. 
Dussehra celebrations in the southern parts of India focus on worshipping the Mother Goddess Durga, Goddess Lakshmi, and Goddess Saraswati. Houses and temples are decorated with special lights, colors, and flowers to showcase devotion. 
No matter where the celebrations take place, Dussehra is a time for bonding and the promotion of peace and love for all. This spirit can be seen very prominent during Navratri. 
Celebrate A Happy Dussehra With This Curated Selection Of Devotional Music
Here is a curated list of Devotional Dussehra music by Carvaan for you to uplift your celebrations and devotion to greater climes. 
Why Celebrate Dussehra Festival With Saregama Carvaan?
Saregama Carvaan Soundbar With Subwoofer
Of all the things famous about Indian festivals, Music is certainly right at the top. So do you want to raise the roof this Dussehra? Carvaan is synonymous with auspiciousness when it comes to celebrating all major festivals. Music has an important place at the heart of our culture and festivities. The rich and filling sound systems of Carvaan can make your home feel like a concert hall.
With Saregama Carvaan Soundbar you will have access to over 1000 pre-loaded evergreen Hindi tracks at the push of a button, and app support to help you create playlists or browse through the song list. Finding the right music and playing it seamlessly has never been easier. With an output of 120W and the super powerful subwoofer, it is an ideal purchase for all the music lovers. 
Moreover, it comes with seamless connectivity. You can play your favorite songs from your Mobile or anyother device using Bluetooth or connect it with your TV using the Aux or the HDMI cable. Elevate your listening experience this festive season and upgrade your listening experience at home with the Saregama Carvaan Musicbar. 
We at Saregama would be chuffed to be a part of your celebrations this year. Wishing you and your family, a happy Dussehra, and a prosperous new year to follow.