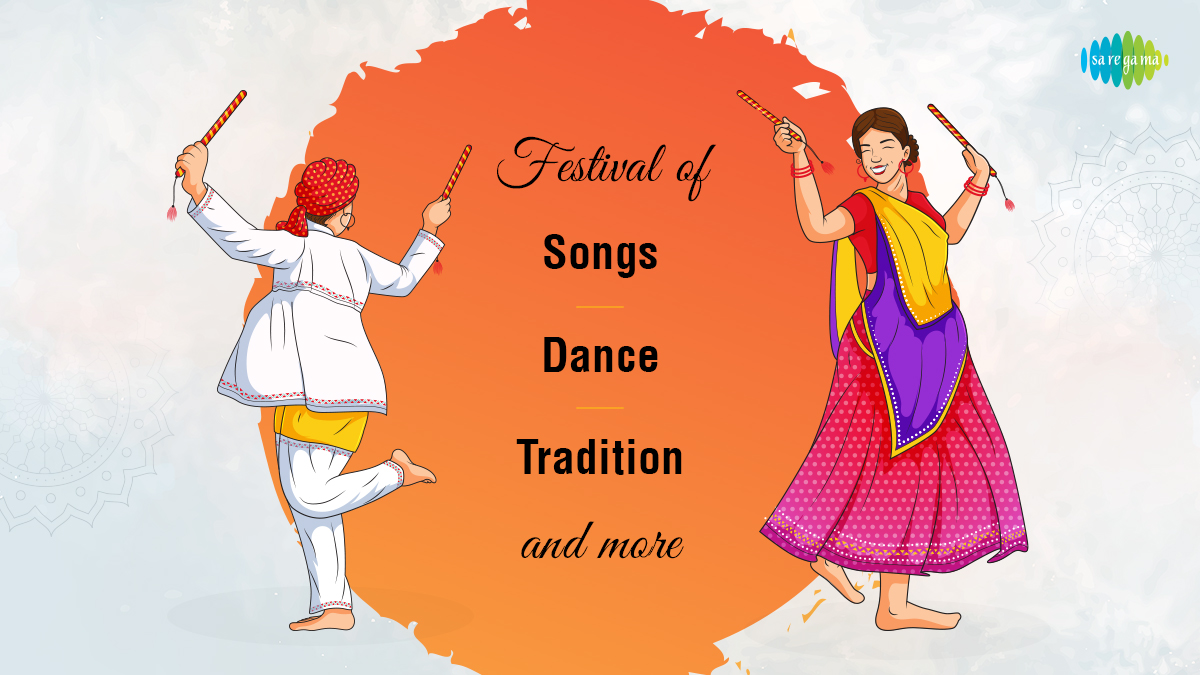 Navratri is one of the most enjoyed festivals in India and is celebrated bi-annually. It's a time of song, dance, and festivities with friends and family. Navratri varies a lot in terms of how it is celebrated across India. Every culture has its own take on it but the essence revolves around a few key concepts and beliefs.  The Official Dates for the Sharad Navratri In 2022 are from the 26th of September through to the 4th of October, with Dussehra (the 10th day) falling on the 5th of October. 
In this blog, we dive into the history, meaning, importance, and everything else you need to know about Navratri. Make sure you read till the end, we even have a curated playlist for you to use to make your Navratri celebrations as loud and merry as possible. 
What Is Navratri?
Navratri, also known as Navratan, is a 10-day festival that is observed in honor of the Goddess Durga. The festival is called "Navratri" because it spans over 9 "Nava" nights "Ratri" with each night having a unique significance. Navratri lasts for 9 nights because there are 9 different avatars of the mother goddess Durga. Each one of them has its own day of worship and rituals. In some parts of India, Dussehra is considered to be the main day of the festival, stretching Navratri to 10 days instead of 9. 
India has four festivals similar to Navratri celebrated at different times of the year, which we'll talk about later on in more depth. Sharad Navratri, which begins in early autumn is the most significant and begins on the day of Durga Pooja. 
Origins Of Navratri
The story behind how Navratri began is one of the most interesting folklore of Hindu mythology and scriptures. This is because each part of India uses different legends to give a peek into the history of the festival. Considering the diverse cultural landscape of India, this is not really unexpected. However, knowing some of these origin stories is sure to capture one's mind and heart. Let us look at two major origin stories, one from the North and one from the East of India. 
North India
The North Indian legend describes the story of Mother Durga and Mahishasura. It's a classic good versus evil tale, while Mother Durga is the good side, the antagonist is the demon Mahishasura. Goddess Durga is one of the most widely revered Hindu deities in India. She is a personification of strength, motherhood, power, and war. These seemingly contrasting qualities of motherhood and war into one deity is something that throws light into the deep philosophical backing behind Hindu mythology. 
Navratri is believed to mark the great battle between Mother Durga and Mahishasura. The story goes that long ago there was a wicked demon king by the name of Mahishasura. Mahishasura was a tyrant with ambition and wanted to rule over the 3 worlds. In his quest for the power to achieve his dreams, Mahishasura performed severe penance to please Lord Bramha. 
Impressed by Mahishasura's devotion, Lord Bramha the creator appeared before him and agreed to grant him a boon. Mahishasura asked the Lord of Creation for the boon of immortality. However, to this, Lord Bramha responded by saying that everything that is born must die someday. It's the law of the Universe that no one can be above. Mahishasura suggested that if he was ever to die, he wanted it to be at the hands of a woman. Lord Bramha agreed and granted him both power and the ultimate protection from all male beings in all 3 worlds.
Mahishasura believed that no woman had the power to defeat him which made him invincible. He set out to seize control over all the 3 Lokas by killing and harassing innocent people. He even ordered his army to attack the Gods in the Devloka. No one had the strength to stand between Mahishasura and his path of destruction. 
Agonized by Mahishasura's conquest, Lord Indra the king of the devas decided to visit the holy trinity, Lord Bramha, Lord Vishnu, and Lord Shiva. Upon hearing Lord Indra's plea, the 3 gave form to Mother Durga – a powerful goddess with several hands. Lord Vishnu offered her his Sudarshan Chakra, Lord Shiva offered his Trishula, and Lord Indra offered his Vajra to Mother Durga. She received lots of weapons from the rest of the gods, one for each of her 10 hands. 
Mahishasura's first reaction to Mother Durga was not an aggressive one. Rather, he was mesmerized by her beauty and decided to approach her with the intention of marriage. Mother Durga agreed to marry him but only on the condition that he must defeat her in battle. Mahishasura enthusiastically agreed to the bout and started to take multiple forms to confuse Mother Durga. Their battle lasted for 9 nights.
At the end of the 9th night, Mother Durga was able to decapitate Mahishasura with Lord Vishnu's Sudarshan Chakra, ending his reign of terror. The nine nights of Mother Durga's battle with Mahishasura came to be known as Navratri. The 10th day or the day of Mahishasura's defeat became known as Vijayadashami, which roughly translates to the victory of good over evil. Interestingly enough, along with Navratri, Vijayadashami is also a separate festival in its own right. 
East India
The east of India associates Navratri with the story of Uma and Lord Shiva. Daksha, who was king of the Himalayas had a beautiful daughter named Uma. Uma was an admirer and devotee of Lord Shiva. Since her childhood, she wanted nothing more than to marry Lord Shiva and to this end, she began a Yagna to win over the lord.
Impressed by Uma's devotion, Lord Shiva appeared before her and agreed to marry her. However, King Daksha was not happy about this. In his temper, he broke off all relationships with her daughter and Lord Shiva. 
One fine day, King Daksha began one of the most important Yagnas of his life without inviting Uma or Lord Shiva. Enraged by her father's disrespect for her husband, Uma decided to end her life by jumping into the fire that was being used for King Daksha's Yagna.  
However, Uma was reincarnated and found her place beside Lord Shiva once again. It is said that on the day of Navratri, Uma visits her parent's home along with Lord Ganesha, Kartik, Goddess Saraswati, and Laxmi.
Importance Of Navratri In India
Navratri is one of India's largest and longest festivals, spanning more days than Diwali. It is observed differently and for different reasons throughout different parts of India in accordance with the most dominant folklore of each region. 
Some parts of India focus more heavily on the spiritual elements of the festival by observing fasts, dietary restrictions, abstinence, and Poojas, while other parts focus more on festivities with traditional dances, dramas, music, and feasts to celebrate the victory of good over evil. 
It's rare that you will ever see a Navratri celebration you can describe as any less than ostentatious. It's one of the most important Hindu festivals with a history of tradition that goes back to ancient times.
How Is Navratri Celebrated In India?
Every part of India celebrates Navratri in accordance with their most dated traditions. Navratri also has significance outside India in countries with Hindu followers like Bangladesh and Nepal.
In Eastern India, West Bengal, and Nepal, Navratri is a major social and public event. It is celebrated by building thousands of Pandals in community squares and temples where people congregate for Durga Poojas and other ceremonious rituals. 
North India on the other hand, celebrates Navratri to mark the victory of Lord Ramana over Ravana. Navratri in North India often includes Ramlila events, which are re-enactments of the legend of King Rama on stages built in urban centers, temples, and town squares. 
In Karnataka, Navratri is observed at home by decorating homes, family gatherings, and lighting up Hindu temples and other cultural sites. One of Karnataka's unique traditions is decorating homes with art dolls known as "Gombe" which are similar in appearance to the Gulu dolls of Tamilnadu. Folk dances that incorporate these dolls are also a part of Karnataka's tradition. 
However, the state with the award for the most ostentatious Navratri ceremonies is probably Gujarat. Navratri is commonly deemed to be the biggest festival in Gujarat. Celebrations include everything from fasting, and Poojas, to re-enactments of the folklore Navratri is based on, and popular folk dances like Garba and Dandiya. It's an incredibly vivid and social affair that people anxiously await each year. 
Celebrate Navratri With This Curated Playlist Of Hit Navratri Songs
Here's a curated list of Navratri songs, with a few Garba songs to help you make this year's Navratri celebrations the most energetic one yet.
Sarva Mangal Maangalye Mantra Sangrah – Anuradha Paudwal

Jai Mata Di(Tu Ne Mujhe Bulaya) – Aasha

Chalo Bulawa Aaya Hai – Avtaar

Durga Aarti Jai mata di – Shraddha Salvi

O Sheronwali – Shakti De Maa

Jai Ambe Gauri Bhajan Sangrah – Agnihotri Bandhu
Ambe Ambe Ma – Vipin Sachdeva

Durga Hai Meri Maa – Kranti

Ambe Tu Hai Jagdambe Kali

Jai Jai Ambe – Sadhana Sargam, Vipin Sachdeva

Shakti De Maa – Ashanti

Navratri Special Katha – Navratri Special Katha

Ayigiri Nandini – Sapthapadhi

Amma Bhavani Devi Durga – Viswarupaala Divya Geethalu

Mata Rani Tere Darbar – Mata Rani Tere Darbar

Aaja Ma Tainu Ankhiyan Udeek Diyan – Mata Rani Tere Darbar

Aaja Maa Tenu Akhiyan Udeek Diyan – Anuradha Paudwal
Maa Sun Le Pukaar – Gulshan Kumar, Babla Mehta

Raksha Raksha Jaganmatha – Raksha Raksha Jaganmatha
Make Navratri More Festive With Saregama Carvaan
Celebrating Navratri at home? No problem. Saregama has you covered. With Our Carvaan Musicbar, you can have a loud and festive Navratri right at home. 
Navratri is more than just an occasion to dress up and go play Garba or watch fireworks. It's also a spiritual affair filled with cathartic experiences. What's more Cathartic than singing?
With Saregama's Musicbar and Karaoke, you can make your own music and invite all your friends and family to join in on the fun. 
It comes with a collection of 1000 pre-loaded evergreen songs and 2 wireless microphones for duets. But if you can find it on the internet, you can play any Karaoke track you want by connecting your smartphone. 
The audio feedback from the speakers is crystal clear and there are 4 sound modes to choose from. Moreover, the music bar itself is incredibly sleek and lightweight, with a stunning design that can instantly upscale any entertainment unit or TV set you set it up with. 
Amongst the multiple stories that are attached to this age-old festival – music, festivities and the overall feeling of "good always wins over evil" are dominant elements associated with the celebration of Navratri in all forms. Saregama wishes you and your family a happy Navratri. With Saregama Carvaan, it is our heartiest desire that your life be filled with the music of devotion that is associated with this festival. May the goddess Durga illuminate your life with wisdom, strength, and countless blessings.