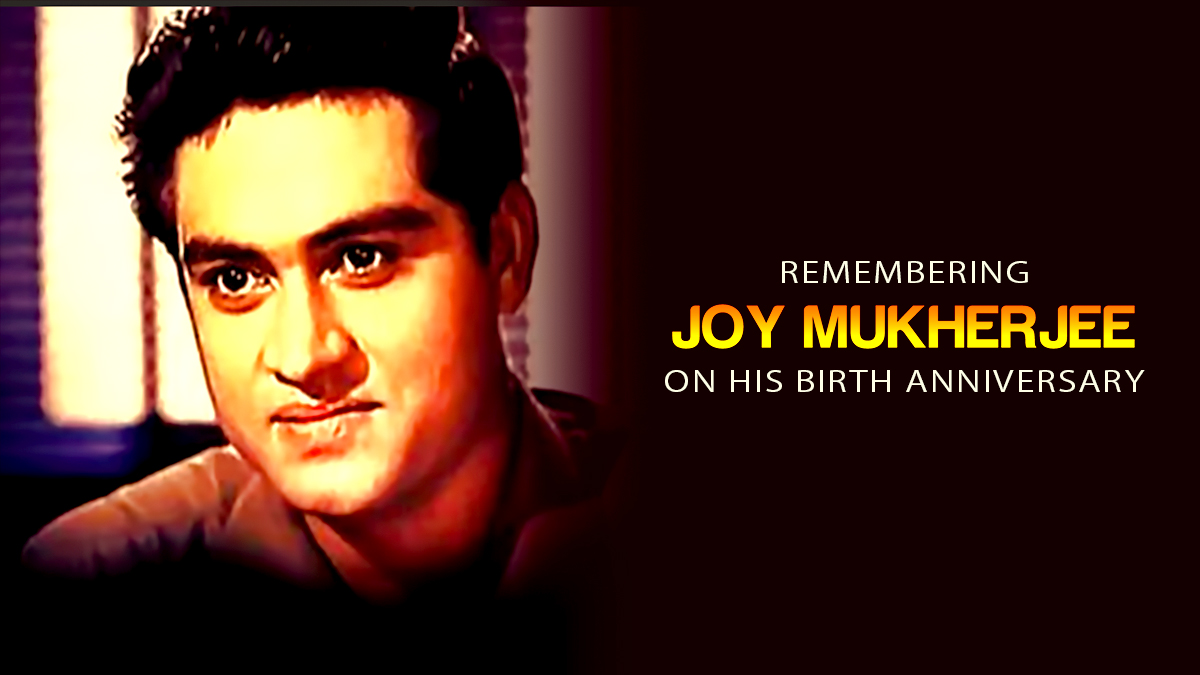 When you look at the Bollywood industry throughout its history and the type of most successful movies, romance stands out. So did romantic heroes who delighted the audience. And in every decade or generation, few stars gave powerful performances that dazzled the young and captured their imagination like none before them. One among them was Joy Mukherjee, the Bollywood heartthrob of the 1960s. On Joy Mukherjee's birthday anniversary, Saregama remembers the sensational actor.
Joy Mukherjee was born in a family where his father Sasadhar Mukherjee was a filmmaker and his mother Sati Devi was the sister of legendary actor Ashok Kumar. His father was also the co-founder of Filmalaya studio. Perhaps it was his upbringing around the film fraternity that inspired him to become an actor. Moreover, he was tall, stylish and had a sweet smile that could attract and appeal to anyone. All these features made him perfect for the romantic roles. So it was that he debuted with a romantic movie Love in Shimla 1960.
In an era where Shammi Kapoor and Dilip Kumar were taking all the appreciation and accolades, Joy Mukherjee set the hearts racing with his acting skills and killer looks. Besides acting, he was blessed with a physique that was unlike the many superstars of that era. He was the Salman Khan of that era as he could give shirtless shorts in movies. Some of his super hit movies were Ek Musafir Ek Hasina 1962 which was the second biggest super hit of the year, Phir Woh Dil Laya Hun 1963, Ziddi 1964, Love in Tokyo 1966. He established himself as the un-disputable chocolate boy of the 1960s. He played leading roles with actresses like Saira Banu, Tanuja, Mala Sinha and Asha Parekh, who were all at the top of their game. Other popular movies of Joy included Umeed, Shagird, Hum Hindustani.
Another major attraction in his movies was the sublime music, evergreen songs and quite exotic locations that gave an extra sheen to his performance and brought the audience to the theatres. It was the peak of music director OP Nayyar as he composed one memorable song after another starring Joy Mukherjee. The magnificent voice of Mohammed Rafi Saab added much-needed grace and allure to these songs. The trio of OP Nayyar, Rafi and Joy pleased the audience. Some of the best Joy Mukherjee songs include O Mere Shahekhuba, Aaja Re Aa Zara Aa, Aap Yuhin Humse Milte Rahe, Mai Pyaar Ka Rahi Hun, Dil Ki Awaz Bhi Sun, Zulf Ke Chayon Me Chehereka Ujala Lekar, Nazneen Bara Rangeen Hai Wada Tera.
But soon after the highs of Bollywood, Joy Mukherjee faced the lows. By the 1970s, Rajesh Khanna became the most loved actor. Moreover, by the mid-1970s, action movies grabbed the attention of the audience. And thus, an actor par excellence faded away into oblivion. After trying his hand at directing movies and failing, he left the film career.
Joy Mukherjee died on March 7, 2012, due to prolonged illness at the age of 73. Although the romantic star is no more, the romantic movies and sublime songs continue to remind the fans about his performances. On Joy Mukherjee's birthday anniversary, Saregama pays rich tribute. Listen to best Joy Mukherjee songs on Saregama Carvaan.