Legends live forever. And legends like Lata didi live deep in the heart and soul of every Indian through her timeless melodies.
On the first death anniversary of the legendary singer Lata Mangeshkar, we pay homage to this great artist who left a lasting impact on the world of Indian music. Her songs will forever remain etched in the hearts of her fans and continue to inspire generations to come.
To commemorate her first death anniversary, we are thrilled to announce the launch of a limited edition LP vinyl record featuring some of Lata Mangeshkar's most iconic songs. This record will offer a unique listening experience for fans and collectors alike, allowing them to rediscover the magic of her music in its original form.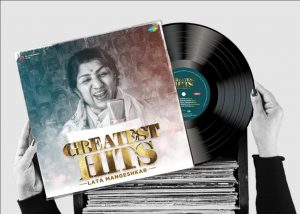 The launch of this LP vinyl record is a testament to the enduring popularity of Lata Mangeshkar and her music. It is our way of paying homage to her memory and preserving her legacy for future generations.
The vinyl includes 10 of her most iconic songs, including "Lag ja gale se phir," "Aap ki nazron ne samjha," and "Bahon mein chale aao."
On this day, let us come together to celebrate the life and achievements of this exceptional artist and pay our respects to the memory of Lata Mangeshkar. The special edition vinyl is available for all connoisseurs on saregama.com