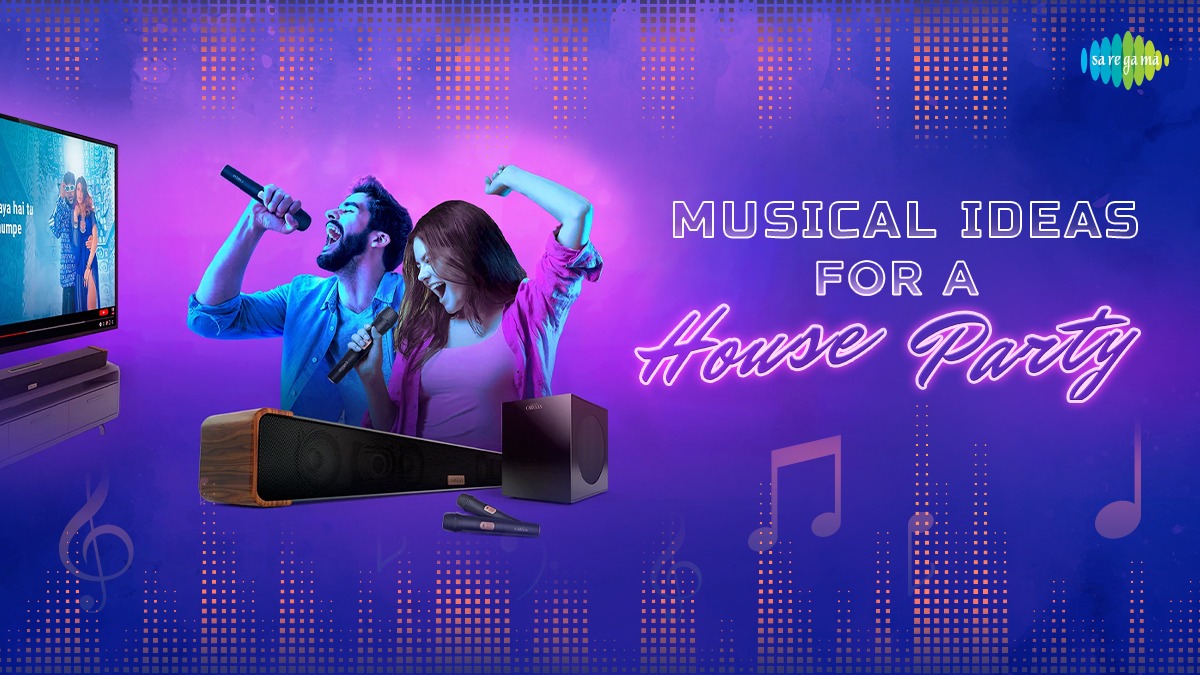 House parties are the ultimate fun night in! With good company, food, and drinks, what could go wrong? To add some extra excitement and bring your guests together, try incorporating musical games into the mix. Not only will these games provide hours of fun, but they'll also bring everyone together over their shared love for music. So, break out the tunes and let's get this party started!
House parties have several advantages over regular parties that make them a great option for hosting an event. 
Intimacy
:
Make the most of close quarters. At a house party, the intimacy factor is off the charts! With a smaller crowd, it's easier for guests to mingle and make meaningful connections. So why not ramp up the fun by adding some musical games to the mix? Not only will it bring everyone together, but it'll also give your party that extra special touch that sets it apart from the rest. Get ready for a night filled with laughter, bonding, and non-stop music!
Cost-effective
:
Hosting a party at your own home can be much more cost-effective than renting a venue. You won't have to worry about paying for a venue, catering, or other expenses that come with hosting a party at a different location. Plus BYOB (Bring Your Own Booze) is a pretty trending culture when it comes to throwing a house party, so yes you'll be saving quite a lot on alcohol as well. 
Flexibility
:
Hosting a party at home allows you to be more flexible with the party's schedule. You can start and end the party when you want, and you don't have to worry about cleaning up before you leave. In short, it will be much more hassle-free than a regular party wherein you'll need to vacate the space within a specific time. 
Personalization
:
Hosting a party at home allows you to personalise the event to your liking. You can choose the music, decor, and food to suit your taste and the theme of the party. In addition to that making last-minute alterations like somebody asking you if they can bring a plus one? Or suddenly you realise that one of your guests is a vegan. If you host a party at a rented space these problems could become a huge hassle but in the case of a house party, it's a cakewalk! 
Comfort
:
There is no place like home right? Having a party in a familiar and comfortable environment can help guests feel more relaxed and at ease, which can lead to a more enjoyable experience for everyone. In addition to that, you, as hosts too, would feel more relaxed and be able to interact with your guests and have fun at ease. 
Overall, house parties offer a more personal, cost-effective, flexible and comfortable way to host an event, allowing guests to connect and enjoy the party in a familiar and relaxed atmosphere. Here are a few musical game ideas that you can use to liven up your next house party:
Name That Tune
Name That Tune is a classic game that is perfect for music lovers of all ages. To play, simply play a short clip of a song and have guests try to guess the title and artist as quickly as possible. You can play this game with a mix of songs from different genres and eras to keep things interesting. 
Lip Sync Battle
Lip Sync Battle is a popular game that has been featured on TV shows and in movies. To play, have guests choose a song to lip sync to and perform it in front of the group. The audience can vote on their favourite performances, and the winner can be awarded a prize.
Music Trivia
Music Trivia is another great game that is perfect for music lovers. You can create your own music trivia questions or use a pre-made trivia game. You can make the game more challenging by including questions about song lyrics, band members, and album releases.
Dance Party
A dance party is a great way to get guests moving and having fun. You can play a mix of upbeat songs and have guests take turns dancing in front of the group. Alternatively, you can have a dance-off where guests compete against each other to see who can dance the best. Song requests for a dance-off are very random so we suggest you should be ready to play anything from Badan pe sitaare lapete huye to Zara Sa Jhoom Loon Main.  
Karaoke
Everyone loves a fun-filled Karaoke session. Especially when it's a session filled with crazy people. Karaoke is a fun and interactive way to get our friends singing along to their favourite songs. You can set up a karaoke system or use a karaoke app on your smartphone. Be sure to have a wide variety of songs to choose from to accommodate different musical tastes, because your guests could 
These are just a few musical game ideas that you can use to liven up your next house party. Incorporating musical games into your party is a great way to add an extra layer of fun and entertainment for your guests. With a little planning and creativity, and the help of a musical device that caters to a variety of your party needs, you can create a party that everyone will remember for years to come. Saregama happens to have a series of musical devices under Carvaan that would fulfil all of your musical needs. And in the case of throwing a house party, we have just the product that would add that extra bit of fun element that you would need. We are talking about Saregama Carvaan Musicbar Karaoke. As this device is not only a soundbar with amazing ass & superior sound but it also comes with wireless mics and a very versalite Karaoke feature that enables you and your friends to sing any song using any track online or offline. Enjoy an evening filled with music in the voice of the legends and your loved ones with the Carvaan Musicbar Karaoke. As an inaugural offer, you can buy it today for a discount of ₹9000.
Buy Now: Link