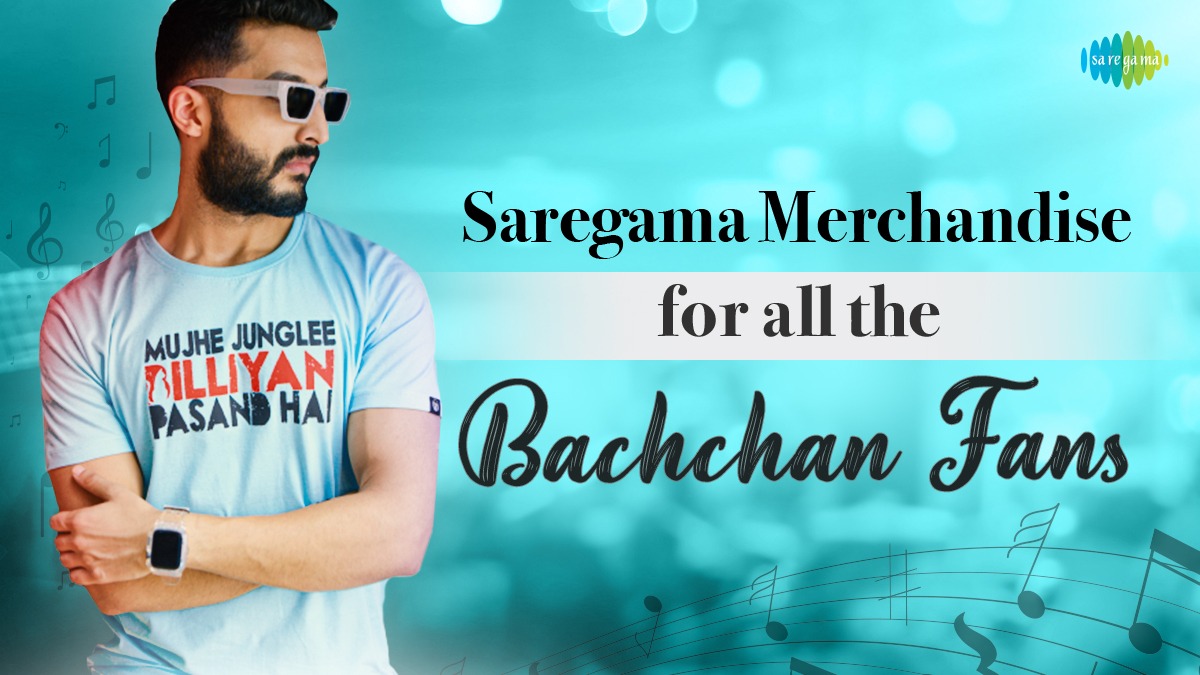 'Unhe jo sahi lagta hai voh vahi karte hain, fir chahe wo bhagwaan ke khilaaf ho, kanoon ke khilaaf ho ya poore system ke'  
'Voh jo apni tanhai se aksar baatien karte hain'
'Voh joh rishte mein toh sab actors ke baap lagte hain naam hai……Amitabh Bachchan, the name itself evokes a sense of awe, admiration and a hint of nostalgia. He has been ruling the Indian film industry for over five decades now and still continues to be one of the most versatile and sought-after actors in the country. But what is it about Amitabh Bachchan that has captured the hearts of millions?
Is it his voice? 
With his deep, baritone voice, Amitabh has the ability to make even the most mundane dialogue sound like a powerful soliloquy. It's no wonder that he has lent his voice to some of Bollywood's most iconic songs and dialogues.
Or the versatility? 
From the angry young man in "Deewar" to the endearing child in "Paa", Amitabh has proven time and again that he is a chameleon of an actor, capable of taking on any role with ease. At 80, Amitabh Bachchan still manages to look and perform with the same energy and enthusiasm as he did in his prime. He is truly a forever young megastar. In the film Deewar, the lead character Vijay, played by Amitabh Bachchan, is depicted as a ruthless smuggler who has grown up in the crime-infested city of Bombay. According to author Vinay Lal, this film was groundbreaking in Hindi cinema as it contrasted the life of a street criminal with that of the wealthy by portraying the contrast between the footpath and the skyscraper.
Amitabh Bachchan's career took off after the success of both Deewar and Sholay. He starred in several successful films directed by Manmohan Desai, such as Amar Akbar Anthony, Naseeb, and Mard. However, towards the late 1980s, his career experienced a decline. Despite this, the significance of Amitabh Bachchan extends beyond his film career, as he constantly reinvented himself and took on diverse roles, leading to the success of many of his films.
Or his humanitarian behaviour?
Amitabh is not just a star on the silver screen, but also a philanthropist at heart. He has been actively involved in various charitable causes and is a Goodwill Ambassador for the United Nations. The multitude and enigma of his personality are beyond comprehension and 
It is the many lives that he has packed into one.
Amitabh Bachchan is more than just an actor, he is a cultural icon and a symbol of Indian cinema. He continues to mesmerize audiences with his performances and captivate hearts with his persona. So do you love Amitabh Bachchan, just the way we do? Do you consider yourself a die-hard fan of the Shahenshah of Bollywood? Well, in that case, Saregama has something special for you! Introducing the new "Chutzpah" T-Shirt Collection, specially designed for all Bollywood lovers out there. Saregama understands the love and admiration that fans have for the legendary actor, and that's why we have created three unique t-shirts that will make you stand out in the crowd.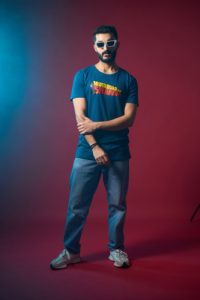 Celebrate one of Bollywood's greatest films and its legendary star with this "Muqaddar Ka Sikandar" t-shirt. Perfect for fans of Amitabh Bachchan and classic Indian cinema, this shirt showcases one of the most iconic moments from the film, with a bold print of a bike similar to what Mr Bachchan rode in his memorable entrance. Show your love for the Bollywood superstar and relive the magic of Muqaddar Ka Sikandar every time you wear this t-shirt. Get yours today and be ready to receive compliments and admiring glances wherever you go!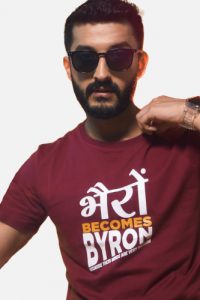 Next, we introduce "Bhairon Becomes Byron," a humorous tribute to Amitabh Bachchan's unforgettable role in the classic Bollywood film "Namak Halal." This t-shirt is a must-have for fans of the legendary actor and his comedic side. With its witty spin on Bhairon's iconic dialogue, this shirt is sure to bring a smile to everyone's face. Namak Halal remains one of Amitabh Bachchan's most beloved comedy films, and with this t-shirt, you can pay homage to the film and the actor in a fun and unique way. Just make sure you brush up on your lines before wearing it, as you may be asked to perform the famous monologue more than once!
Last but not least, we present "Haaye Haaye Yeh Majdoori," a playful twist on the famous song. For all the workaholic Amitabh Bachchan fans, this t-shirt offers a humorous nod to the original lyrics, making it the perfect attire for the office. If you're feeling overwhelmed by the daily grind, this shirt is a subtle way to make light of your workload and show your appreciation for the legendary Bollywood actor. So why wait? Get your "Haaye Haaye Yeh Majdoori" t-shirt today and bring a touch of humour to your 9-to-5 routine!
In conclusion, if you're a Bollywood fanatic, you won't want to miss out on Saregama's "Chutzpah" T-Shirt Collection for Men and Women! These t-shirts are the perfect way to show off your love for Amitabh Bachchan and Bollywood as a whole. Each t-shirt is expertly printed with vibrant ink and made from a comfortable material that's perfect for everyday wear. Whether you're catching a movie, hanging with friends, or just running errands, these t-shirts are guaranteed to turn heads and make you feel like a true Bollywood star.
With a range of designs inspired by Amitabh Bachchan's most iconic films, you're sure to find the perfect t-shirt to match your personality. From "Haaye Haaye Yeh Majdoori" to "Bhairon Becomes Byron", there's a t-shirt for every type of Bollywood fan. And the best part? You don't have to worry about sacrificing comfort for style. Our t-shirts are made from a soft, breathable material that will keep you feeling cool and comfortable all day long.
So what are you waiting for? Head to our website and start browsing our collection of "Saregama Chutzpah" T-Shirts today! Whether you're a die-hard fan of Amitabh Bachchan or just love all things Bollywood, you won't want to miss out on this one-of-a-kind collection. Show off your passion and let your love for Indian cinema shine bright!