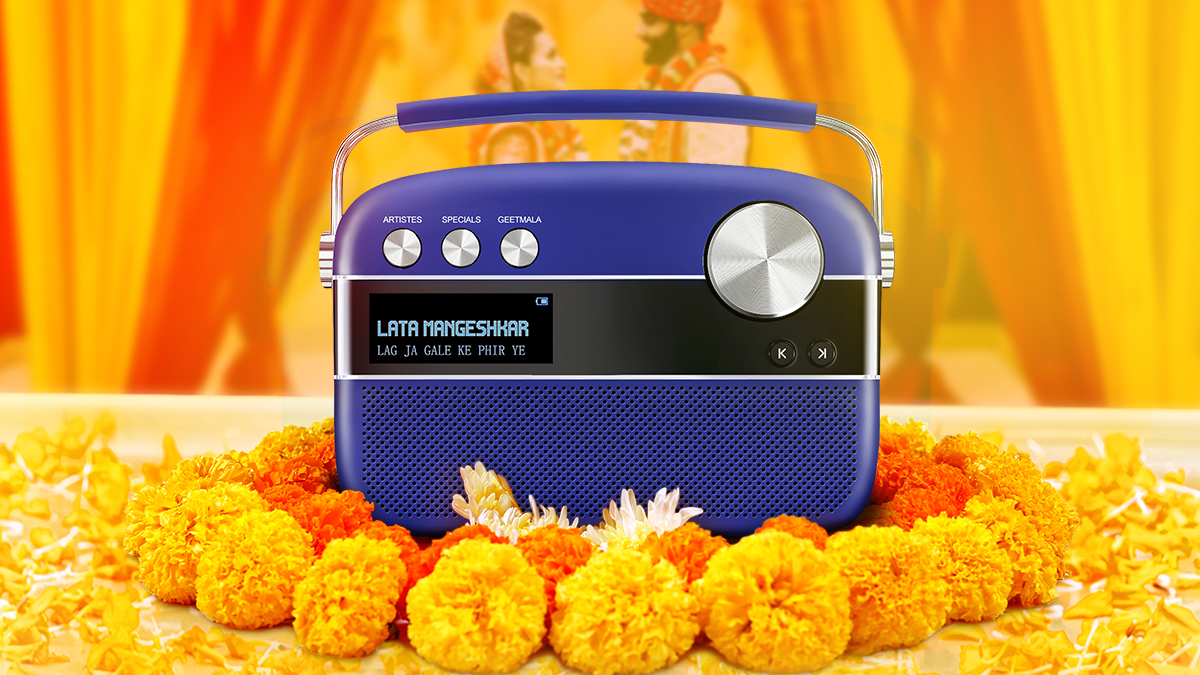 The wedding season is in its full bloom right now. We all are looking out for unique wedding gift ideas that will not only surprise the receiver but also add some value to their life. Gone are the days when sets of crockery were exchanged as gifts. Presently, what people really want is, to receive a useful and unique gift. Whether you want to buy a gift for a couple or relatives, Carvaan is the best pick from hundreds of other options. When you give Carvaan as a gift, you are not just gifting an audio player, but a gift of music that will last forever in their lives.
Here are 6 reasons why Saregama Carvaan will prove as the best wedding gift for everyone.
1. Carvaan brings back nostalgia
With 5000 old Hindi songs, the newlyweds will be able to bring back nostalgia in their life. Most of the people have some or the other association with a song or two. One line of the song can ignite a pile of memories be it childhood, college life or their first love.
2. Carvaan is an everyday companion
Unlike other gifts, music can be enjoyed every single day, making Carvaan time a regular affair. The premium body of Saregama Carvaan is built to last for a long time and for regular usage. We are sure; beautiful memories can be made through Carvaan's beautiful collection of 5000 songs. Whether one is sipping the morning tea or relaxing before bedtime, Carvaan can be everyone's go-to friend at any time of the day.
3. Carvaan Brings Family together
Music is known to bind generations together. This gift will be cherished by all family members as it will not only revive old memories but will also create new ones. Be it family functions or at a small get-together, singing along with the tunes of Rafi or Lata makes way for a great family-bonding. One can host their own music night at home and have a fun time with family and friends with Carvaan.
4. Carvaan doubles as a great interior element too
Carvaan is not just about music, it's aesthetically one of the most awesome looking music player. The premium retro look and rich colors are sure to add great value to the interiors of a house or office space. The Oakwood Brown or Royal Blue or be it Cherrywood Red color, all colors are specifically created to blend seamlessly with the interiors of your home or any other space.
5. Carvaan is a great travel companion
Of course, people travel together to create a stronger bond. Which journey is complete without beautiful songs? Saregama Carvaan Hindi comes pre-loaded with 5000 old Hindi songs which will keep people entertained for hours. A full battery gives up to 5 hours of non-stop playback and it is easily rechargeable and so handy to carry anywhere anytime. Apart from 5000 songs, it also has other new age features like USB, FM, Bluetooth, Aux In & Aux out. So in a nutshell it takes care of each of every family member's choice & preference.
6. Carvaan comes with an app for ease of use
A unique feature that Saregama Carvaan premium has is the companion Saregama app that can be used to make your own playlist from among the 5000 preloaded Hindi songs. The audio player also has aux, Bluetooth and USB drive to play songs from a personal playlist or connect with external speakers. Even with the latest technology, Carvaan is extremely easy with no set up required. One can use the Carvaan right out of the box.
Now that you have enough reasons why Carvaan is one of the best wedding gifts, go ahead and buy Saregama Carvaan for to-be bride and groom or your relatives.