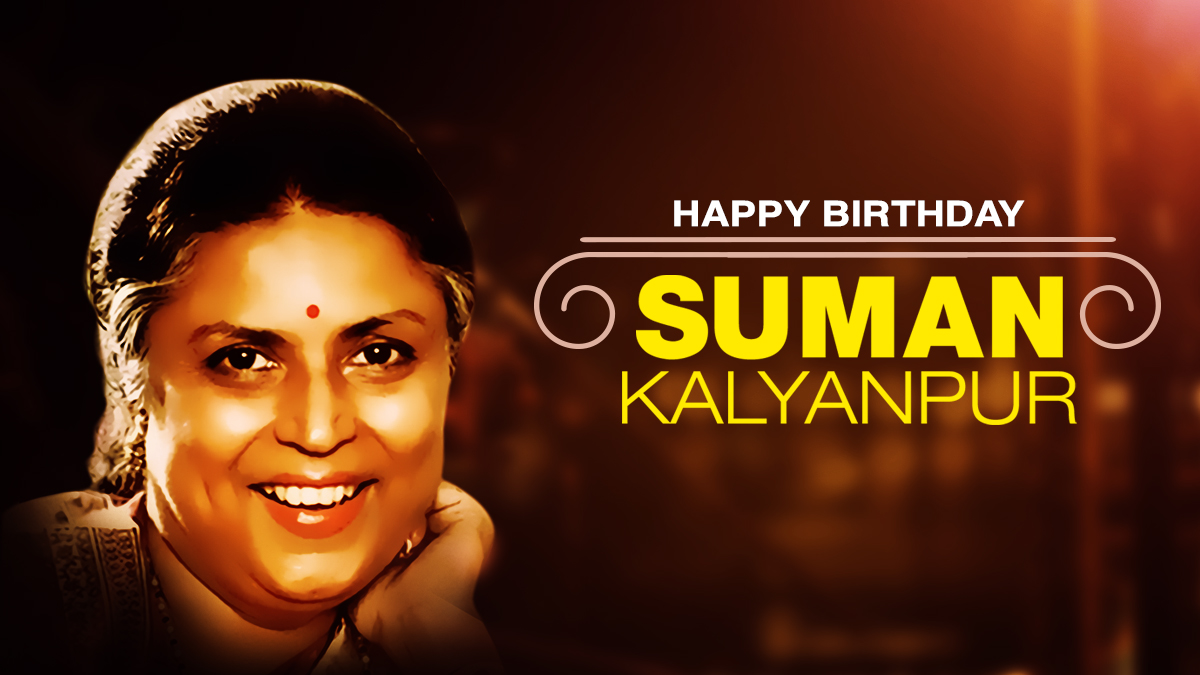 Suman Kalyanpur, born as Suman Hammady. Her name is one of India's most recognizable and respected playback singers. Suman Kalyanpur's career began in 1954 with the movie Mangu, and she achieved great success in the 1960s and 1970s.
During the same year, in 1954, Suman sang a film version of O.P.Nayyar's hit ensemble song 'Mohabbat Kar Lo Ji Bhar Lo Aji Kisne Roka Hai' with Rafi and Geeta Dutt for the movie 'Aar Paar.' At 16, she was a JJ School of Art student when she started singing at college functions and was noticed by singer Talat Mehmood. He introduced her to a recording company. So Suman Kalyanpur got a song in Darwaaza (1954) and debuted with Talat (Ek dil, do hain talabgaar). The film industry was taken aback by her talent. This was followed by Chhodo chhodo Mori baiyaan in the movie Miya Bibi Raazi in the year 1960, Na tum humein jaano from the movie Baat Ek Raat Ki in the year 1962, Mere sang ga from the movie Janwar in the year 1965, Aajhuna Aaye Balma from the movie Saanjh Aur Savera in the year 1963 and Tumne pukara aur hum chale aaye from the movie Rajkumar in the year 1964 and several others.
Suman Kalyanpur is synonymous with enchanting voices. She is a musical playback singer who made a respectable identity in the era of Lata Mangeshkar's monopoly and sang songs under the direction of almost all the legendary musicians of that era. 
In addition to Hindi, she recorded songs for movies in several other languages like Marathi, Assamese, Gujarati, Kannada, Maithili, Bhojpuri, Rajasthani, Bengali, Odia, and Punjabi.
Suman Kalyanpur is considered among the famous singers of her prime time and the golden era of Hindi film music, along with Mohammed Rafi, Lata Mangeshkar, Mukesh, Kishore Kumar, Geeta Dutt, Manna Dey, Asha Bhosle, Hemant Kumar, Talat Mahmood, Mahendra Kapoor, and Shamshad Begum. She has sung a total of 857 Hindi songs.
Suman Kalyanpur's voice had a lot of similarities to Lata Mangeshkar. She sings with a quality comparable to Lata, so many of her songs are indistinguishable from Lata's. The similarity of Suman Kalyanpur's voice to Lata caused her much discomfort.
On her Birthday, Saregama brings you an exclusively curated playlist of Suman Kalyanpur songs to remember her melodious and enchanting voice. First up on our Suman Kalyanpur songs list is Aa Aaj Badli Se Mera Chand from the movie Main Hoon Jadugar which was released in 1965. The film featured Chitra, Paidi Jairaj, and Ravikant. The song is the best start for your Suman Kalyanpur songs list. Download it from Saregama.
In 1962, the movie Rocket Girl was released. Aa Dekho Sham Dhali Jaye, a song by Suman Kalyanpur and legendary Mohd. Rafi was one of the top charted songs of that year. This song should be a part of your Suman Kalyanpur songs list.
Some Suman Kalyanpur songs should be in your Suman Kalyanpur songs list like Aa Hi Gai Thi False Baharan from Dastan-E-Laila Majnu from the year 1974, Aa Hum Ahd-E-Wafa Kar Den from Do Bhai in 1969, Aai Bahar Aai Zalim Teri Duhai from the movie Kismat Palat Ke Dekh in the year 1961, the very famous Suman Kalyanpur songs Aaiye Aa Bhi Jaiye from the movie Pick Pocket in the year 1959. These songs are just as legendary as the singer herself. And you can find all these Suman Kalyanpur songs in our curated Suman Kalyanpur songs list.
As in a world of cutthroat competition like the film industry, today's celebrities are likened to mediocre yesterday and tomorrow's non-entitlement mediocrities. Yet, Suman Kalyanpur remains among the top singers in Hindi playback singing.
Comparisons are odious, even unfair. Although Kalyanpur was born without musical background, unlike the Mangeshkar sisters, Suman Kalyanpur has become one of the country's most talented singers. Neither did she grow up in a symphony or rhythmic environment. Her very entrance into cinema came about due to a strange combination of circumstances. All the Suman Kalyanpur songs featured in our list are memorable in their own right. Make sure to listen and download all the Suman Kalyanpur songs list from Saregama, and you can also listen to all of our Suman Kalyanpur songs with our Saregama Caravan.
Listen to some of Suman Kalyanpur songs- Tere hum o Sanam Tu Kahan main Kahan with Mohd Rafi from the movie Bachpan in 1963, Thehriye hosh mein aa loon with Mohd. Rafi from the movie Mohabbat Isko Kahte Hain from the year 1965, Jab se hum tum baharon mein with Mohd. Rafi and Haan maine bhi Pyaar kiya with Mukesh for Boond Jo Ban Gayee Moti in 1967 and so many others. All these Suman Kalyanpur songs exhibit her distinguished style of singing. However, that doesn't mean solo numbers were not her specialty. Some of the solo Suman Kalyanpur songs- Na tum hamein jaano from the film Baat Ek Raat Ki and Mere Mehboob na ja aaj ki Raat from the movie Noor Mahal released in 1965, and many more proved that Suman Kalyanpur could sing solo numbers with equal flair.
Suman Kalyanpur had a natural sense of music. Suman Kalyanpur songs depict clear diction and intonations helped her get into the soul of a song effortlessly. Suman Kalyanpur never faltered and fumbled with perfection while enunciating Urdu-Persian words in songs. Dhaka-born, Suman Kalyanpur already knew Urdu and she used her perfect diction in many of her songs. She grew up conversing in Urdu, Bengali and her mother tongue Marathi. That's why she could sing several Bengali songs with élan. Some of the Bengali songs in our Suman Kalyanpur songs list are from the movie Monihar which was released in 1966. The song is titled Dure Theko Na, and it features in our Suman Kalyanpur songs list.
A completely non-controversial person, she always kept herself away from politics and pettiness and never held anyone responsible for not getting more numbers.
Suman Kalyanpur received the prestigious "Sur Sringar Samsad" award for the best classical song in a Hindi movie twice in 1966 and 1970. She also won the Lata Mangeshkar Award 2009 by the Maharashtra government and Ga Di Ma Award by Ga Di Ma Pratishthan.
We hope you will enjoy the Suman Kalyanpur songs created for you.