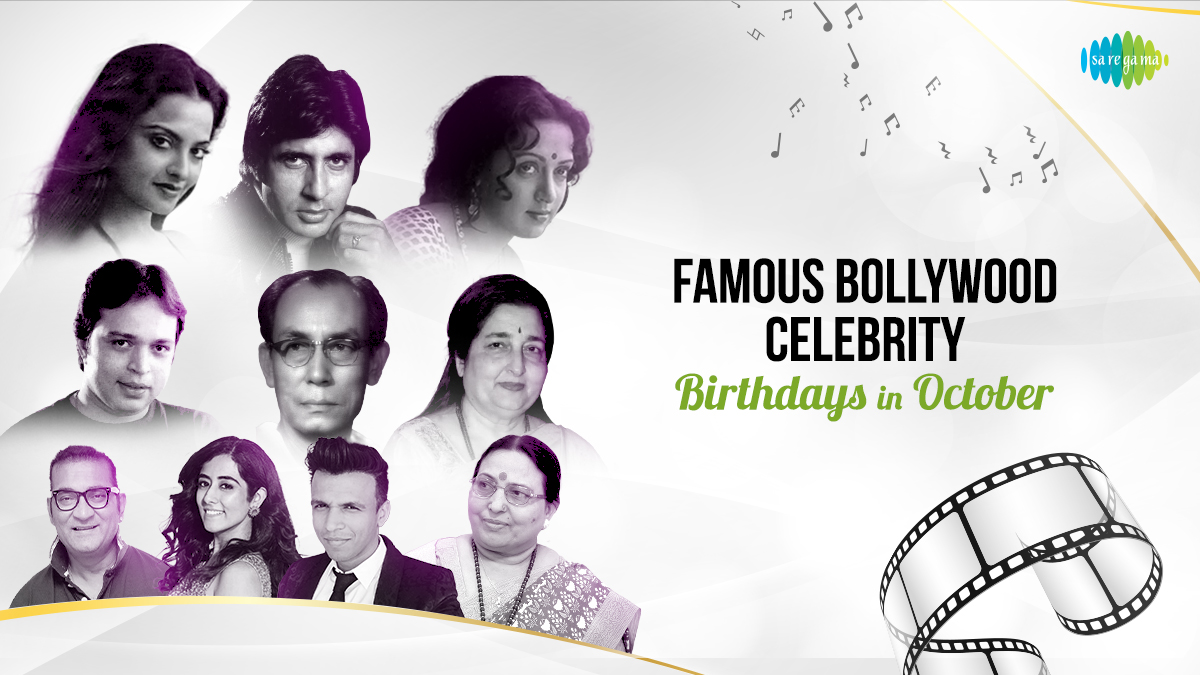 Hum bhi agar bachche hote,
Naam hamara hota Gabloo Babloo,
Khane ko milte laddu,
Aur duniya kehti, happy birthday to you!
Tum jiyo hazaaron saal, saal ke din ho pachaas hazaar…
Baar baar din yeh aaye, baar baar dil yeh gaaye…
Recount the last few birthday parties you went to, irrespective of the age. You will undoubtedly have heard at least one of the above songs! Whatever the occasion, the Bollywood industry successfully entertains our parties and makes our special days fun-filled. Every year hundreds of new artists carve a niche for themselves in this industry while many from the older generation silently fade into the background. So here's us wishing all those artists whose birthday falls in the month of October.
With the onset of the 10th month in the year 1906, the highly distinguished and versatile S. D. Burman was born to the royal household of Tripura. Known for his outstanding contribution to the music industry, his breakthrough in Bollywood was with the song "Mera sundar sapna beet gaya" for the movie Do Bhai in 1947 sung by Geeta Dutt. He has composed numerous soundtracks for more than 100 movies and lent his voice as a playback singer to many Hindi and Bengali songs.
Almost half a century post the birth of S. D. Burman, Sharda Sinha graced us with her birth in 1952, again on 1st October. She's best known for her Maithili version of "Ho Dinanath", a Chhath pooja-themed song. With her music, she's relentlessly campaigning to bring more and more tourists to Bihar, especially during the Chhath Pooja. She's been awarded with India's highest civilian awards, the Padma Shri in 1991 and the Padma Bhushan in 2018. She's one of the well-known Maithili, Bhojpuri and Hindi singers. Amongst her contribution to Bollywood is the chartbuster "Kahe tohse sajna" of 1989 from the hit movie Maine Pyar Kiya. With both these musical personalities sharing this special date, we wish them a very happy birthday!
The winner of the first season of Indian Idol, Abhijit Sawant was born on 7th October 1981. Along with singing songs of the Pop genre, he has also acted in a couple of movies and television series. He's appeared in numerous reality shows in different roles of a participant, mentor and host. We wish him a very happy birthday!
It's the 10th of October and a cute little girl was born to the actors Pushpavalli and Gemini Ganesan in 1954. Who knew then that this baby girl would go on to immortalize the character of Zohrabai with her ravishing looks and dance in the song "Salaam-e-ishq meri jaan zara qubool kar lo!" A genuinely astounding actor, whose journey in Bollywood speaks of a successful transformation, inspiring many across the country. Let's wish Bhanurekha Ganesan, better known by her stage name Rekha, a Padma Shri recipient a very happy birthday!
A day later (11th October) in the year 1942, the one-man industry, as such dubbed by the French director François Truffaut, of Hindi cinema was born. Amitabh Bachchan! Née Amitabh Srivastava, his remarkable acting skills, his voice and his personality has made him the most revered actor in the entertainment industry. An actor, film producer, television host, a former politician and an occasional playback singer, he has been bestowed with awards and honours worldwide. The number of his skills equates to the number of epithets attached to him – Big B, Shahenshah of Bollywood, the angry young man and so on. Wishing the country's own a very happy birthday!
Making Basanti Tangewali a household name, the ever-gorgeous Hema Malini celebrates her birthday on 16th October. The country's Dreamgirl, one of the most graceful Bharatanatyam dancers, was born in the year 1948. Her many talents of being an actor, dancer, politician, director and producer have not only won over many but also stolen the heart of Dharmendra, Bollywood's He-man! The power couple tied the knot in 1980, a decade after they first starred together in the movie Tum Haseen Main Jawan. Here's wishing her a wonderful birthday to Hema Malini!
Next in line with her illustrious career is this Delhi-born Canadian singer, Jonita Gandhi. Her playback career kicked off with the Chennai Express title track. Well known for her YouTube presence, she has performed at several concerts since the beginning of her singing career. Her forté are songs in Classical, Western, Jazz and Pop genres. On that note, here's wishing her a great birthday!
Anuradha Paudwal is the second singer after Lata Mangeshkar in Bollywood and has been honoured with a Doctorate in Music (D. Litt) by D. Y. Patil University. She has recorded more than 9000 songs and has been on the charts for 237 weeks. She's sung more than 1500 Bhajans in several languages counting Hindi, Gujarati, Nepali, Odia, Assamese, Kannada, Marathi, Sanskrit, Bengali, Maithili, Bhojpuri and Tamil. Known to be one of the most prominent Bhajan singers and ruling the charts in Bollywood in the 80s and 90s era, she has been bestowed with Padma Shri in 2017 along with various other prestigious accolades. Born in 1954, on 27th October we wish her a very musical birthday!
Abhijeet Bhattacharya, better known as Abhijeet in Bollywood has done playback for more than 1000 movies with the number of songs exceeding a whopping 6034. Kishore Kumar and R. D. Burman have been influential in their singing. Born in 1958 and a chartered accountant turned singer, his birthday wishes are due on 30th October.